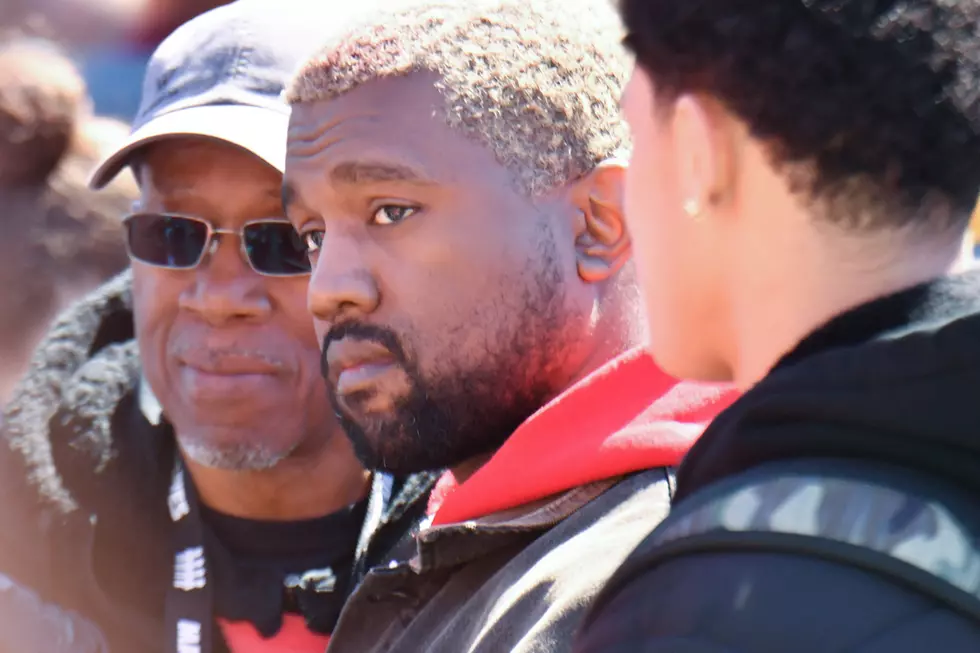 Here's a Rundown of Kanye West's First Week Back on Twitter
George Pimentel, Getty Images
Guess who's bizzack! After only using social media sparingly over the last year and change, Kanye West returned to Twitter earlier on Sunday and had the internet going nuts.
On Wednesday (April 18), 'Ye said bump it and started unveiling what he says is the upcoming publication via a series of intriguing tweets. "This is my book that I'm writing in real time," West posted. "No publisher or publicist will tell me what to put where or how many pages to write. This is not a financial opportunity this is an innate need to be expressive." He later added that he would make editions on this book as he "feels like it."
Comparatively, West has been somewhat of a hermit as far as the public is concerned since his 2016 hospitalization. Recently, he's come more and more out of his shell, making appearances here and there, and it looks like he is finally dropping a new album. So seeing him open up on social media is a refreshing look into where the Life of Pablo rapper's head is at these days. So far, the Chicago native has dropped his thoughts on life, love, parenting, the time-space continuum, new music, tips on general well being and more.
XXL compiled a list of some of Yeezy's most revealing tweets and book excerpts over the last few days and tried to extrapolate their meaning.
Kanye Uses His Mornings as Time to Reflect

If you are trying to get a hold of 'Ye first thing in the morning, there's a G.O.O.D. chance you won't. West believes in using the early hours as time to get lost in your thoughts without distraction from anyone or anything.

"When you first wake up don't hop right on the phone or the internet or even speak to anyone for even up to an hour if possible," 'Ye advises. "Just be still and enjoy your own imagination. It's better than any movie."

He Feels Life Is One Big Act

Lights, camera, action. According to West's philosophy, we're all playing a role in this thing called life. "In life, we are all trained actors," Kanye insists. "When we're born we're ourselves and then one of the first things we're thought [sic] is how to act."

He adds, "At home parental acting classes are one of the first steps to us loosing who we really are to 'the simulation.' Parents are our first acting coaches."

West Appears to Have Tempured His Ego

West, once one of the most self-centered rappers around, appears to have toned down his ego a notch.

"I find myself getting stuck in the idea of originality and letting my ego push me to say things like 'this person stole this from me' and the funny thing is it'll be a reference I took from somewhere," he writes. "Let's be less concerned with credit awards and external validation."

'Ye Thinks Love Should Be the Biggest Motivator in Life

While its all about securing the bag these days, 2018 Yeezy has a different impulse. "Base your actions on love," he relays. "Do things you love and if you don't absolutely love something stop doing it as soon as you can."

He added, "Once you start moving in love, the universe will assist you."

Yeezy Is Enjoying the Little Things in Life

It seems the last year has definitely given Kanye a new outlook on life. He urges people to cherish every moment. "There's love stories. Pain happiness. It's 3 dementional [sic]," he explained. "There's taste touch sound. [Life is] the most entertaining [form] of entertainment. Just being."

His New Album Is Dropping June 1

After holing up in his happy place in Jackson Hole, Wyo. working on his new album with a cast of characters, North's dad announces his ninth solo studio album will come out on June 1. The offering will feature only seven tracks.

Kanye and Kid Cudi Have Formed a Group, Are Dropping an Album

Kid Cudi remained one of Kanye's BFFs during his trying times. It looks like they forged even more of a musical bond as well. West announced the two will be dropping a joint project the week after his solo offering is released. According to West, the group is called Kids See Ghost, and the album will hit on June 8.

Pusha T's New Album Is Dropping in May

G.O.O.D. Music is gearing up for a big summer. One week before Kanye's new album drops, Pusha T will put out his new third solo studio album on May 25. The following month, Teyana Taylor will release her new LP which she recently revealed is produced entirely by 'Ye.

Kanye Is Working on New Yeezy Gear

Fashion is still one of Kanye's top priorities. He revealed some concepts and upcoming looks on Twitter, including an...interesting pair of "track pant boots."