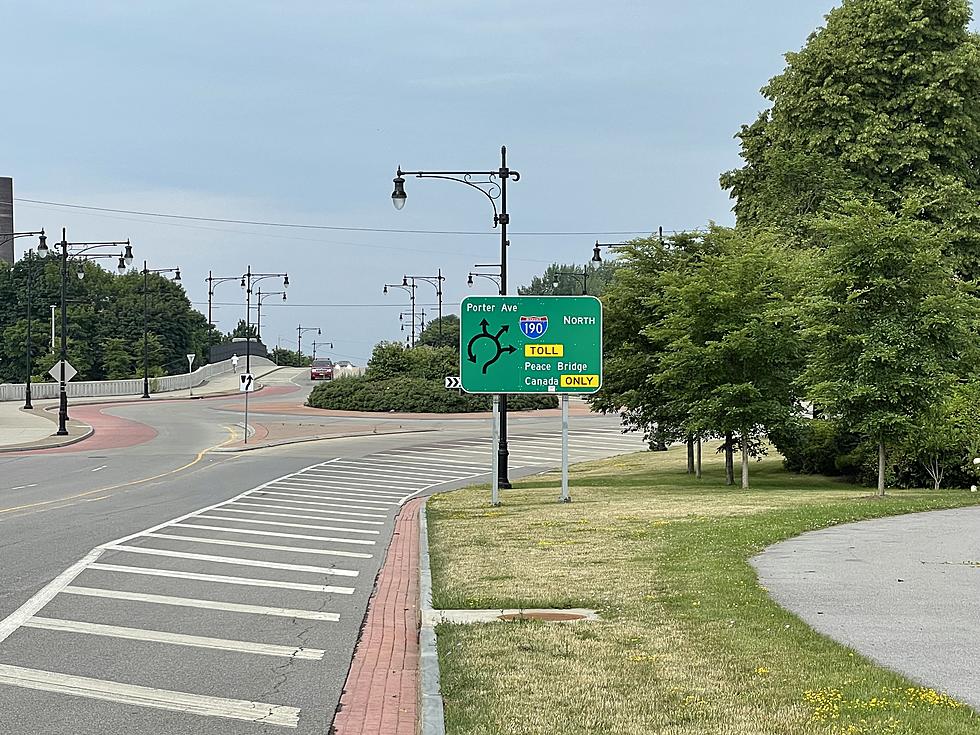 U-Turn At Peace Bridge Leaves Group From Buffalo In Big Trouble
Ed Nice Jackson / TownSquare Media
Not everyone had a wonderful Father's Day this year, in fact, one group of people might have wished they just stayed inside on Father's Day 2022.
According to a press release issued by the U.S. Customs and Border Protection, a car traveled into the Port of Buffalo via the Peace Bridge on Buffalo's West Side on Sunday, June 19, 2022, and did a u-turn on the bridge, which required them to stop at a border inspection booth.
During the inspection that followed, the driver and passenger said they had gone to the duty-free shop that is in the travel plaza and did not intend to travel to Canada. People are generally not allowed to use the duty-free without exiting the country, so the group was directed to go for a secondary inspection.
During the follow-up inspection, CBP officers found a number of guns and illegal drugs in the vehicle the men were traveling in:
a Springfield XD-9 semi-automatic handgun,

which was reported stolen in 2019

a Glock 43,

and a high-capacity ammunition-drum with 47 bullets,

approximately two pounds of marijuana,
80 tablets of the narcotic Nucynta,
and more than $8,500 in U.S. currency.
Our officers continue to remain dedicated and vigilant, enforcement focused and committed to ensuring the safety of our community... I am proud of their efforts to remove these weapons and narcotics from our streets.
-Mark MacVittie, Acting Director of the Port of Buffalo
The four men, a 25-year-old male, a 35-year-old male, a 38-year-old male, and a 25-year-old male who was the driver, were taken into custody and turned over to the Buffalo Police Department. According to reports, one of the men claimed to be the owner of all of the illegal items that were found. The men all are due to be charged with a number of crimes.
These 7 Prisons Are The Most Violent In New York State
New York released a
report
with the most recent number of violent assaults on inmates in state prisons. There were 134 inmate deaths noted in the report, although it doesn't break down the prisons where each death occurred or who caused them. Here's a look at some of the general violent incidents reported for 2020, which is the most recent data reported by the state. Compared to 10 years ago, inmate assaults have almost doubled. In 2011 there were 666 and in 2020 there were 1,205 reported. These numbers do not include inmate assaults on staff members. Overall, the number of unusual incidents includes things like assaults, deaths, accidents, sexual misconduct, and disruptive behavior.  According to the state,
"The number of unusual incidents has increased 132% from 5,980 in 2011 to 13,870 in 2020. These higher incident numbers were largely due to increases in assaults on incarcerated individuals (+81%), assaults on staff (+86%), contraband (+130%), disruptive behavior (+372%), and staff use of weapons (+1,035%)."
In 2020, 1,836 weapons used to cut or stab, including ice picks, razor blades, can lids and shanks were discovered in state prisons around New York.
These 5 New York Counties Have The Most Drug Arrests Per Capita
While New York State doesn't top the nation, it still has its issues with illegal drugs
These 5 Counties Have The Highest Property Crime Rate In New York