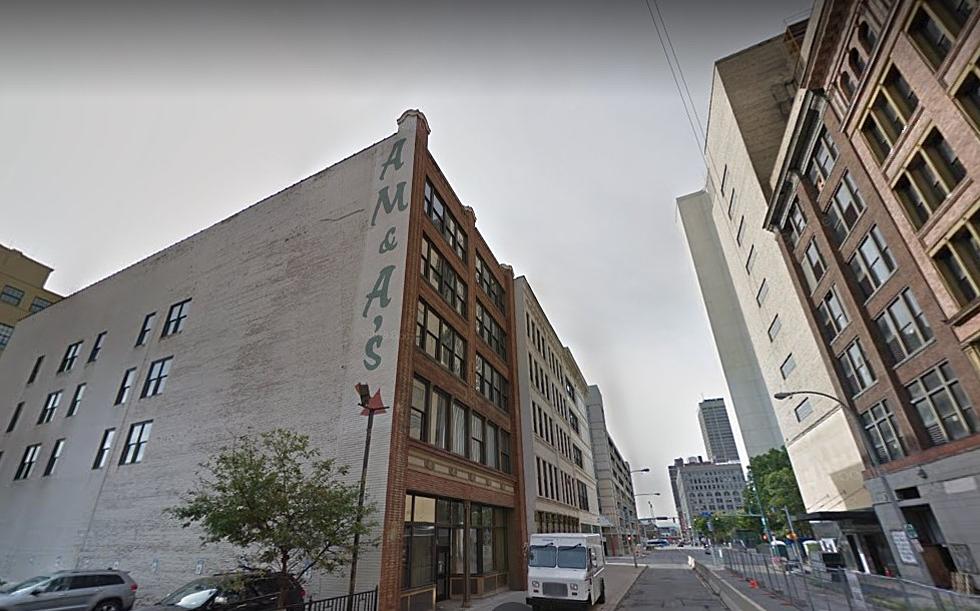 These Historic Buffalo Buildings Got a New 'Lease' on Life as High-End Lofts [List]
Google Maps
Here's a look at some historic buildings, from Buffalo's booming industrial days, that have been transformed into extravagant apartment homes.
AM&A's Warehouse Lofts building, located at 369 Washington Street, Buffalo, NY 14203, was formerly home to Adam, Meldrum & Anderson Company (AM&A's). AM&A's was a Buffalo department store chain. It operated for over a century, from 1867 until 1994. Now, the building offers housing right in the heart of downtown. There are 12 two-bedroom apartments and 36 one-bedroom apartments available for rent. You can check out more info about renting a unit here.
Credit: WIVBTV via Youtube
Apartments at the Lafayette, which is located at 391 Washington Street, Buffalo, NY 14203, was and is a hotel, but it also offers lofts for rent. The building was built between 1902 and 1911 and was designed by the architectural firm Bethune, Bethune & Fuchs. There are 115 units available for rent. There are actually more apartments than the 35 hotel rooms. You can check out rental information here.
Credit: travelandtransitions via Youtube
The Mentholatum is located at 1360 Niagara Street, Buffalo, NY 14213. It's a part of the new development that has been taking place on Niagara Street for the past few years. It was home to The Mentholatum Company and Garrett Leather Corporation, which occupied the building for almost 20 years from 1992 until 2016, when it was purchased by Ciminelli Development.
Designed by architect George Townsend and constructed in 1919, the building is an excellent example of a turn-of-the-century daylight factory. The 80,000 square foot factory was the Buffalo, NY base of operations for the Mentholatum Company until 1989. ~ The Mentholatum
Credit: WKBW TV | Buffalo, NY via Youtube
960 Busti is located near the Peace Bridge and Niagara Street. The building was formerly a service building for the Buffalo General Electric Company. It was built in 1922. The building now offers 1, 2, and 3-bedroom lofts and business space, as well. You can get more details here.
The Historic Warehouse Lofts can be found at 210 Ellicott Street, Buffalo, NY 14203. This building, which was built in 1913, previously served as the Seneca Paper Co. warehouse. In 2015, new life was breathed into the vacant warehouse, when it was converted to condos. There are 36 units. You can see more here.
Credit: ERA Real Estate Videos #26 via Youtube
The J.R. Barrington Loft Apts, located at 686 Main Street, Buffalo, NY 14202, built in 1901, has served as home to several historic Buffalo companies,
The J.R. Barrington was originally constructed by the George N. Pierce Company, a manufacturer of bicycles, motorettes and automobiles. The original architects were students of the Beaux-Arts style of architecture, known for rich, lavish details and highly decorated facades. ~ J.R. Barrington Buffalo
Additionally, the Mendelson Furniture Company bought it in the 1930s. Then in the 70s, it was sold to jeweler Sid Birzon. Now, it has 1 and 2-bedroom lofts for rent. Visit its website for more info.
The Apartments at Seneca One are located at 1 Seneca Street, Buffalo, NY 14203. The Seneca One Tower, Buffalo's tallets building, was built between 1972 and 1974. It was designed by the Skidmore Owings & Merrill firm. Seneca One Tower has served as the headquarters and home to many well-known companies, including Marine Midland, HSBC US, and Pegula Sports and Entertainment. There are a variety of apartments sizes available, including studios, 1-bedrooms, 2-bedrooms and 3-bedrooms. You find more info here.
Credit: WKBW TV | Buffalo, NY via Youtube
The Buffalo Mattress Factory Lofts building, located at 170 Florida Street, Buffalo, NY 14208, was built in 1911. It is now home to 34 1 and 2-bedroom lofts, as well as office space. You can check out the apartments here.
The conversion of the former Otis Bed Company building, which made and sold mattresses in the late 1900s, is one of the first significant rehab projects on Buffalo's East Side in recent years, it is also one of the largest private-sector projects in the Hamlin Park Historic District. ~ Governor Andrew Cuomo
The Otis Bed Company was founded in Buffalo in 1882 by George Otis.
Credit: Buffalofts via Youtube
Million Dollar Western New York Home Come With Private Island
You could own your own private island right here in Western New York. Currently listed on Zillow.com, this 5 bedroom, 5 bathroom home is amazing and has everything that you could want in a home.
10 Other Places Named Buffalo