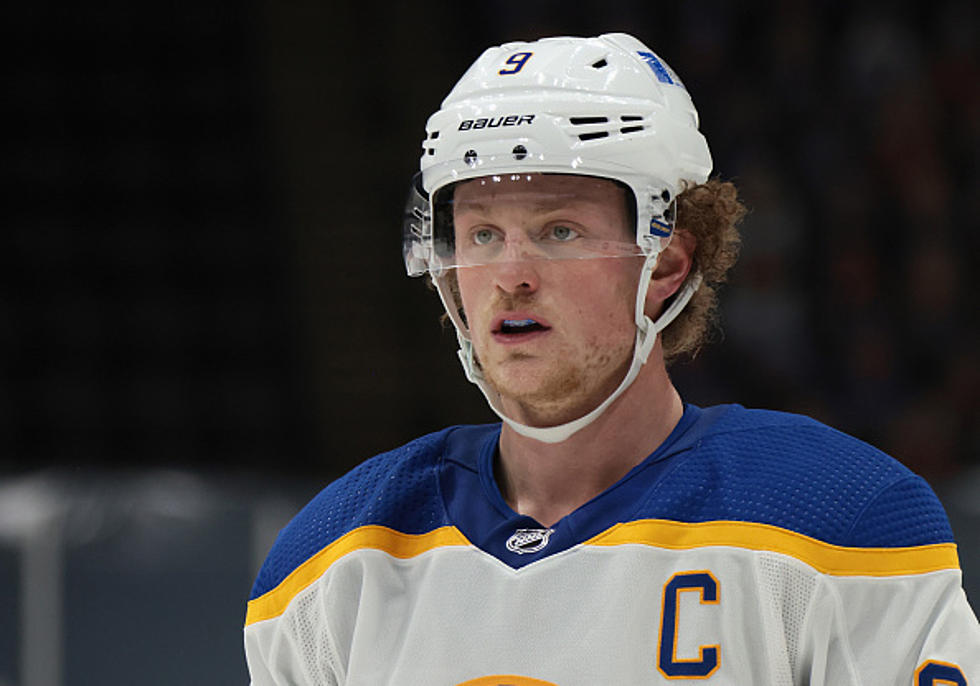 The Likely Trade Destinations For Buffalo Sabres Captain Jack Eichel
Getty Images
The NHL season could end any day now (the Tampa Bay Lightning lead three games to one against the Montreal Canadiens in the Stanley Cup Final) and the NHL Entra Draft is just over two weeks away.
With the draft inching closer, that means that a trade involving Buffalo Sabres captain Jack Eichel seems likely to happen any day now. The talk is that a trade would be done before the draft, so the clock is ticking on Sabres general manager Kevyn Adams and potential suitors.
Sportsnet in Canada reports that there are seven teams believed to be in on a potentialEichel trade.
The first is the Minnesota Wild, who might believe that Eichel is one of the final pieces to truly compete for a Stanley Cup and represent the Western Conference. However, Minnesota picks at 21 in the first round of the draft, and the Sabres would probably prefer to have a top 5-10 pick in the 2021 draft. The Wild have Marco Rossi, who was the ninth-overall pick last year. He's a playmaking centre and would need to be included in the trade if Eichel goes to the Wild.
The Los Angeles Kings are another team, and they have the eighth overall pick this year. They also have young, top-end prospects like Quinton Byfield and Alex Turcotte, The Kings look like a leading candidate.
The Anaheim Ducks are another big-time candidate. Rumours are they would love to acquire Eichel, plus they have assets to give. Anaheim has the third overall pick in 2021 and has prospects like Trevor Zegras. Is Anaheim a team that's ready to compete for a cup with Eichel added? Probably not, but if they're willing to give up what the Sabres want, it doesn't matter.
The New York Rangers would be another logical destination with a good young core and the biggest market. They only have the 15th overall pick but have Alexis Lafreniere, who is without a doubt what the Sabres would ask for first (first-overall pick in 2020).
Other teams believed to be in on an Eichel trade are the Columbus Blue Jackets, Vegas Golden Knights and Philadelphia Flyers. Those teams would be tough since they don't appear to have the assets the Sabres need to give up for a player such as Eichel, but there's a common theme with all seven teams -- over half of them play in the Western Conference. The Sabres would prefer to ship their star centre to the west and only play him once a year or so.
We will see what happens between now and July 23rd and where (if) Eichel gets traded.
CHECK IT OUT: 100 sports records and the stories behind them
KEEP READING: Here are 50 of the most famous sports goofs