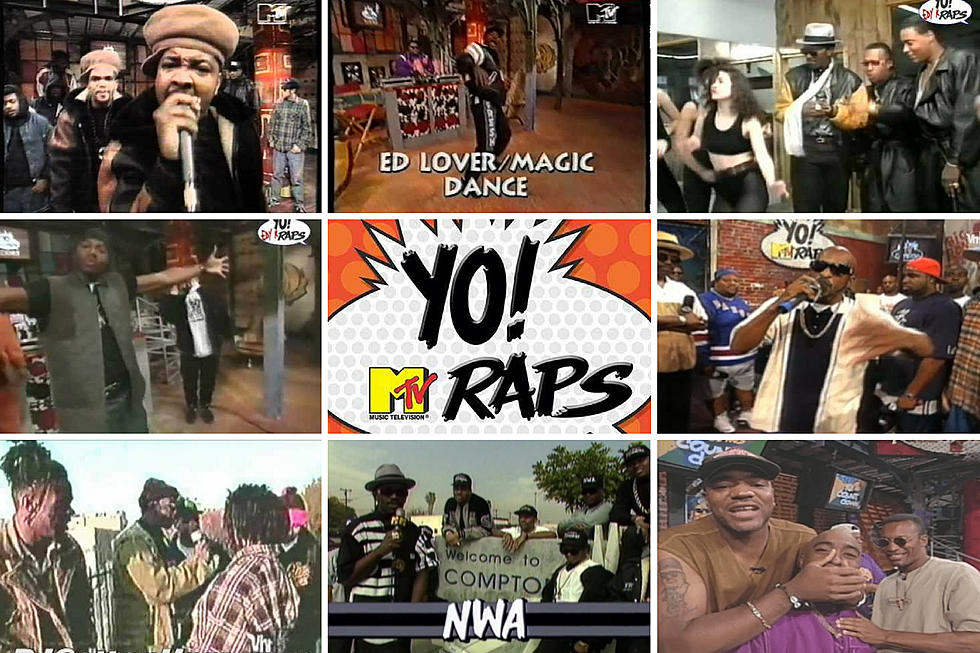 The Best 'Yo! MTV Raps' Moments: Revisiting the Most Talked About Interviews & Performances 30 Years Later
YouTube, IMDb
Thirty years ago today, hip-hop began its journey to mainstream dominance through a show called Yo! MTV Raps. MTV staffers Ted Demme and Peter Dougherty (both now deceased), white boys who loved hip-hop, lobbied MTV — which played almost no black artists at all, let alone rap — to allow them to showcase hip-hop artists and music on the network. Once they finally got the thumbs up, the show took off. It was so successful, MTV used it as an anchor to expand the network into new global markets, helping spread hip-hop beyond the states to the rest of the world. Yo! was the first national hip-hop show, preceding BET's Rap City by a year, and was an unprecedented look at not only the artists and videos but the artists' cities, their studios, their families, their lives. It brought hip-hop into mainstream consciousness. Ironically, Yo! did such an excellent job of opening doors for rap music and artists on MTV and in general, the show was really no longer needed after some time and ended in 1995.
During an era that was still ripe for firsts and hugely impactful moments, Yo! had plenty. We look back at 10 of the best.
1. THE PILOT EPIDOSE – Fab 5 Freddy was the first host of Yo!, but RUN-DMC hosted the pilot episode. When creator and EP Ted Demme finally got the green light from MTV, he and co-creator Peter Dougherty flew to meet DMC on tour to tape the episode, which also featured the first on-camera moments from a young Will Smith and DJ Jazzy Jeff. The first ever Yo! MTV Raps video? Eric B & Rakim's "Follow the Leader." The show was the highest rated episode of programming on MTV to date aside from the Video Music Awards and Live Aid. Demme and Dougherty were instructed to have the show ready for official roll out in two weeks.
2. N.W.A'S STRAIGHT OUTTA COMPTON INTERVIEW – Fab 5 Freddy was adamantly against hosting Yo! in a studio with the same format as existing MTV V-Jays. Since he had long-standing relationships and connections in music, he wanted to go out into the streets, to the studios, to the artists instead of bringing the artists to the MTV. This format expanded to include remote shoots in artists' cities, showing America the vibe and culture first hand. The most impactful of these on-site interviews was arguably N.W.A.'s to promote Straight Outta Compton in 1988. Freddy and the crew taped the show riding through Compton on a flatbed truck headed to Venice Beach. Each member of the group was wearing a bulletproof vest (because, Compton). A production member shared in a retrospective with VH1 that Eazy-E was throwing up gang signs often as they rode through the city. When Demme asked "What the hell are you doing?", Eazy's response, "Saving your life, white boy."
---
3. 2PAC INCRIMINATES HIMSELF -  Tupac was initially cast to play the character Sharif in Menace II Society but was unceremoniously fired by directors Allen and Albert Hughes after disruptions onset (the Hughes brothers have said he wanted a more prominent role). On a Yo! appearance to promote Poetic Justice in '93, Shakur bragged about how he "beat (the Hughes brothers) behinds" the next time he saw them, while Ed Lover — who was personal friends with Tupac — tried desperately to shut him up before he said something that could land him in jail. He was too late — the tape of the show was subpoenaed, and Shakur did 15 days in jail for the assault and battery of Allen Hughes. For the record, Hughes says he never actually fought Tupac; that Pac had him jumped. He told Vibe in 2009, "Tupac was an artist. Tupac was not a gangbanger. Tupac could not fight to save his motherfucking life. I know that for a fact. He was an immensely gifted person and he was far, far, from a thug."
---
4. THE LEADERS OF THE NEW SCHOOL BASICALLY BREAK UP ON AIR: People have damn near forgotten that Busta Rhymes started in a group. The Leaders of the New School were part of the Native Tongues collective, and probably now best known for their feature on one of the greatest posse cuts of all time, "Scenario." Busta was always the breakout star since the release of their first single, even though member Charlie Brown was unofficially the group leader. As Busta's charisma and talent continued to outshine the other members of the group, especially after he totally owned "Scenario," tensions mounted, and it came to a head on camera during a Yo! interview.
---
5. YOU DOWN WITH MTV? – By 1991, Rock had been displaced as the youth culture, and MTV was due for a whole rebrand. "I Want My MTV" was rock MTV, '80s MTV. Ed Lover and Todd 1 (the first host of MTV Jams) had been playing around with the enormous hit "You Down With O.P.P.," and recorded a version that subbed in MTV as the three little letters to be down with. Demme took it to the network and suggested they make a video for it as the official channel promo. With that, Yo! was now an official calling card of MTV.
---
6. YO! COMES TO MTV SPRING BREAK - In the '90s, Spring Break programming was one of the key tentpoles of MTV's year. The biggest performances, livest stunts — it was a party week for the channel. Yo! having a space at Spring Break was a stamp of importance, priority, and crossover. This was Daytona, not Freaknik. When asked by Vulture to name the first moment he really felt the show's impact on broader culture, Dr. Dre named Spring Break: "The first time we went to MTV Spring Break … And when we went down to Daytona again and shot Yo! MTV Raps Live with performances from Biz Markie, A Tribe Called Quest, Leaders of the New School... We looked at the crowd and it was 50,000 kids, all colors, all ages, everybody having a ball. We turned and looked at each other and I said, 'Wow, this is a pretty good park jam.'"
---
7. RUN DMC INSPIRES A NEW YO! SEGMENT - Yo! provided access to hip-hop that you couldn't easily get anywhere else. Kids in middle America were learning the fundamentals of real hip hop — the MCs, the DJ, and the beat. Mics, turntables, boards. Starting in Fab 5 Freddy's original hosting days, when the right artists were on the show, they'd be encouraged to kick a freestyle in the final segment. Then, early on in Ed Lover and Dr. Dre's first year (1991), RUN DMC delivered a version of "Beats to Rhymes" that was so incredible, the show instituted Live Fridays — artist performances every Friday. DMC has said this was the group's best TV performance.
---
8. YO! BREAKS MC HAMMER… AND INTRODUCES J.LO, ON THE LOW – If you wanted to get on as a rap artist, you had to be on Yo!. There was no other outlet for you that would provide anywhere near the level of exposure you'd get on the show since it was the only national program showcasing hip-hop. During his first album cycle, MC Hammer called Jonathan Demme and asked to be on the show. Since Hammer's thing is dance, they put together an open call/rehearsal for the shoot. Fab 5 Freddy stated on air, "Hammer's about to blow up, and I'm going to ignite the flame." That was true. But the unplanned/unforeseen future blow up at the shoot was a young Latina dancer from the Bronx who caught everyone's attention (allegedly several people, including Demme, tried to get her number), named Jennifer Lopez. The artist soon to be known as J.Lo was prominently positioned throughout the show.
---
9. THE MOST ICONIC RAP CIPHER OF ALL TIME – Yo!'s last episode aired on August 16, 1995. Past guests came through en masse to show love, and at the end of the show, and unscripted and unplanned freestyle for the ages popped off. It started with Rakim, who then passed the mic to KRS-1, who in turn gave it to Eric Sermon, who then handed it off to Chubb Rock, who next turned it over to MC Search. After a short break, the cipher kept going with Redman, Method Man, Special Ed, Craig Mack, and more. The only thing close to this moment in black music on national television was the surprise performance on Arsenio Hall's final episode.
---
10. THE ED LOVER DANCE – On Wednesdays, it was time to drop "The 900 Number" and get the hips moving, because it was Ed Lover Dance day on Yo! Bobby Brown, James Brown, Hammer —whoever. If you were on Yo! on Wednesday, you were doing the dance with Ed. Original Yo! sidekick T-Money (who was in a group with Dr. Dre pre-Yo!) came up with the move, and — according to Ed —told him "Do this every week." Dre, a DJ by trade, chose Mark the 45 King's "The 900 Number" to go with it, and a craze was born. When Tuff City Records reissued the 12-inch of "The 900 Number," they added a label that titled it "The Ed Lover Dance." It's been referenced in Drumline, and Ed is still expected to perform it whenever the song drops, to this day.