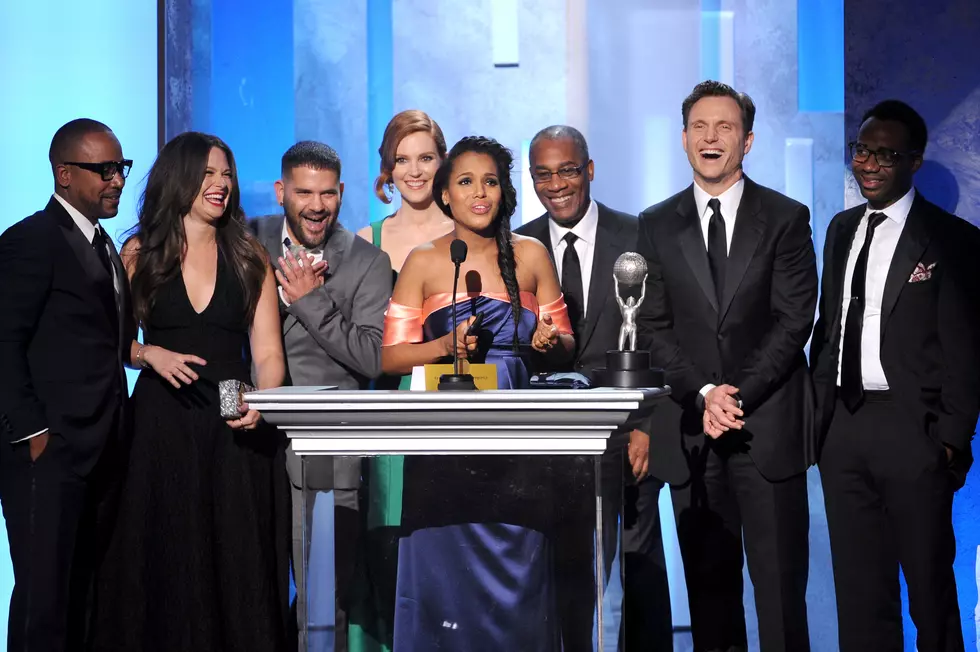 'Scandal' Preview + Kerry Washington's Baby Shower [VIDEO]
Getty Images
We are just days away from the return of Scandal on ABC!! But star Kerry Washington has been celebrating since Saturday! Photos from her stunning Image Award appearance, info on her star-studded baby shower and a sneak peak of Scandal inside. 
First a preview of Thursday's all new episode of Scandal!! Remember the cliffhanger when the VP killed her husband who slept with the White House secretary?
Oh wee!! It's about to get even more Scandalous!! Will James blow the lid off this Scandal and exposure his own affair with the dead man? Stay tuned! We will find out on Thursday.
In the meantime, enjoy this Cope Without Pope video!
On Saturday, Scandal received an NAACP Image Award for Outstanding Drama Series. The whole cast (except Cyrus) was in attendance! PHOTOS HERE.
Kerry Washington is set to present live at the Oscars this Sunday. But this past Sunday, she was surrounded with family, friends and Hollywood legends at her baby shower! Scandal creator Shonda Rhimes hosted the event at her home, and it was nothing short of fab. Guest included Tracee Ellis Ross, Cicely Tyson, Diahann Carroll and Jane Fonda!!
Oscar-winning actress Jana Fonda blogged about the baby shower.
It was a wonderful party with guests being asked to go into a photo booth and take 6 different poses that were then mounted on a black paper where we could write a message; signing a diaper (I wrote "I hope everything comes out alright!"), putting signed thumb prints onto a drawing of a tree—I had no idea there could be so many nice ways to commemorate the up-coming event and leave loving memories for mom and baby.

I hadn't seen Kerry since she was pregnant and as soon as I saw her with her gorgeous belly I starting crying. Then Kerry's mother spoke, giving words of wisdom to Kerry and the rest of us about how to raise a baby to be a happy, fully realized, person. I started crying again (and it wasn't because I wanted to go back and do my own raising of my own kids all over again with more wisdom, though that did press in on me) . . . it was because her words moved me.