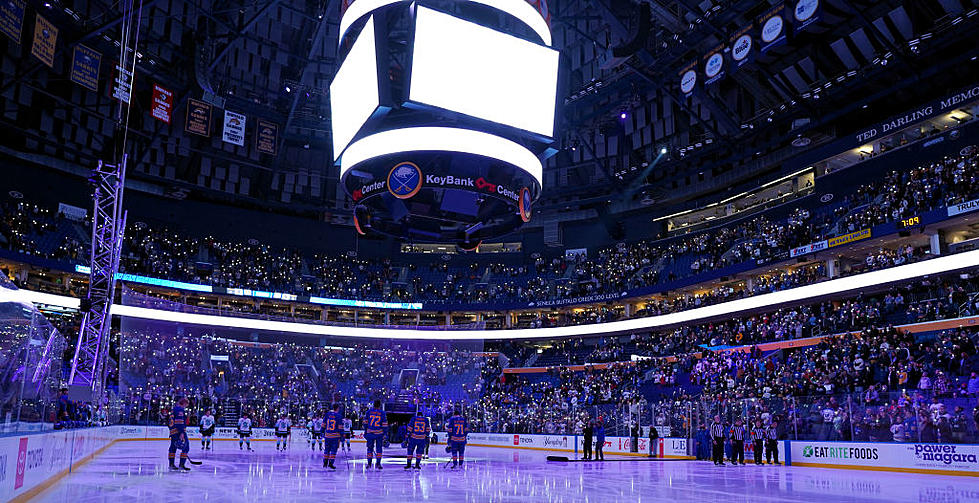 Important: Things to Know Before Going to a Sabres Game
Getty Images
The arrival of cooler weather in Western New York also brings with it one of Buffalo's most loved pastimes: the start of the National Hockey League season.
The Sabres are back for their 53rd season in Buffalo, and fans all over the 716 and beyond are excited for another year of professional hockey.
I have heard for many years that Buffalo is a drinking town with a hockey problem, and that will be on full display for the next few months as the Sabres are set to play 41 games at KeyBank Center this season.
This year the Sabres have all sorts of new themes and ideas that they're premiering this season that are sure to help keep fans entertained before, during, and after the games.
You can find the full schedule and a list of the special promotions here.
Now, if you have it on your to-do list to catch a few games this season but haven't ventured down to the KeyBank Center in a while, there are a few things you may want to remind yourself of to make sure you're in the know.
Important Tips To Remember When Going To A Buffalo Sabres Game
Don't forget these key things when heading downtown for a Sabres game at the KeyBank Center:
Arrive at the Arena Early
There are always tons of things to do at the arena before the game; getting there early means you won't be rushed, and you'll truly have a chance to enjoy the entire experience.
Remember The Bag Policy
KeyBank Center, like other sports venues, has rules about the size and type of bags you can bring in, check that policy ahead of time so you're not caught by surprise.
Remember To Give Yourself Time To Park
There is plenty of parking at KeyBank Center, Harbor Center, and all around the arena. Just remember that 18,000 of your friends might also be coming to the game, so give yourself plenty of time to find parking.
Take The Subway
If you don't want to deal with driving and parking, then consider using the Park-and-ride and hopping on the MetroRail; it's only $5 roundtrip.
Dress Warm
It can get a little chilly inside the KeyBank Center, plus we know how cold it gets outside during hockey season, so even though you'll be indoors for most of the time, dress in layers and seriously consider bringing a sweater, jacket, or coat.
The KeyBank Center is Cashless
Whether you want to grab a drink, get something to eat, or grab a jersey from the Sabres Store, don't forget that the arena is cashless - so you need a credit card or other form of payment.
Above all else, remember to have fun watching the hometown team.
Let's go Buffalo!
Top 10 Most Underrated Buffalo Sabres of All-Time
Gallery Credit: Brett Alan
22 Famous Buffalo Sports Phrases Every Die-Hard Bills and Sabres Fan Knows
Being a sports fan in Buffalo is sometimes like knowing a different language. Here are 22 of our favorite Buffalo sports phrases you already know if you're a huge fan! And if you're new here, here's how to catch up.
Gallery Credit: Clay Moden
EZ Loan Auto Sales 2023 Big Payoff
Every year, customers of EZ Loan Auto Sales in Western New York celebrate the year and vie for a chance to have the balance of their car loan paid in full. The 2023 Big Payoff event happened at Buffalo Riverworks, and attendees got to enjoy free food and drinks while watching the hometown football play in London, England.
Gallery Credit: Ed Nice