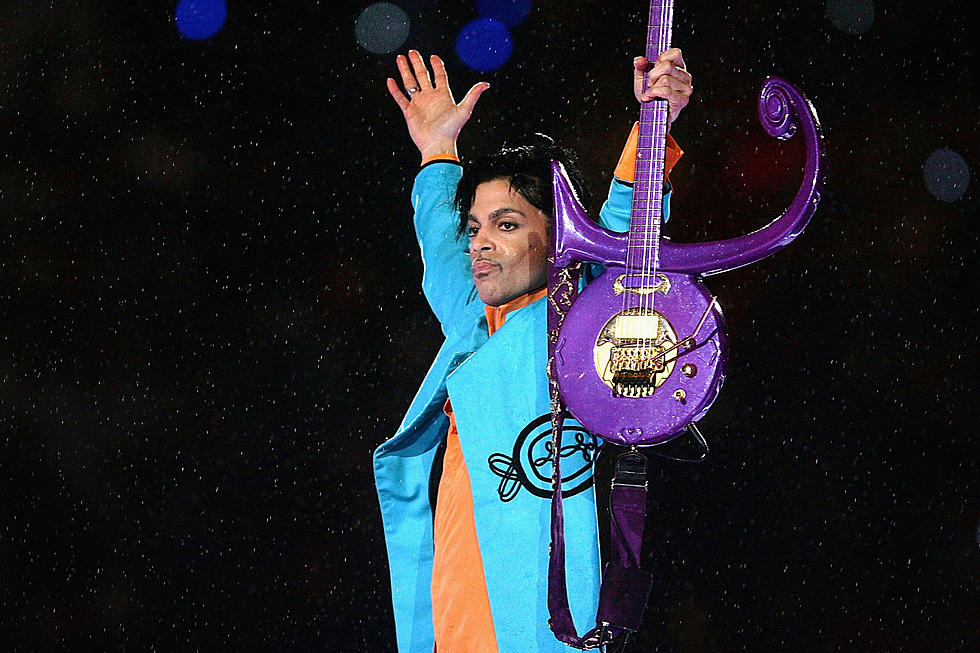 How Prince 'Made History' at the Super Bowl Halftime Show
Jonathan Daniel, Getty Images
This site is admittedly biased, but if there's a more defining moment in the history of Super Bowl halftime shows than Prince playing "Purple Rain" in the middle of a downpour, we haven't seen it.
His 12-minute set, performed at the midway point of Super Bowl XLI between the Indianapolis Colts and the Chicago Bears at Miami's Dolphin Stadium on Feb. 4, 2007, is widely regarded as one of the best in the game's history. As an oral history compiled by the Ringer shows, what could have been a disaster -- one person risked electrocution so that it could happen -- turned out to be better than anybody could have expected.
Prince was approached by the producers, who appreciated both his catalog and his diverse appeal, at some point in 2006. Intrigued by the idea, Prince invited them to dinner at his Los Angeles house, where he played them videos of previous halftime shows and explained how he would have done things differently. Then he took them upstairs, where they were surprised to see his band had been waiting. After a 30-minute private show, the producers knew they had their act.
Next came the process of building of the set. "He said he wanted to do the greatest Super Bowl show ever done," keyboardist Morris Hayes recalled. "He just said, 'We really want to think about what we do and not be like everybody else.' We kind of sat in the studio and talked it out. ... He just started thinking about the show and piecing it together in his head."
Rather than choose a bunch of his biggest hits, Prince wanted to put his music in the context of those who came before and after him. That included opening with the stomping rhythm of Queen's "We Will Rock You," snippets of Creedence Clearwater Revival's "Proud Mary" and Bob Dylan's "All Along the Watchtower" and a little bit more of Foo Fighters' "Best of You." Manager Ruth Arzate thinks she might have inspired him to include the last one when she told him about their cover of "Darling Nikki."
In between were his own "Let's Go Crazy," the riff from "1999" played by the Florida A&M University marching band and "Baby, I'm a Star," with "Purple Rain," complete with an extended guitar solo, serving as the closer.
Rehearsals took place at the 3121 Club at the Rio Hotel and Casino in Las Vegas, where Prince was in the midst of a residency. With the Super Bowl stage to be set up in the shape of the Love Symbol, tape was placed on the floor of the club's stage so that their movements could be precise. Things, as Hayes added, "intensified" when they got to Minneapolis as the game neared.
Executive producer Charles Coplin remembered meeting with Prince two weeks prior to the Super Bowl in Prince's suite the Beverly Wilshire Hotel, where he got to hear a tape of their rehearsal.
"He smiled at us and he invited us in and we were walking and he was gliding," Coplin said, "and the reason why he was gliding is because he was wearing these kids sneakers with the wheels on them. He was wheeling down the floor and the lights of his sneakers were lighting up in the back, the same color as his canary yellow suit."
'Then as the songs were going," Coplin continued, "he wheeled in and out of the room and, maybe when 'Baby, I'm a Star' came on, he had this box of tissues. And he gave each one of us a tissue and then he wheeled out again. ... It was just really, really beautiful and overwhelming and surreal. And then the music came to an end and kind of faded out, he wheeled back in again with the tissues, and held his tissue aloft, and kind of asked us to raise our tissues. ... And he just took the tissue, put it up to his eye, and dabbed his eye, like he was crying. Then he started laughing."
In the week leading up to the game came the press conference, where the famously media-shy star decided to not take questions and instead play Chuck Berry's "Johnny B. Goode," "Anotherloverholenyohead" and "Get on the Boat" over the next six and a half minutes. As Coplin put it, "That was typical Prince: I'm gonna fuck with you, but I'm gonna make you happy."
Three days before the game was the dress rehearsal, which was recorded in case something goes wrong on game day. But tour promoter John Meglen recalled that Prince chose to not play the guitar or sing so that he could focus on what everybody else was doing.
As we all know, there was a major problem, a massive storm -- extremely rare for South Florida in February -- which hit that day and didn't let up. Backup singer Shelby J., who got a spotlight during "Proud Mary," said, "We're thinking, 'Are we gonna change some stuff? … Are we gonna wear tennis shoes now?' Prince was like, 'Don't change nothing.'"
However, Prince made one change -- a last-minute switch to a do-rag to protect his hair.
"When we hit air I was really worried and concerned," executive producer Don Mischer said. "And then after about 45 seconds, I began to say, This actually looks incredible. This could be a blessing in disguise.' Mist was dripping across the stage, creating this ethereal mood. Drops of water began to create stars on the lenses.
Coplin had the same reaction, watching in the production truck and seeing his phone "blowing up" with texts: "I just had all these people, friends, colleagues, people in the business, just really losing their minds on my texts. And that's when I knew that this thing was really maybe even better than we thought it was gonna be."
Three years prior, controversy reigned at the halftime show when Justin Timberlake exposed Janet Jackson's breast on live television, causing the entire production to shut down instantly. The league had taken steps to make sure that nothing like it ever happened again. And yet, during the guitar solo in "Purple Rain," a sheet rose from the floor and, when it had the shadow of Prince, holding the Love Symbol guitar, projected onto it, it offered some undeniably phallic imagery.
Even with the outrage still fresh in the public's collective mind, the incident only led to roughly 150 complaints being registered with the FCC about the broadcast, and some of those were for a Snickers commercial. At a party following the game, sportswriter Bryan Burwell said to NFL commissioner Roger Goodell, "I think Prince kind of got one over on you guys." Goodell responded with, "Yeah, that was a boner."
Prince's performance seemed almost too spectacular to be real. "Right after the Super Bowl," Mischer said, "I flew into Beijing and at the airport I was met by reporters who were talking about the Prince halftime show. And the first question to me was, 'How many water trucks did it take to create the rain effect that you achieved on TV?'"
But the notoriously perfectionist star just took it as another night. "You could tell he was very happy with his performance," Arzate recalled. "I was like, 'You made history.' And he was like, 'I always make history.'"
Where Are Prince's Bandmates Now?