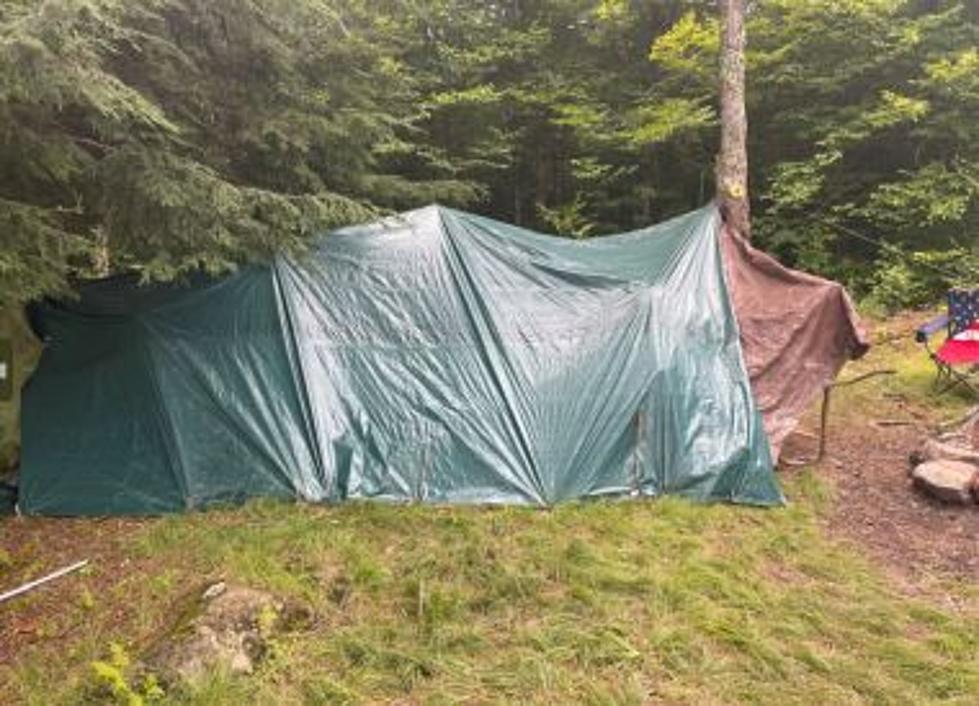 A Person Was Kicked Out Of New York State Park For Illegal Camping
NYSDEC
Rangers at a New York State park evicted and fined an illegal camper. While it may be tempting to just set up shop, you cannot legally do so in New York State Parks.
What Are The Camping Requirements In New York State Parks?
The first thing a person who wants to camp in one our beautiful state parks must do is obtain a permit. Upon entering campgrounds they must also register. Camping permits are issued for a maximum of 14 days, although they may be renewed upon availability (except from July 1 through Labor Day). A person must be at least 18 years old to get a permit.
Illegal Campsite Removed, Camper Ticketed and Fined
On July 30, Forest Ranger Corey discovered an illegal camper with two campsites on State land at Underwood Bridge and Big Tupper Lake. Rangers Bronson and Russell helped Ranger Corey evict the person. Rangers issued 10 tickets to the camper for camping four or more nights without a permit, storing personal property on State land, cutting down trees, leaving rubbish, and leaving a fire unattended. Each of the tickets has a maximum fine of $250.
New York State Park Rangers Make Multiple Rescues
Rangers at New York State parks had to rescue multiple hikers and one illegal camper was evicted. It's busy season at New York State Parks and rangers are putting in work. New York State Department of Environmental Conservation Forest Rangers are charged with rescuing people at state parks. Last year, rangers conducted 359 search and rescue missions.
DEC Commissioner Basil Seggos said,
With more people visiting State lands and enjoying New York's myriad, world-class outdoor recreational opportunities, DEC's Forest Rangers are on the front lines to help visitors get outside responsibly and get home safely. Each day, these highly trained first responders are protecting irreplaceable natural resources and utilizing their expert knowledge of wildland fire suppression, wilderness first aid, land navigation, law enforcement, and technical rescue techniques to successfully execute critical missions, for DEC and our countless local, state, and national partners.
NYS DEC Park Rangers conducted multiple rescue efforts around the state last night.
Town of North Elba - Essex County
On July 24 at 5:37 p.m., Ray Brook dispatch got a call about a hiker with an ankle injury on the Van Hovenberg trail. Forest Ranger Lewis led a team to assist the 60-year-old woman. Rangers carried the woman approximately one mile to Marcy Dam and then drove a UTV three miles to meet by her husband, who then drove her to a hospital.
On July 26 at 2:45 p.m., Ray Brook Dispatch received a call about a 33-year-old hiker with a knee injury approximately 1.2 miles from the top of Mount Marcy. Ranger Foutch, Ranger Sabo and New York State Police Aviation assisted the hiker get to safety using a helicopter rescue. She was flown to an area hospital.
Hamlet of Haines Falls - Greene County
On July 25 at 2:52 p.m., Forest Rangers responded to reports of multiple people stranded by flash flooding. At Kaaterskill Falls one person was stuck below the lower falls. Ranger Peterson helped the person get to safety, then directed attention to the Fawn's Leap area. Seven people were rescued with the help of Rangers Peterson and Fox, along with multiple agencies, including New York State Police, Greene County Sheriff's Office, Hunter Police, and Kingston and Tannersville fire departments.
Credit: NYSDEC via Youtube
On July 26 at 5 p.m., Forest Rangers Dawson and Peterson responded to Fawn's Leap to help a hiker with a lower leg injury. The person fell approximately 20-feet onto a streambed rock. With the assistance of Twin Cloves Technical Rescue Team rescued the hiker. The patient was flown to a local hospital in a helicopter.
DEC encourages visitors to Fawn's Leap to avoid climbing the rocks there, especially without proper climbing gear. In addition, recent flash floods serve as a reminder to outdoor adventurers to check the forecast before heading out.
Town of Denning - Ulster County
On July 28 at 4:15 p.m., Forest Rangers Rusher and Quinones heard a radio call about a teenager possibly having a seizure at Peekamoose Blue Hole. The 13-year-old was located but had blue lips, hands, and feet and was lethargic. She had hit her head on a rock when she passed out. The teen, who was with her father, was taken to the hospital.
Village of Tupper Lake - Franklin County
On July 30, Forest Rangers Corey, Bronson and Russell, issued 10 tickets to an individual who had two illegal encampments on State land at Underwood Bridge and Big Tupper Lake. Rangers assisted Ranger Corey in evicting the subject. The tickets included camping for four or more nights without a permit, storing personal property on State land, cutting down trees, leaving rubbish, and leaving a fire unattended. Each ticket carries a maximum fine of $250.
If you love camping or hiking, you might want to check out some of the state parks around New York.
9 Spots to Enjoy Camping & Waterfalls in New York State Parks
Hike by waterfalls during the day and sleep under the stars at night at these 13 New York State Parks.
13 Hilarious Bad Reviews of New York State Parks
Have these people ever camped before?