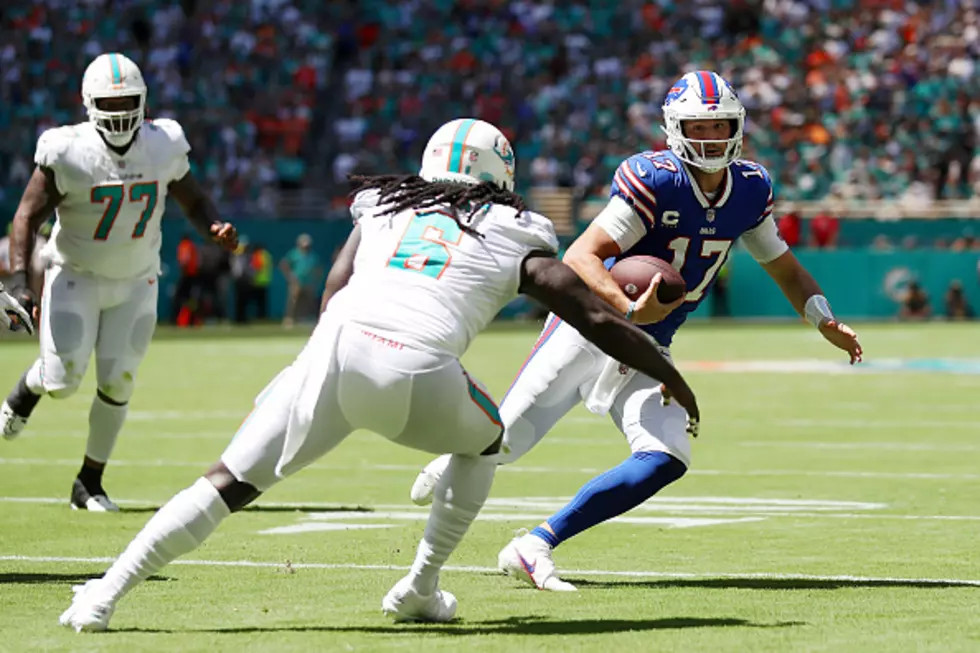 Miami Dolphins Cheated + Shouldn't Be Allowed To Use This in Buffalo
Getty Images
Buffalo Bills traveled to Miami to take on the Dolphins this weekend and lost the game 21-19. There was no doubt that the Buffalo Bills struggled with the heat. You could see the players struggling after dominating the field time on Sunday's game. The Bills were on the sunny side of the field in the stadium the entire game in the darker-colored jerseys. Of course, the Dolphins wouldn't put themselves over there.
If we can't have shade, the Dolphins should not be allowed to have heaters when they come here. If not, explain the difference to me like I'm 5.
Obviously, Bills fans are getting defensive, but the Bills will host the Miami Dolphins in December.
There were so many frustrating moments in the game, but a few of them were very suspicious. Quarterback Tua Tagovailoa got hit by Matt Milano early in the game and hit the back of his head. He got up and couldn't walk right, even falling a couple of times. Normally, a player would have to go through procession protocol, which apparently he did. BUT HE WAS BACK MINUTES LATER. Now, the Dolphins are being investigated. According to ESPN:
The NFL Players Association has told the NFL it wants to initiate a review of the league's concussion protocols following Miami Dolphins quarterback Tua Tagovailoa's return to Sunday's game against the Buffalo Bills, a league source told ESPN's Adam Schefter.
EXTRA: Did you see this Miami Dolphins player try to kick Josh Allen? Edge Rusher Melvin Ingram appeared to kick Josh Allen. But, THAT'S NOT ALL. There were a couple of things that happened to Josh Allen during the game that he did not appreciate. During the second half of the game, defensive tackle Christian Wilkins seemed to hit Josh Allen in the crotch. People on Twitter were saying that is what happened and that is what led Josh Allen to knock his helmet off.
Josh Allen drew a penalty and a 15-yard setback.
16 Buffalo Bills With Some Of The Best And Worst Nicknames
25 Underrated WNY Restaurants You Need to Visit
So many hidden gems in Buffalo for food. Here are 25 places you should be visiting.