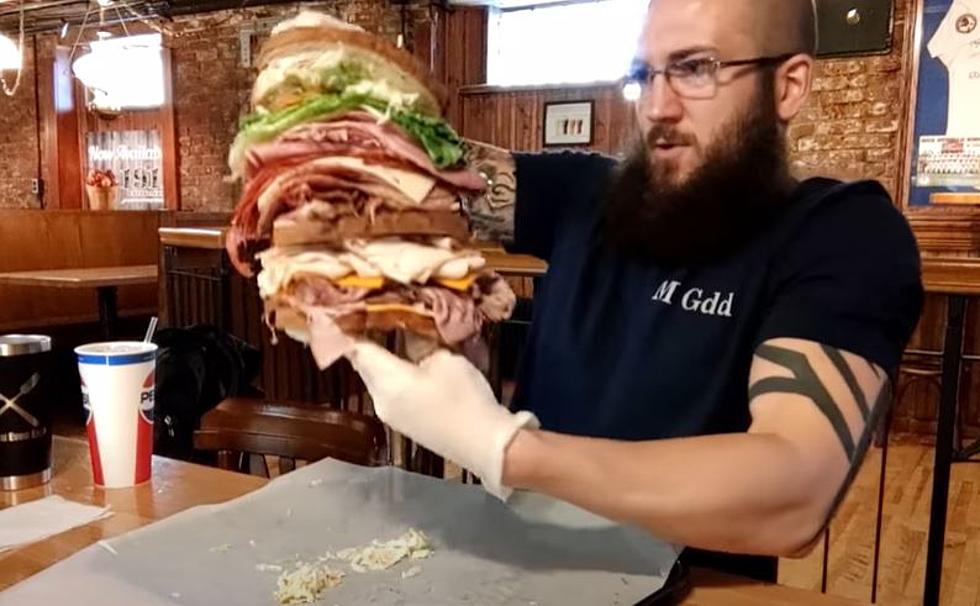 Man Vs Food Is Back In Buffalo For Another Food Challenge
Photo Credit: YouTube
It looks like Buffalo is becoming a favorite destination for the Travel Channel and the stars of their shows.
This week, a friend of mine Dave Cash posted on his Facebook page that he was interviewed by Travel Channel star Casey Webb while Webb was in town filming his series "Man Vs Food".
Dave was having lunch at Brawler's Back Alley Deli and that is when he ran into Webb and the crew of "Man Vs Food". Brawler's has a special food challenge that anyone can take a shot at taking down.
It is called  The "Brawler's Back-Alley Barrel Sandwich Challenge" The Sandwich is a brisket sandwich that is topped with tons of other meats and cheeses and weighs in at around 3.5 to 4 pounds of food. You have 1 hour to finish the sandwich to win the challenge.
If you take down the sandwich within the 1-hour time limit you get a free t-shirt, the meal for free, and your picture on the wall inside of Brawler's Back Alley Deli.
If you want to take the challenge yourself, according to the website foodchallenges.com you need to call Brawler's 24 hours in advance to make a reservation and you can take the challenge weekdays between 11 am and 3 pm.
If you just want to see some else take on the challenge, according to my friend Dave's Facebook post, the episode of "Man Vs Food" is expected to air on the Travel Channel coming up in March of 2022.
Do you think you could beat this 4-pound sandwich Challenge?
Five Times Buffalo Restaurants Appeared on Diners, Drive-Ins and Dives
15 Of The Best WNY Diners That You MUST Try
Did your go-to diner make the 15? What would you add to the list? Email
kadie@wyrk.com
.
20 Restaurants In WNY The Food Network Should Feature
We love so many restaurants in Buffalo and The Food Network should highlight way more of them.