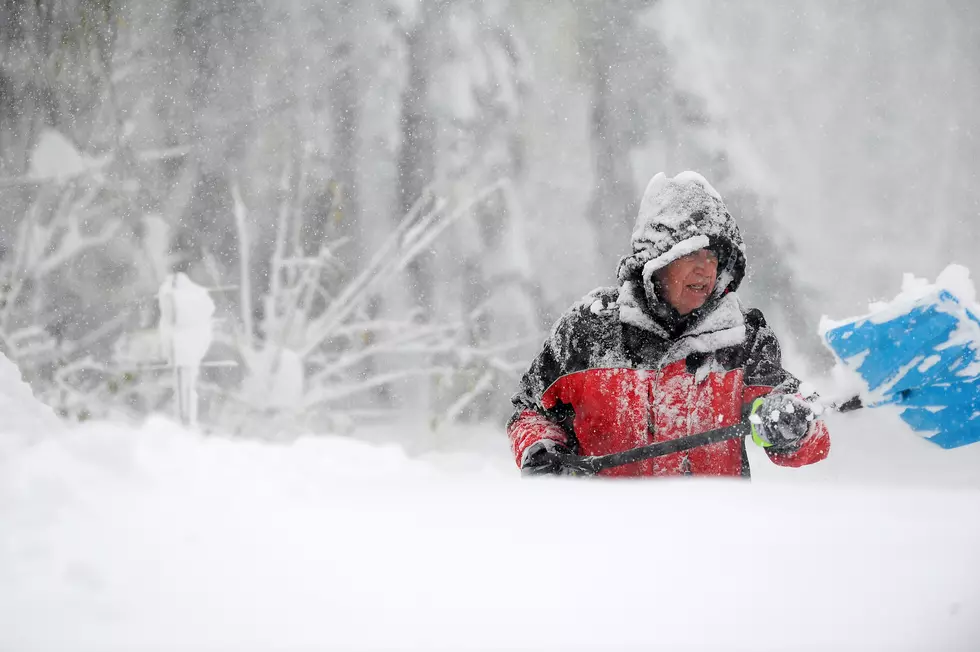 First Deaths From Lake Effect Snowstorm Have Been Reported In Erie County
Getty Images
Erie County Executive Mark Poloncarz held a lake effect snowstorm update this afternoon, Friday, November 18, 2022. The state of emergency is still in effect. Poloncarz said the worst portion of the storm is hitting on the Orchard Park and Hamburg line. There are some really bad sections in West Seneca, Aurora, and Wales. Snow is coming down at a rate of 4 to 5 inches per hour. The visibility is about 20 feet. The snow is water-laden, so it is very heavy. Erie County got a report of a building collapse in Hamburg. The storm outlook for the weekend could bring additional significant snowfall.
Thank you to all the first responders, essential workers, and our local government leaders for working tirelessly to keep us safe!
The First Deaths From WNY Lake Effect Storm Have Been Reported
Poloncarz said that two men have died as a result of the snowstorm. They died due to cardiac events dues to snow shoveling and snow-blowing.
Dr. Gale Burstein, the Commissioner of the Erie County Health Department, offers some tips to help avoid any more deaths:
- People with a history of cardiac issues should avoid shoveling or exertion
- If you are using a generator, it needs to be at least 20 feet away from your house
- Check on your neighbors, especially those who live alone or are elderly
- Do not put a baby to bed in its crib with blankets, pillows, or anything fluffy
The Travel Ban Is Still In Effect In Erie County NY
Erie County has put the driving ban back in place for parts of Buffalo today. The Erie County Executive said he consulted with Mayor Byron Brown to make the decision,
After consulting with @MayorByronBrown, a TRAVEL BAN is being reinstituted for the City of Buffalo from William Street downtown to the Town of Cheektowaga line and everything south. Please DO NOT drive in or into this area. Conditions have deteriorated very quickly.
McKinley Parkway and Milestrip Road in Hamburg are in bad condition. Multiple vehicles have gotten stuck, but it is difficult for first responders to get out to help.

The travel ban is still in effect for the following:
-South Buffalo, Lovejoy District, and part of the Ellicot District
-Lackawanna
-Cheektowaga
-Lancaster
-Alden
-West Seneca
-Elma
-Marilla
-Aurora
-Hamburg
-Orchard Park
-Evens
-Boston
-Eden
-Wales
Do NOT drive in the travel ban zone!
In addition to the driving ban for parts of Buffalo, I-90 is closed from exit 53 to 5. The Skyway (Route 5), the 400, and Route219 are also closed. Poloncarz tweeted the closures at 10:51 am today.
CURRENT ROAD CLOSURES:
@NYSThruway from Exits 53 (I-190) to 59 (Dunkirk)
Route 400 in its entirety
Route 219 from the Thruway (Exit 55) to Springville/Erie County Line
Skyway/Route 5 from Tifft Street to Downtown Buffalo
This is NOT the time to test your tires, brakes, and life. Unless you are an essential worker, please do not drive anywhere.
Credit: Erie County NY via Youtube
There is more than four feet of snow in some of these areas and it is still snowing. These are some of the worst conditions that our Public Works and Sheriff's Deputies have ever been in. Even big-rig snow plows are getting stuck. It is difficult and dangerous. Poloncarz says first responders may not be able to get to you. The Erie County Sherrif says the roads are not in any type of condition to travel on. He warned residents not to put themselves or first responders in danger. Please call 911 if you do need assistance.
Symptoms of Hypothermia And Frostbite
8 Cars Notorious For Bad Rust Problems In New York State Winters
9 Of The Best Dog Breeds Perfect For New York's Cold Winters