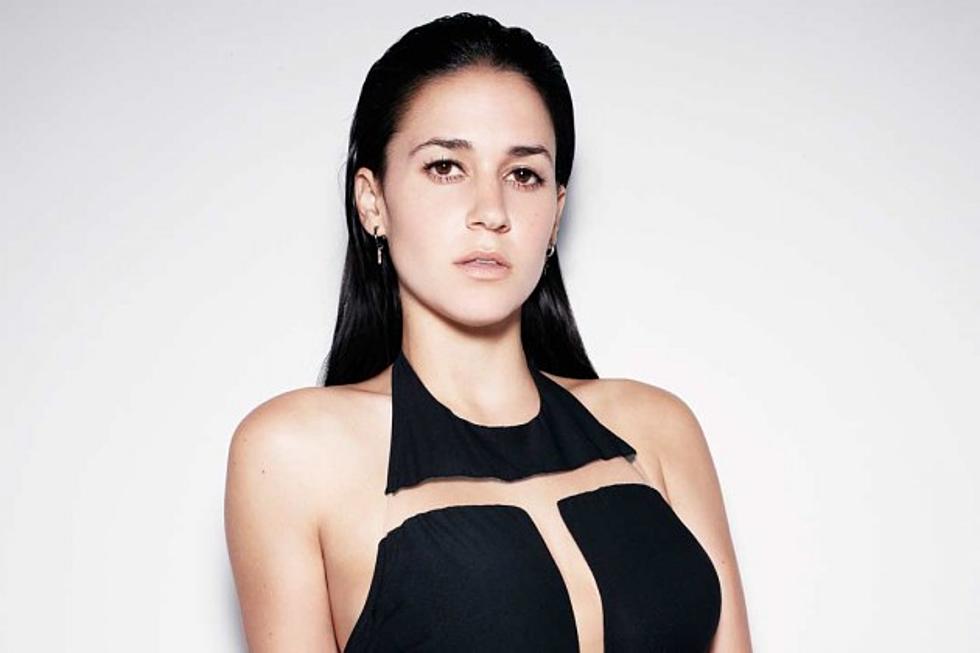 Kat Dahlia Makes a Comeback at L.A. Show, Talks New Album and the Weeknd Collaboration [EXCLUSIVE INTERVIEW]
Epic Records
Everyone loves a great comeback story. One where a second chance and loyal fans is all it takes to get back in the swing of things. Kat Dahlia's moment to do just that arrived Thursday (Sept. 17) at the Echo in Los Angeles, where the Miami native hit the stage to perform.
This performance marks Kat's first time in L.A. since December 2014, and one of her first shows since returning to the spotlight after releasing her delayed debut album, My Garden, in January.
"It feels good. This is my first show coming back and I just did sound check, I sound great," Kat tells the Boombox in the dimly lit green room before her set. "I am just really excited to see the fans and get out there again to do what I love."
Her loyal supporters motivated her to get back to the music. When she released her gritty ode to riding solo, "Gangsta," with Vested in Culture/Epic Records in 2013, Kat was on track to release her album the following year. But her plans were derailed when she unexpectedly lost her voice due to vocal chord issues. She went on hiatus due to strict vocal rest while simultaneously being forced away from her passion -- a serious learning process. "I learned a lot about my voice," the 25-year-old shares. "I learned how to become more disciplined with things that I do before a show. I've learned how to put the restraints on my voice. It took a lot of mistakes but I have finally learned now."
With that knowledge to succeed, she was ready to rock the imitate sold-out crowd inside the Echo -- a mix of young couples, teens and hipsters. Kat hit the stage at exactly 10 p.m., opening with the Salaam Remi-produced "Clocks." From the start, she had the audience in the palm of her hand. There was a genuine sense of solidarity in the room -- she missed her fans as much as they missed her.
Backed by her bass-heavy, three-piece band including a guitarist, keyboardist and drummer, Kat eased right into "Saturday Sunday." But the highlight came when she performed her cover of the Weeknd's "The Hills." "I would love to work with the Weeknd," she reveals before the show. "He's just so in the zone right now, no pun intended."
Now that Kat's in her element once again, she's not slowing down and is currently in the studio working on her sophomore album. While she admires the Canadian crooner, she is all about going the organic approach when it comes to collaborations. "I don't know who I would work with because there is no planning, but then again, I don't know how this would sound [musically] but I want to work with Justin Bieber. I would love to do something with Diplo too," Kat admits.
It's a wonder she hasn't collaborated with the Mad Decent head honcho already. Kat and Diplo both have an affinity for dancehall. In fact, she's an island girl herself, hailing from Miami by way of Cuba, where she says she fell in love with reggae before taking a trip to Jamaica to get the "real" thing. "Gangsta," which she saved for later in her half hour-long set, is her reggae-infused spin on 50 Cent's "Wanksta." It is also one of the most emotional songs for her to perform. "It always gets me back to the zone of where I was at the time," she says of performing her debut hit. "I just get so frustrated with all of the circumstances and with life in general. We always are knocked down and sometimes it feels impossible to get your head above water… it's always a struggle."
Now that she's released her darkest emotions on My Garden, Kat says she's working on some feel-good songs for the new LP. "I'm trying not to address heartbreak this time around because I do want to get out of that  zone… it's hard to when your single," she states. "I have a few songs that I am working on that are all about good times." One is called "Money Party." The track, written by Kat and her close friend Mel, centers on the parties Kat would throw a few summers ago. "Heartbreak doesn't necessarily make for the best song content, but it makes it easier for me. But I can still write a song and I know how to have a good time."
Watch Kat Dahlia's "Gangsta" Video
See 20 Rappers' & Singers' Yearbook Photos You Won't Believe