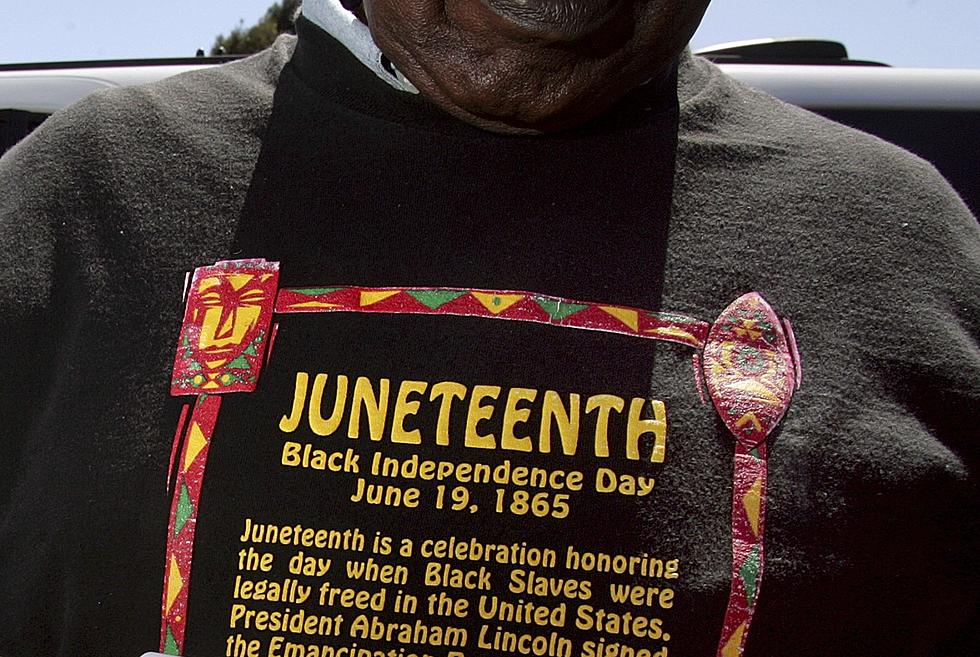 What Is Juneteenth and Why Do We Celebrate It
David Paul Morris / Getty Images
Juneteenth has been in the news a lot over the last few years. With both New York State and the Federal Government officially recognizing June 19th as a holiday, there has been quite a bit of discussion as to whether this day should be honored or not, and how it should be celebrated.
In order to truly understand why some people in the United States of America would want to celebrate and honor Juneteenth, it would be important to learn about the history of the celebration.
What Is Juneteenth
It's actually an important event, an important time. But nobody had ever heard of it.
-Donald J Trump, 45th President of the United States of America
The name Juneteenth is a portmanteau, or combination, of the words June and nineteenth, which is the day that it is typically celebrated.
Juneteenth was the oldest known observance of the ending of slavery in the United States. According to historical records, the celebration began on June 19, 1865, the day Major General Gordon Granger of the Union Army rode into Galveston, Texas in final execution of the Emancipation Proclamation.

Issued by President Abraham Lincoln on September 22, 1862, the Emancipation Proclamation stated, among other things, That on the 1st day of January, A.D., 1863, all persons held as slaves within any State or designated part of a State the people whereof shall they be in rebellion against the United States shall be then, thenceforward, and forever free...
-History of Juneteenth, Juneteenth Festival of Buffalo, Inc.
Even though slavery ended in 1863 after President Abraham Lincoln, the 16th President of the United States, signed the Emancipation Proclamation, there were still large parts of the country where slavery was still in existence. It took more than 2 years before the last group of slaves was freed by General Granger in Galveston, Tx.
Juneteenth is a day to reflect on both bondage and freedom — a day of both pain and purpose. It is, in equal measure, a remembrance of both the long, hard night of slavery and subjugation, as well as a celebration of the promise of a brighter morning to come. On Juneteenth, we remember our extraordinary capacity to heal, to hope, and to emerge from our worst moments as a stronger, freer, and more just Nation. It is also a day to celebrate the power and resilience of Black Americans, who have endured generations of oppression in the ongoing journey toward equal justice, equal dignity, equal rights, and equal opportunity in America.
-Joseph R Biden, 46th President of the United States of America
How Do You Celebrate Juneteenth
Juneteenth has been celebrated in Buffalo since at least 1976 and is recognized as the oldest continuously running Juneteenth celebration in the nation.
Since the events are celebrating the end of slavery in America, many African Americans treat this day as their Independence Day. So activities on Juneteeth can vary and often include religious services, street parties and festivals, parades, and educational offerings that teach more about the history of America.
If you're looking to become more involved in this year's activities, you can find the full list here on the Juneteeth of Buffalo website.
Buffalo's 48th Juneteenth Celebration, Parade, and Festival
Western New York celebrates its 48th Annual Juneteenth Parade and Festival on June 17, 2023, in Buffalo's MLK Park Neighborhood. The Grand Parade starts on Genesee Avenue and travels one mile before turning into the historic MLK Park where the festival takes place. Juneteenth celebrates the end of slavery after the end of the US Civil War.
Different Ways To Celebrate Juneteenth All Year
Community Gathering for Reflection, Healing, and Hope in Buffalo
Several hundred people descended upon filled More than 16,000 people piled into the Johnnie B Wiley Amateur Athletic Sports Pavilion on Jefferson Ave to focus on reflection, healing, and hope in response to the aftermath of that terrible act of domestic terrorism. The Community Gathering for Reflection, Healing, and Hope occured on Saturday, May 13, 2023. It featured entertainment and activities to help honor the lives that were lost and impacted during the mass shooting in Buffalo 1 year ago.