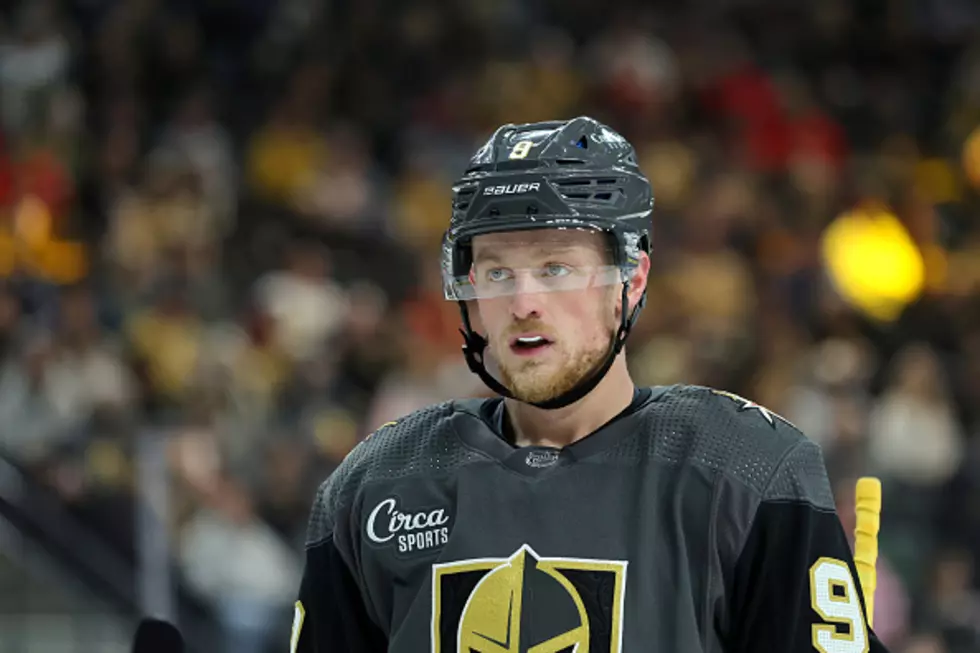 Jack Eichel Has Words for Sabres Fans Before His Game in Buffalo
Getty Images
The Buffalo Sabres play another game at KeyBank Center tonight, when they host the Vegas Golden Knights in Buffalo.
The Sabres are coming off a disappointing loss to the Arizona Coyotes on Tuesday and even though they have had a great start to the season, the results haven't quite been there in the last several games.
Buffalo is two points out of a Wild Card spot in the Eastern Conference and second-last already in the Atlantic Division, as crazy as that sounds after the first two weeks of the season.
They will be playing a team who leads the NHL in points, the Vegas Golden Knights, and has a star forward who Sabres fans know very well.
Former Sabres captain Jack Eichel makes his return to KeyBank Center tonight, which will be his second game back in Buffalo since being traded.
The first time back in Buffalo didn't go so well for the Golden Knights and Eichel, as Buffalo beat Vegas and held Eichel scoreless.
You may remember that KeyBank Center was full that evening and Eichel was booed relentlessly by the Buffalo faithful. After the game, Eichel had what are now famous comments about the fans here, joking it took him leaving for them to finally get rowdy.
"It only took seven years and me leaving for them to get into a game," said Eichel back in March.
Eichel added:
"They must have been booing me because I was still here."
During his meeting with the media in Buffalo today, after Vegas' morning skate, Eichel was asked about this comments, which did not sit well with the City of Buffalo and Sabres fans.
Eichel admitted he was surprised by the reception last season, although he shouldn't have been.
"Maybe I was a little hurt and that's why I said the things I said," said Eichel.
Eichel said that's all in the past now and "I'm not going to sit here and say 'I wish I didn't say it', I just don't think there's enough time for that."
That's a fairly fascinating comment to say there isn't enough time to say that he wish he didn't say those comments back in March.
What Eichel said towards the fanbase was not something Sabres fans deserved, who watched their team miss the playoffs 11 straight seasons. The play of the team is why KeyBank Center had empty seats so many of those nights Eichel was here.
In the end, sports need villains and Eichel is the number one villain for Buffalo sports. I would full expect him to see just as many boos from the Buffalo fans tonight as he did eight months ago.
Top 10 Most Underrated Buffalo Sabres of All-Time
Buffalo Sabres Captains Since 2000
22 Famous Buffalo Sports Phrases Every Die-Hard Bills and Sabres Fan Knows
Being a sports fan in Buffalo is sometimes like knowing a different language. Here are 22 of our favorite Buffalo sports phrases you already know if you're a huge fan! And if you're new here, here's how to catch up.