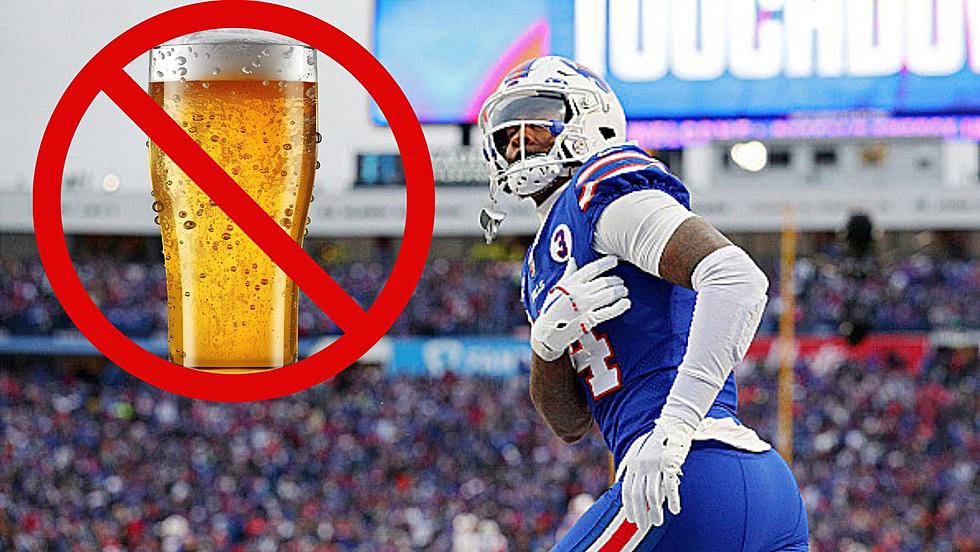 Should Alcohol Be Banned From Highmark Stadium?
Photo Credit: Canva Image, Getty Image
Year after year, the NFL recognizes the Bills Mafia for our party-like spirit, and it's no secret that we tailgate like no other. 
But are our tailgate parties too much, to the point that other fans may be at risk?
According to a recent study by British Gambler, Bills fans reportedly "drink the most alcohol during games than any other fanbase, with an average of 3.3 beverages per game per person." And as long as you know your limits, you should be OK; however, the problem is that many football fans forget those when they're having a good time at a tailgate or inside the stadium.  
Listen to Clay & Company, Every Weekday Morning On 106.5 WYRK
A scary incident happened last week during the Miami Dolphins and New England Patriots game, and it left one fan deceased. 
While at Gillette Stadium, a man was reportedly punched at least twice in the head during a fight in the stands with a fan from the opposing team, and it was clear that the man who was punched required immediate medical attention. 
Videos were even shared of the horrific incident, and it appeared that alcohol may have played a factor since there are cans around the brawl. 
One witness told media outlets what he saw:
"A lot of people started trying to pull them apart. ... It looked like somebody was in the middle of them, and then a man in the Dolphins jersey reached over and he connected with two punches to the victim's head." 
"It wasn't something crazy or out of the ordinary until, 30 seconds later, the guy wasn't getting up."
Definitely a scary scene at Gillette Stadium, and it's one that we hope never happens again – especially here in Buffalo. 
That's why many people have posed the question, "Should alcohol be banned from Highmark Stadium?" 
And honestly, I think maybe it should!
While we are the City of Good Neighbors, we can't control what other fans at Highmark Stadium choose to do after their consumption of alcohol. And we know it can get rowdy at Bills games.
Here's the thing, too…many Bills fans who go to the games often tailgate beforehand, meaning they probably have had their fair share of alcohol for the day by the time they walk into the stadium. 
Maybe the solution to preventing drunken fights is to have everyone pass a breathalyzer before walking into the stadium, and then limiting each person to two beers. Granted, that would be expensive for fans, but it's probably more likely. 
However, beer sales at Highmark Stadium must be a driver of significant revenue at games, with the British Gambler study reporting that "Bills fans spend an average of $23.75 on alcohol per game," which ranks 8th in the league.  
But if you think about it – quick math – with a seating capacity of 71,608 seats, that means (on average) Highmark Stadium brings in about $1,700,690, if everyone spends the average cost. So the odds of actually getting alcohol banned from Highmark Stadium are slim to none, but maybe some other regulations should be put in place, if for nothing else than out of precaution for fan safety and to prevent interactions like the one witnessed at Gillette Stadium this season. 
2024 Country Concerts in Buffalo, New York
A lot of concerts coming in 2024! Here are all of the country concerts happening in Western New York.
Why You Should Never Wear White In Buffalo, New York
Never, ever wear white in Buffalo. Here's why.
5 Reasons To Be At The We Are Buffalo Tailgate Party