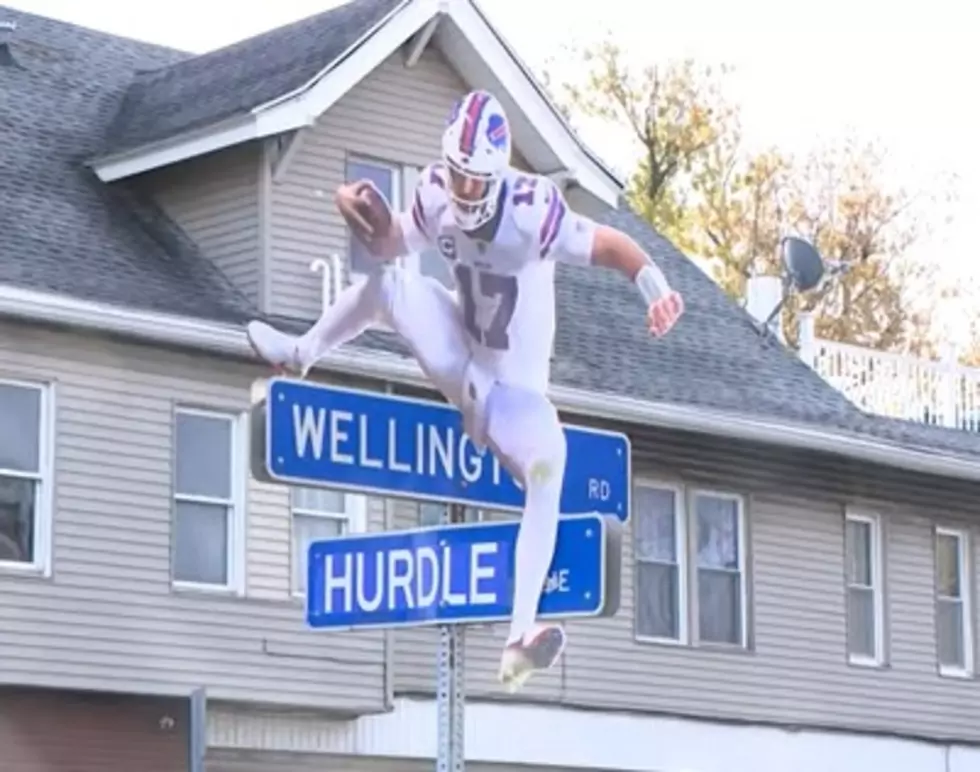 Josh Allen "Hurdle" Ave Sign Finally Has To Be Taken Down
(YouTube via WGRZ)
Hopefully, you had a chance to take a picture at the "Hurdle" Ave sign that was put up a couple of weeks ago...because they've finally been told to take it down.
A couple weeks ago, Josh Allen dropped jaws by hurdling yet another player in a game against the Kansas City Chiefs.  It's certainly not the first time it's happened, and it probably won't be the last, but at least one person was quick enough to use it to bring attention to his business.
Zoom Buffalo is a graphic design company. They're the same ones who made up the Allen/Diggs faux political yard signs and also decorate Allentown every year. After the Josh Allen hurdle of the Kansas City player, they quickly made up a large cutout of Josh Allen mid-hurdle and put it above the road sign at the corner of Hertle Ave and Wellington.
Hertle Avenue has been named that for years, but they went one step further and (temporarily) renamed the street "Hurdle" Avenue.  It's something that technically you aren't supposed to do.  You're not supposed to alter road signs at all...but hey...was anyone really being hurt by it?
The city seemed to be ok with it.  It went up in mid-October and has been there ever since.  But it was finally time for it to come down.
Unfortunately, it couldn't stay forever.  However...if you want a sign of your own that shows Allen jumping over a street sign that says "Hurdle" Ave, they've got them available.  You can get them here.
11 Pictures of Why We Love Josh Allen
Will Josh Allen Be The New Logo For The NFL?
After noticing the change to the NFLtwitter page, Bills Mafia jumped on Facebook to talk through the possibility of Josh Allen's iconic jump becoming the new logo for the sport.
Complete List Of Buffalo Bills Available On Cameo