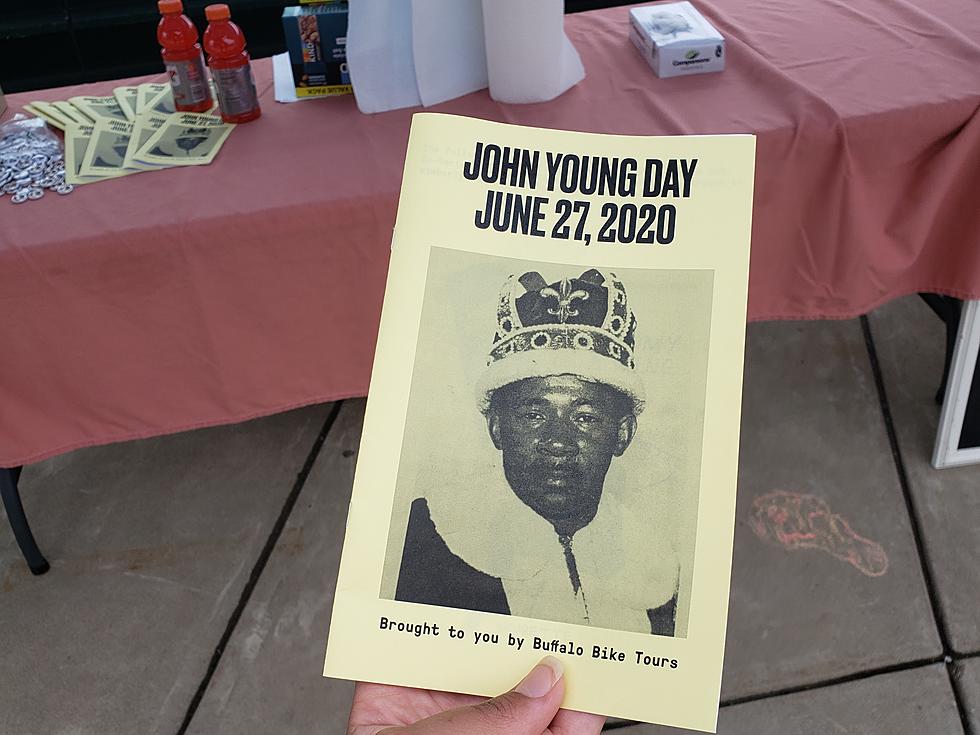 First Mambo Wings in 20 Years Served Up On John Young Day [Video]
By Yasmin Young
Yasmin Young was on-hand as Buffalo Bike Tours celebrated its new "Wing Ride" bike food tour on "Wing King" John Young Day, Saturday, June 27, by serving the first mambo wings in 20 years.
Enter your number to get our free mobile app
John Young Day and the Wing Ride bike food tour kick-off celebration was held at the Buffalo Bike Tours Canalside Kiosk, located at 1 Naval Park Cove in Buffalo.
John Young Day
"You don't know Buffalo until you've tried mambo wings. Chicken wings are inextricably linked to soul food and black culture – and John Young deserves a greater place in our understanding of Buffalo's most famous dish." ~ Buffalo Bike Tours owner, Marc Moscato, via a press release emailed to me
We were able to sample John Young's famous mambo sauce, which hadn't been available for 20 years. Lina Brown-Young, served up the wings covered in her dad's coveted sauce from his restaurant, Wings N' Things.
During the mid-1960s, "Wing King" John Young owned a restaurant here in Buffalo called John Young's Wings 'n Things. There is an on-going debate over who actually created the Buffalo wing, but John told a reporter with the New Yorker Magazine, who was doing a story about the origin of the Buffalo wing:
"I am actually the creator of the wing. If the Anchor Bar was selling chicken wings, nobody in Buffalo knew it then. After I left here, everybody started chicken wings."
You can book your spot on Buffalo Bike Tours' "Wing Ride," which start in July via its website. You can also stop by the Buffalo Bike Tours kiosk, or by calling (716) 328-8432. Participants may bring their own bikes or rent Buffalo Bike Tours' bikes.
Last year, I went on the B-Side Ride with Buffalo Bike Tours. Even though it was raining, we had a really good time and learned a lot of "hidden" history in Buffalo! Marc Moscato, the owner, was an amazing tour guide!
Buffalo Soul Food, BBQ and Caribbean Restaurants