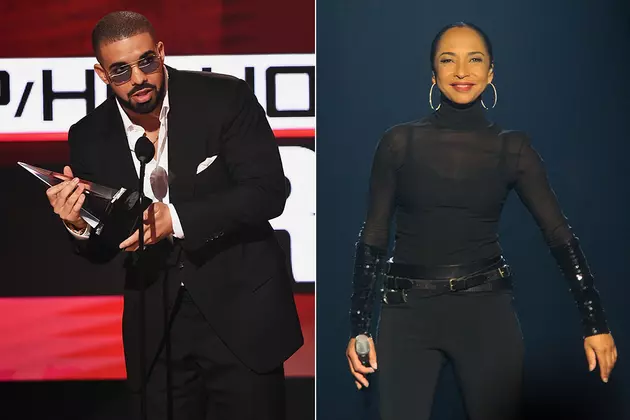 Drake Meets With Sade, Says She's an Important Lady in His Life
Kevin Winter/Ethan Miller, Getty Images
Drake's love for singer/songwriter Sade hasn't faded and he made that very clear on his Instagram post yesterday. The 6 God posted a picture of himself, his mom and the singer with a caption that read "Two very important ladies in my life" and then ended it with his symbolic flower emoji.
Last year for Drizzy's birthday, Sade sent him over a special gift which made him very proud. Posted on his Instagram, the gift was a portrait of the singer and a handwritten note from her that read "The 24th of October 1986 was a very good day. Shine on :-) Love, Sade." Drake captioned the video by saying "Woke up to see the most beautiful woman ever in my house. Thank you @ovogelo @valvogt and of course SADE!!! 🎁🌺."
The Toronto-born musician is not only making his personal life look amazing, but he's doing massive numbers on the music side. Last week, he became the first artist ever to break the 10 billion stream milestone on Spotify. His album Views played a huge part in that. On March 19, his new project More Life broke another streaming record as it became the most streamed project on Spotify in a single day with 76,355,041 streams. It broke Ed Sheeran's old record of 68,695,172 streams, and More Life is projected to sell between 500,000-550,000 in its first week.
Drake has always had a huge fascination for singers from the 1990s and 2000s. His love for the late Aaliyah runs so deeply, he has sampled her music countless times throughout his career and even has a tattoo of her on his body.
See Photos of Drake's Different Looks Over the Years