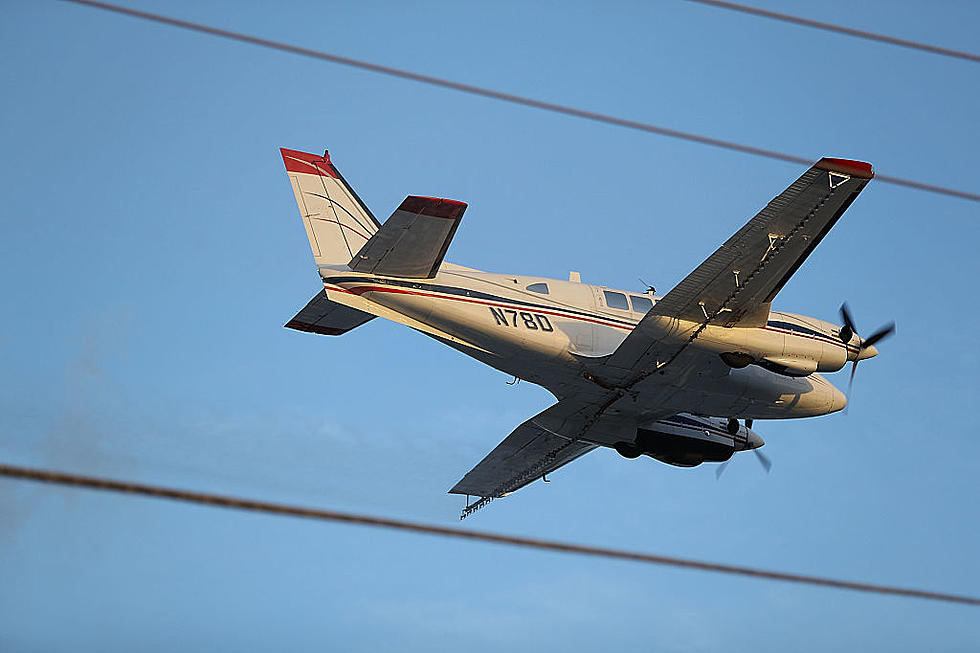 Why Is There An Airplane Flying Low Around Western New York?
Getty Images
Autumn is in full swing in New York State, and with the change in weather, all sorts of activities are happening around the 716 and beyond.
With us being outside a little more to catch all of the fall foliage, going apple picking, and being on the hunt for the latest pumpkin spice, you may happen to notice something a little strange in the sky, buzzing around the area.
Over the weekend, the New York State Department of Environmental Conversation, in partnership with the United States Environmental Protection Agency, announced they are deploying low-flying aircraft all over Western New York for a very specific reason.
Did You Know WNY Had A Major Part In Developing Atomic Weapons In America During World War II?
It may come as a surprise to some that the 716 played a big part of the development of atomic and nuclear weapons during the 2nd World War.
The Manhattan Project, conceived by the father of the atomic bomb, J. Robert Oppenheimer, had facilities spread all over the United States, including right here in Buffalo, and unfortunately, some of the waste that came from developing our first nuclear weapons still remain right here in Western New York as well.
Western New York was a hub for the manufacturing of atomic weapon components during World War II and other industries using or producing radiologic materials. This aerial survey is being performed out of an abundance of caution to provide the most current and scientific information to complement a similar aerial radiological survey of the region that was previously conducted in 1984 that assessed the extent of potential use and distribution of biproducts and waste material containing radiological material.
-New York State Department of Environmental Conservation
There are still hundreds of acres of waste buried in the area, and because of that, the DEC is partnering with the EPA to perform some ASPECT testing.
What Is That DEC/EPA Airplane Doing In The Sky?
The EPA's Airborne Spectral Photometric Environmental Collection Technology (ASPECT) plane is going to be flying low around Western New York doing chemical and radiological testing. The plane, which will be flying around 500 feet from the ground, is updating its records to ensure that we're safe and sound from all that atomic development that happened 80 years ago.
The testing is expected to take about a month, depending on the weather, and the plane isn't taking any sorts of photos, just collecting atmospheric, chemical, and radiological data. You can find out more info about this here on the DEC website.
So if you see that plane flying low around the area, don't panic.
FOUND! Wreckage from World War 2 Cargo Plane in the Adirondacks
The remains of an American cargo plane that went down back in 1944 was located by some adventurers in 2021. It took almost a year for the wreckage to be found after the plane crashed and wasn't officially memorialized until 1997.
The location of the crash is on a remote part of Blue Ridge Mountain, near the town of Speculator in Hamilton County.
Gallery Credit: Architectural Orphans/YouTube
LOOK: Wisconsin Man Converts WWII Plane Into Unique Airbnb Experience
A man in Kempster, Wisconsin has turned a plane used during WWII into an
Airbnb
where guests can spend the night and even sit in the cockpit. Nearly $60,000 was spent on the project to turn the plane into a livable space. Take a look at what this Airbnb offers guests both inside and out.
Gallery Credit: Rob Carroll
Nuclear Lake in Pawling, NY Has an Explosive History
Nuclear Lake is not just a clever name, it's a literal one. Tucked away in the woods of Pawling, NY, once sat a secret research facility. On the shores of the 55 acre body of water, were labs conducting experiments, using uranium and plutonium. The Lake can be accessed by anyone walking the Appalachian Trail in Dutchess County, but should it?
Gallery Credit: Lou Milano