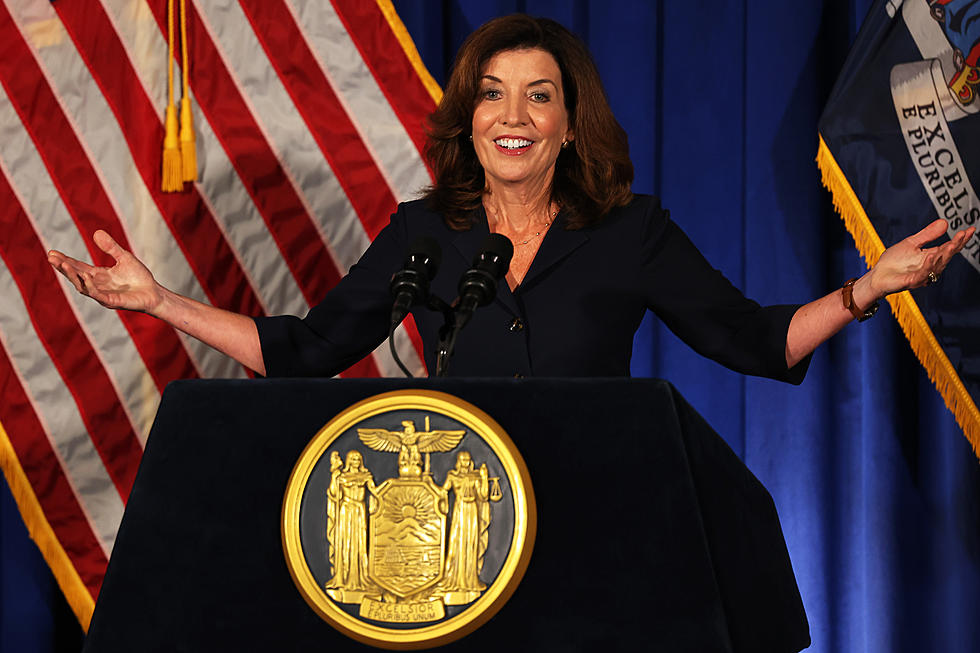 Hochul Touring New York About $4 Billion Environmental Plan
Getty Images
The Empire State has a vast amount of great natural resources that are in various conditions.
In many cases, New York has a lot of contrast in the status of those resources. We have the cleanest fresh water lake in America located right here in New York, we also have the dirtiest fresh water lake in America located int he state as well. We have cities that have a massive problem with lead water pipes and toxic waste from years of nuclear testing.
Because of all these issues, officials are on ready to embark on a multi-billion dollar spending plan that would use taxpayers' money on advancing clean water and air goals, plus adding green jobs to the economy, and New York State Governor Kathy Hochul is going on a statewide listening tour to get your ideas.
What Is The The Clean Water, Clean Air, and Green Jobs Environmental Bond Act?
The Clean Water, Clean Air, and Green Jobs Environmental Bond Act was approved during the 2022 elections and it authorized the state to spend up to $4.2 Billion in state funds to combat climate change and fund some of the environmental changes the state has already ordered, improve building infrastructure, make investments in disadvantaged communities, and try and reduce the impact of flooding in different areas of the state.
To address and combat the impact of climate change and damage to the environment, the "Clean Water, Clean Air, and Green Jobs Environmental Bond Act of 2022" authorizes the sale of state bonds up to four billion two hundred million dollars to fund environmental protection, natural restoration, resiliency, and clean energy projects.
-Clean Water, Clean Air, and Green Jobs Environmental Bond Justification
Some spending from this program has already begun with around $400 million being sent to cities, towns, and villages to help them repair and upgrade their water supply systems.
Why Is Governor Hochul Doing A Listening Tour?
With such a massive amount of taxpayer money being spent, there has been no shortage of opinions on what the money should be spent on. Some are all for spending money are for it, while others are dead set against it.
Because of this, the Governor is heading up and down the New York State Thruway to get the opinion of the people.
The Environmental Bond Act will be truly transformative for our communities and I look forward to the start of these listening sessions next week with stops across the state throughout the summer... The listening tour will be instrumental in helping New York State combat climate change and grow our economy by providing an opportunity to discuss future projects that will create jobs, protect the environment, improve quality of life, and leave lasting benefits for our communities.
-Kathy Hochul, Governor of New York
Hochul has 10 tour stops scheduled so far with, with stops in Coutland, Brooklyn, The Bronx, along with several other locations and a few virtual meetings.
You can get a full list of stops here on the New York State website.
Top 10 Complaints From New York Consumers
The top complaints range from price gouging of infant formula and children's medication, flight cancellations, and the dramatic increase in gasoline prices.
5 Things New York Should Ban But Never Will
It seems like New York State is banning everything nowadays, but here are a few things that should be added to the list