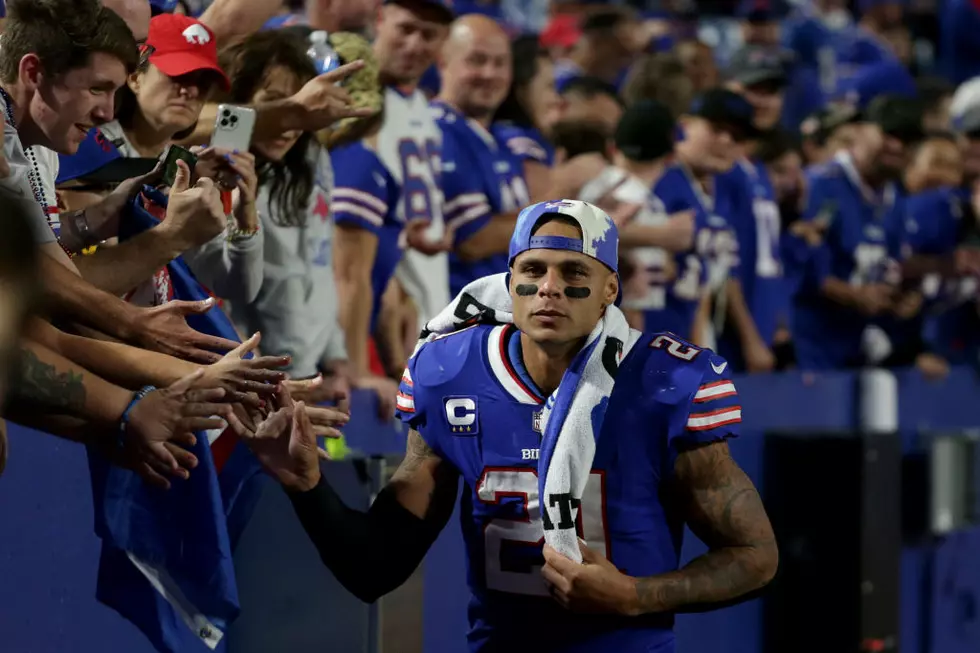 Buffalo Bills' Jordan Poyer Releases Lifestyle Brand
Getty Images
On the heels of an amazing victory in Orchard Park, the Buffalo Bills' star defensive Safety held a grand opening event for the launch of a brand new clothing and lifestyle brand.
On Tuesday, September 20, 2022, Jordan Poyer held a launch event for his new company, JP Brand.
JP Brand is the official clothing and lifestyle brand for Poyer and offers athletic clothing and premium footwear. The brand partners with Alma Mater Footwear in California to create luxurious and durable items that just about everyone can enjoy.
The launch event, which was held at The Cellar store in Buffalo's Elmwood Village featured Poyer on hand as he treated shoppers and introduced them to the clothing and footwear.
All sorts of famous and important Buffalonians were in attendance during the brand launch, including Bills teammates Von Miller, Kaiir Elam, Jaquan Johnson, and more
Even the creator of the new Bills Mafia fight song, Buffalo's Benny The Butcher, was on hand to shop and support Poyer as he steps into the fashion ring.
The JP Brand clothing and shoes can only be found at The Cellar in Buffalo, or online via Poyer's website.
Also, Poyer isn't the only Buffalo Bill player who has released a fashion or athletic brand.
Earlier this year Bills' Wide Receiver Isaiah McKenzie also released a clothing brand called Face Of The Franchise which includes many signature items like joggers, shorts, sweatshirts, and more.
I'm glad to see players entering different markets outside of just playing football. It's a great way for them to connect with their fans and to help build a life after football.
Buffalo Bills Mafia Boat Parade
Hundreds of boats floated in Buffalo, New York for the first every Buffalo Bills Mafia Boat Parade. It's important to note, the Bills are only 1 and 0...and this city WILL throw quite the party if they win it all this year.
The Top Folding Tables For The Bills Mafia To Jump On
In order to have the best tailgates this year, you have to be ready with the highest quality equipment
6 Names Western New Yorkers Call Bills Stadium
The Buffalo Bills have been around for a long time and ever since they moved to Orchard Park, Western New Yorkers have called the stadium several different names.