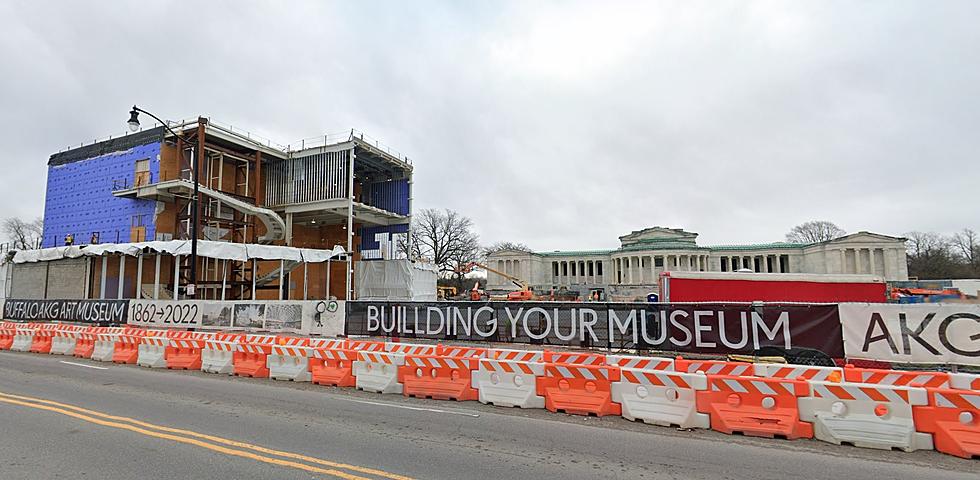 The Buffalo AKG Art Museum Set To Reopen
Google Maps
There are several great reasons why Buffalo is a great place to call home. One of the primary things on that list is the plethora of art and architecture we have the privilege of being able to see and consume all of the amazing art all over the region.
One of the best places to check out the art in the Buffalo area is getting ready to reopen after a lengthy and extensive multi-million dollar expansion.
What was formally known as the Albright-Knox Art Gallery is among the oldest public art museums in America being founded in 1862. Its connection to the growth and history of BUffalo cannot be understated, especially since President Millard Fillmore, who was a Buffalo resident, was one of the many people who incorporated the original museum. Since the late 1800s, the Albright-Knox Art Gallery has had some of the finest pieces of art in its collection.
Starting in 2019, the Albright-Knox Art Gallery embarked upon a more than 200 million dollar expansion thanks to a new partnership the museum has with Jeffrey Gundlach, a billionaire from Buffalo.
The Buffalo AKG Art Museum Nearly Ready to Reopen
The construction project, which was delayed partially due to the impacts of COVID, is nearly complete and the new Buffalo AKG Art Museum is just about ready to reopen to the public.
When finished, the Buffalo AKG will have more than 50,000 square feet of exhibition space that will be state-of-the-art. It will also have five classrooms, community gathering spaces, a large auditorium, and more than half of an acre of new public green space outside.
There will also be a new underground parking garage that will sit underneath the courtyard that faces Elmwood Avenue.
When Is The Buffalo AKG Art Museum Going To Open
With construction being substantially complete, officials from the Buffalo AKG have announced that the museum is set to open in early June 2023.
Fun Summer Date Ideas Under $20 In Western New York
We've rounded up some budget-friendly date ideas around Western New York that are cheap or (even better!) totally free - and achieve the most important purpose - spending some one-on-one time with the one you love (or at least like a lot).
Photo's From Arts for Healing
More than 100 young adults gathered a few blocks from the Jefferson Avenue Tops Markets to promote healing, wellness, and coping skills through artistic expression.