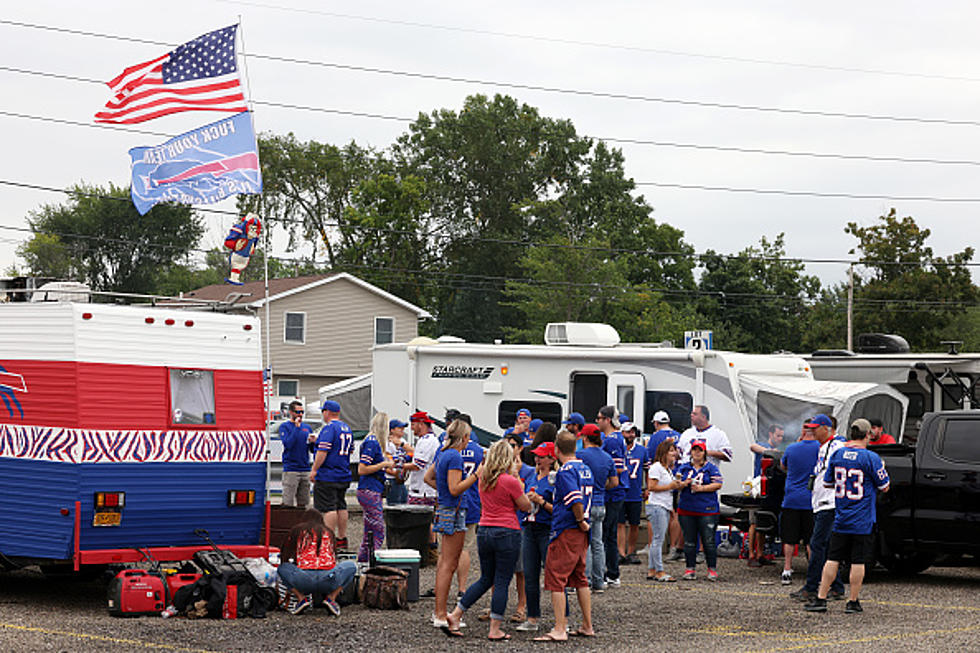 Baby Breaks Table at Bills Mafia Tailgate In Orchard Park [VIDEO]
Getty Images
Okay, the game clearly did not go as Bills fans (or the Bills themselves) had planned. The Bills lost the 2021 regular-season opener to the Pittsburgh Steelers, 23-16 in front of a packed Highmark Stadium on Sunday afternoon.
The scene before the game in the tailgate lots and front yards was something to behold. People were tailgating hours before the game and usually, traffic doesn't get really bad until after 9 am. Traffic was jam-packed anywhere near the stadium starting before 7:30 am and it was probably the worst traffic I have ever seen in my 22 years going to games.
The tailgates were full of Bills fans eating, drinking, and having a great time on the first home Sunday in Orchard Park.
Something caught my attention on Sunday, however, that involved an adorable video of a baby that was "baptized" into Bills Mafia. The baby was gently lowered to break a mini-table and the video is amazing.
I would love to know where people get these mini tables from? I've seen a couple of them now and honestly, I just want to know where to get one, or if people just make them at home.
The tailgating was the most fun part of Sunday for Bills fans on Sunday and it was so great seeing fans back along Abbott Road and Big Tree Road tailgating with family, friends, and even strangers; just happy to be back at the stadium and enjoying a Bills game day.
Hopefully, the outcome is much better for the next home game on Sunday, September 26th against The Washington Football Team.
The 20 Most Popular Baby Names in New York State
The most popular
baby names
for both boys and girls in New York.
Explore This $1.1 Million Home in WNY That Has Its Own Island and Pond
Explore this amazing home in Western New York that has its own oasis.
LOOK: Here are the best small towns to live in across America
KEEP READING: Here are the best places to retire in America