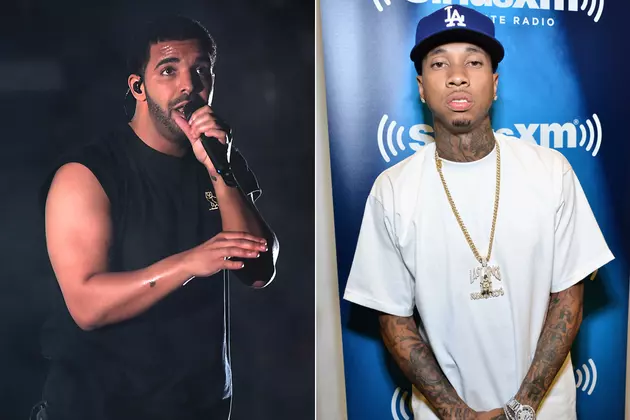 20 Most Disappointing Hip-Hop Lyrics of 2016 So Far

Kevin Winter / Araya Diaz, Getty Images (3)
Since 2016 began, hip-hop has been gifted with solid releases from the likes of Kanye West, Drake and Kendrick Lamar, among others. The year as a whole looks to be a memorable one for hip-hop heads. With the vast amount of rap music in today's digital era, not only have fans received songs with noteworthy lyrics, but there's also been an abundance of tracks with disappointing rhymes -- the kind that will have you shaking your head in disbelief.
Terrible rap lyrics are nothing new in hip-hop. In fact, the genre is even more plagued these days by careless rappers who worry more about money and fame than the actual art and culture of hip-hop. Even the biggest and best rappers of today have had their mishaps when it comes to their rhymes.
Regardless, hip-hop is a genre that has a little bit of everything for its listeners and that's certainly been the case in 2016. Whether it's intelligent raps, turn-up music, trap anthems or Caribbean-influenced songs, the genre is getting more mainstream love than its ever had in the past. Drake usually comes correct with his rhymes, but even the 6 God has his off days. Then there's Tyga, who doesn't help himself very much with a very questionable line about young women.
With the halfway mark of the year here, XXL looks back at the 20 of the most disappointing hip-hop lyrics of 2016 so far.
"Got so many chains, they call me Chaining Tatum"

"2 Minute Warning"

Big Sean (TWENTY88)

"I can't handle it/I might pass out like a pamphlet"

"Pint of Lean"

Project Pat

"I got Pitbull hustle, you broke niggas Lassie"

"Keep a condom in my sock/'Cause these bitches on my cock/I need a mouth full of rocks"

"Even though the bathroom not unisex, we can turn that shit co-ed"

"Medication"

Juicy J (TGOD Mafia)

"I stay rolling up extendos, bruh, that's duplication/Got so much money in my pocket, I'mma cash station/Got so much loud in my blunt that's a gas station"

"Got a red bitch named July/Head fine, fireworks"

"Smell Like Money"

2 Chainz

"He ain't never fly nigga, like an ostrich/They say ain't nothing for free, but please free my partnas"

"Baby Are You Home"

Lil Uzi Vert

"Ballin' like I'm Kobe/Now, I'm ballin' like Ginobili/Like, boy your style so oldie/Balding like Ginobili"

"Trap House"

Rich The Kid

"Too many rings like a champ/Ain't touchin' a brick with no stamp/My diamonds they look like a lamp"

"Throwin' signs to my man like he a damn pitcher"

"I can have a rich homie, you know that we stuntin'/I want that green so they callin' me Kermit/Man that boo got me hot, man I feel like I'm burnin'"

"Tint darker than coffee, my mouth looks like ice hockey"

"Swimming in the Money"

ILoveMakonnen

"Orange Camaro, boy, look like Finding Nemo/I been doing numbers all night like the casino"

"I ain't no fool, I put that icing on that Dunkin' Donut, ya I do it"

"Girl you know I fuck with you/Like summer school and Lunchables"

"Wrist polar bear, Klondike"

"Faded like a Boosie cut, off gin and juice like Juicy cup"

"$till Hustlin'"

Trinidad Jame$

"Got that feet up on your couch, kicking Rick James flavor"

"Keep a K with me like Kourtney/Since a shorty I been popping like a forty"