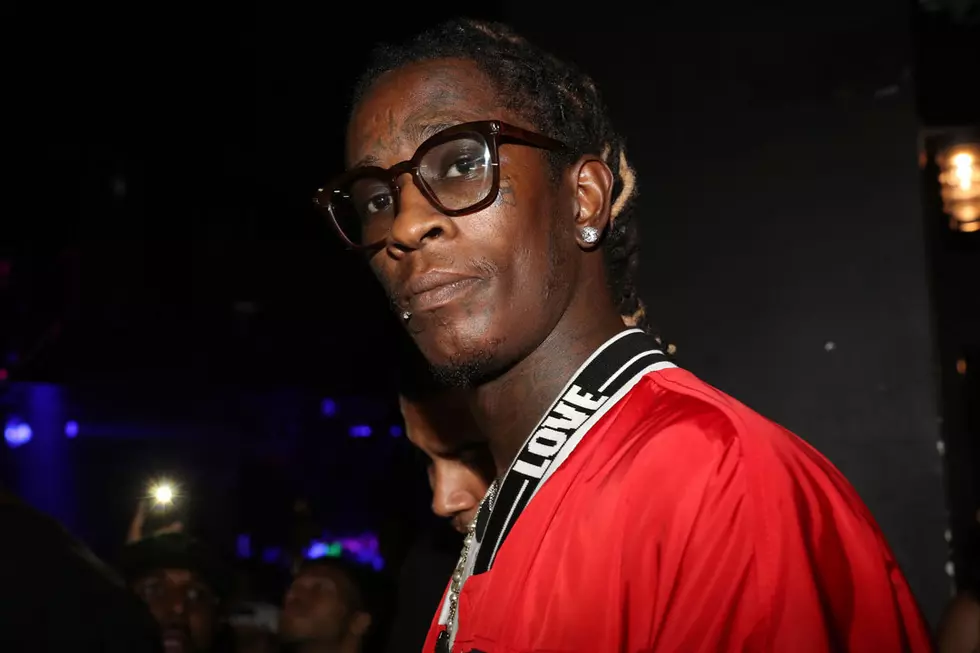 Young Thug Arrested for Gun Possession at 'Slime Language' Listening Party in Los Angeles
Johnny Nunez, WireImage
Young Thug's concealed firearm case has been officially dropped due to a lack of evidence. According to a TMZ report, published on Tuesday (June 18), police were unable to match the DNA found on the gun to Thugger. In addition, the District Attorney's Office also cleared up the details on how the initial car search began. Apparently, the police cruiser was "unable to stop in time" before it rammed into Thug's Rolls-Royce.
If you recall, police claimed a member of Thug's crew ran into a police car, which triggered a vehicle search. That's when cops found the weapons in the car. But Thugger's lawyers say that wasn't the case. Young Thug's lawyer, Michael Goldstein, tells TMZ that he's happy with the outcome.
"I commend the District Attorney's Office for making the right decision after carefully reviewing the facts and body worn video over the past 9 months. The fact so much time and work went into this decision reinforces trust in our system of justice," Goldstein says.
Check out the original story for yourself below.
The release of Young Thug's Slime Language project hasn't gotten off to a good start for the rapper after he was arrested on Thursday (Aug. 16) for a felony gun charge outside of his Los Angeles listening party.
Thugger was hosting a listening party and birthday party at a Los Angeles Dave & Busters when the cops nabbed him outside. A Los Angeles Police spokesperson confirmed to XXL that he has been charged with possession of a concealed firearm in a vehicle.
Thugger is now being held on $35,000 bond, and he doesn't appear to have been released yet. Footage from the incident shows the artist being led to a number of police cars, which you can see below.
The Hear No Evil rapper had been promoting the party on social media, announcing that he "booked out" the venue for his 27th birthday party. Following Thugger's arrest, attendees of the party claim it was shut down after police took the artist away.
Young Thug dropped his Slime Language project on Friday (Aug. 17). Originally thought to be a solo project, the record is actually a Young Stoner Life Records compilation mixtape that features guest appearances from Lil Uzi Vert, Lil Baby, Jacquees, Tracy T, Karlae, Nechie and more.
The Atlanta rhymer will now look to get his latest legal troubles behind him as he continues on the KOD Tour with J. Cole and Jaden Smith. The trek picks up tonight in San Antonio, Texas and will continue through Oct. 10. There's no word yet if Thugger will be performing during tonight's show.
See Exclusive Photos From Young Thug's 2016 XXL Cover Story