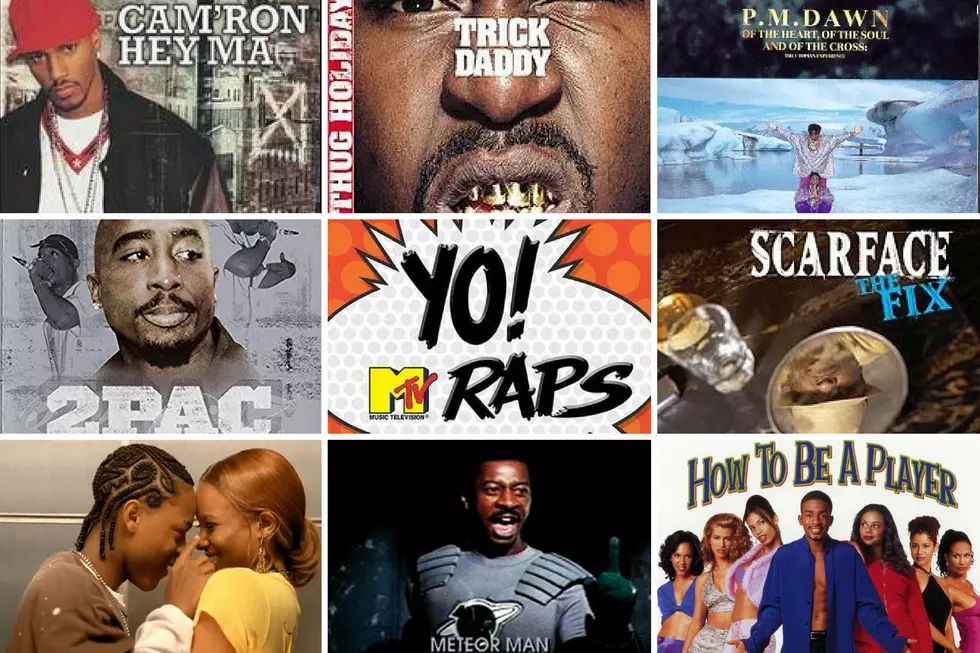 Yo, Rap Takes Over MTV: August 6 in Hip-Hop History
YouTube, iTunes, IMDb
Rap's breakthrough cable TV show, P.M. Dawn's debut and the unlikeliest superhero that only Robert Townsend could dream of all were introduced to the world on this eventful day — and we're just getting started with today's hip-hop history.
1988: Yo! MTV Raps Debuts on MTV
The pilot episode of the American edition of Yo! MTV Raps (a European version began in 1987) disrupted music television 30 years ago today with a concentrated dose of hip-hop from emerging legends. "Follow the Leader" by Eric B. & Rakim kicks off a block of video programming, which also includes hits from Run-DMC, Beastie Boys, LL Cool J and DJ Jazzy Jeff & the Fresh Prince.
The hosts didn't know at first that they had a hit on their hands.
"I didn't think that deeply about it because I had no perception of how people across the country and around the world were going to fully embrace something that was so English-language based," Fab 5 Freddy told Billboard just before the star-studded Yo! MTV Raps: 30th Anniversary Experience concert at Brooklyn's Barclays Center took place in June. "But it was a pleasant surprise to learn that MTV got the highest ratings that it had ever received and they wanted to check to see if the Nielsen ratings did something wrong."
"I thought it would probably last a summer," Ed Lover told the publication. "It was just a 30-minute show when we got on. I never thought it would mean anything to people 30 years later. But what set it apart was the international factor that this was many people's first introduction to hip-hop. You have to remember that people didn't have access to rap music on the radio or shows like Video Music Box. The introduction of this culture to the world was Yo! And I'm proud to say that we represented for this entire culture."
1991: P.M. Dawn Releases Of the Heart, of the Soul, and of the Cross: The Utopian Experience
Attrell "Prince Be" Cordes and Jarrett "DJ Minutemix" Cordes were just 21 and 19-years-old, respectively, when they dropped their stunning and otherworldly debut album Of the Heart, of the Soul, and of the Cross: The Utopian Experience. Recorded in London for Gee Street, the New Jersey brothers had a global breakthrough smash with the Spandau Ballet-sampling lead single "Set Adrift on Memory Bliss."
"Music was just a family thing we always did," Prince Be (who died of renal failure in 2016) explained to music supervisor Lynn Geller and punk impresario Malcolm McLaren in an interview for Bomb Magazine in 1991. "My father did it, my mother does it, my uncles are DJs in New Jersey, and my little brothers are doing it. My mother sings gospel in the church and my father started off playing congas with Kool and the Gang in the clubs, before they got big."
While the album employs creative sampling and rhyming, Prince Be didn't feel like he was a rapper.
"It doesn't use rap at all," he told Bomb. "I'm just feeling my own thing and it comes out so close to rap because it's talk, it's conversation. But it's the lyrics that separate us from the whole rap vibe."
1993: Robert Townsend Saves the World With The Meteor Man 
Robert Townsend wrote, produced, directed and starred in The Meteor Man as Jefferson Reed, a schoolteacher who became a gang-fighting superhero after being struck by a meteor. The cast is almost too wild to be believed, including Marla Gibbs, Robert Guillaume, James Earl Jones, Bill Cosby, and Eddie Griffin. There are also cameos by music artists as the aggressors: Luther Vandross as a hitman, Another Bad Creation as the baby gang the Junior Lords, Big Daddy Kane as a member of the adult Golden Lords, Cypress Hill as the Crips and Naughty By Nature as the Bloods.
"As it relates to African-Americans I think, when people say Robert Townsend, I represent kind of the balancing factor," Townsend told the Detroit Black Journal in 1993. "My movies will always have a level of integrity, quality. I'm going to go for things that will make people laugh, things that will make people cry. This particular film, there have been no films for African American children, I think that's important that they have something. They can go see 'Home Alone' or 'The Sandlot' but I think it's kind of refreshing to see themselves on the screen and somebody that looks like them fighting and standing for something and having some kind of courage rather than being second banana or the sidekick. But if anything, when someone says Robert Townsend, I am an image buster. I always want to do something to say there is another side."
1996: 2 Live Crew Drops Shake a Lil' Somethin'
2 Live Crew's seventh studio album followed a bit of personnel drama within the famed Miami booty shaking group that led to the formation of The New 2 Live Crew with Luther Campbell and Verb in 1994. But by 1996, former member Fresh Kid Ice (who passed away in 2017) was back with O.G. members Brother Marquis and Mr. Mixx sansUncle Luke and doing what they did best.
"We were military brothers, and we were brothers in making music," Mr. Mixx told VIBE after Fresh Kid Ice's passing. "We changed the world. We had a lot of once-in-a-lifetime opportunities that happened for the best of us."
1997: Def Jam and Bill Bellamy Teach Us How to Be a Player 
Directed by Lionel C. Martin, and written by Mark Brown and Demetria Johnson, Def Jam's How to Be a Player stars Bill Bellamy as Drayton "Dray" Jackson, a playboy who has two goals in life: Have sex with as many women as possible and not to get caught by his girlfriend Lisa (Lark Voorhies).
While out making rounds before his family's cookout, Dray's sister Jenny, (Natalie Desselle-Reid) and her friend Katrina (Mari Morrow) come up with an elaborate plot to get Dray busted, they invite all of his girlfriends to the family cookout.
The film grossed over $5 million its opening weekend, adding another win to the Def Jam brand.
2001: Suge Knight is Released from Prison After Serving Five Years
36-year-old Marion "Suge" Knight was greeted by a "Welcome Home Suge" billboard near the Death Row Records office after being released from a federal prison in Sheridan, Oregon after serving almost five years for violating his probation on assault charges stemming from the caught-on-tape altercation from a fight in a Las Vegas hotel lobby just hours before Tupac Shakur was killed.
"I'm stress-free," he told Los Angeles Times (via ABC) upon his release. "I want to try to do better things. Watch me. I'm going to the studio tonight."
He's currently awaiting trial for murder in a 2015 hit and run case that killed his friend Terry Carter.
2001: N.E.R.D. Drops In Search of. . . in the United Kingdom
An acronym for No One Ever Really Dies, N.E.R.D. is the rock group formation of Pharrell Williams and Chad Hugo (a.k.a. super-producers the Neptunes) and Shay Haley. Their debut album 'In Search of... .'  was first released in the United Kingdom before a Stateside release followed on March 12, 2002. Songs like "Rock Star" and "Lapdance" allowed Pharrell and Chad to explore a new kind of sonic freedom.
"In rap music, there's a lot of songs about fakes and wanna be's, but there's not a lot of those songs in rock," Pharrell told Rolling Stone in 2002. "I like rock for what it is. It's a ghost town — there's a lot of room for growth. The beauty is, you get to tear it down and start rebuilding."
2002: Cam'ron Releases "Hey Ma" featuring Freekey Zekey and Juelz Santana
The biggest hit for Dipset general Cam'ron, "Hey Ma" builds tension from a piano riff sampled from "Easy" by the Commodores. A No. 3 hit on the Billboard Hot 100, the song spent 21 weeks on the charts. And when Cam came out sporting pink in the accompanying video, a whole new style trend for men was born.
2002: Scarface Drops The Fix
Southern hip-hop's last pre-trap classic album, born and bred Texan Scarface departed from his home and went to New York City to record his seventh solo full-length The Fix for Def Jam South, which he helmed. He also recruited younger producers like The Neptunes and Kanye West to work on the album, his most commercially successful to date.
"I was at the most comfortable point in my life when I recorded The Fix," he told HipHopWired in 2012. "And I caught the beginning [of] Kanye. When Kanye was first enthused about making beats. So he was just feeding me all kinda dope-ass shit to rap to. Kanye is like semi-responsible for the success of that album."
2002: Trick Daddy Releases Thug Holiday
Buoyed by the June release of the first single "In Da Wind" with Dungeon Family stalwarts Cee-Lo and Big Boi, which brought the catchphrase, "Trick love the kids" into popular play, Miami rapper Trick Daddy dropped his fifth album Thug Holiday and received a Gold certification. The release, which features even more guest appearances including Rick Ross, Birdman & Scarface and Betty Wright's Children's Choir debuted at No. 6 on the Billboard 200.
When Rick James' housekeeper found the funk legend dead at age 56 in his Toluca Lake, CA apartment, his publicist first said that it was natural causes. Toxicology reports later determined he had nine drugs in his system including cocaine, methamphetamine, Xanax, Vicodin and Valium, but that none led to an overdose. The official cause of death was ruled to be a heart attack.
"I had always been a free spirit, and always gotten what I wanted," he told New York Times before his passing.
2004: 2Pac Live is Released
The first of two live 2Pac albums was released on Koch Records and contains performances from shows recorded around the country (the release that followed was recorded at the now-defunct House of Blues in Los Angeles). '2Pac Live' also functions as a greatest hits of sorts, with songs like "California Love," "How Do U Want It," "So Many Tears" and "2 of Amerikaz Most Wanted" front and center in the set.
2005: Bow Wow Releases "Like You" featuring Ciara
18-year-old Bow Wow, who had dropped the Lil from his moniker, and 19-year-old Ciara were rumored to be a couple and cemented that public perception with this Jermaine Dupri and Bryan Michael Cox-backed duet that was a No.1 Hot R&B/Hip-Hop Songs stunner and a No. 3 Hot 100 hit. Though shy about their relationship at the time, Bow Wow revealed on a February episode of Growing Up Hip-Hop: Atlanta that the two were briefly engaged.