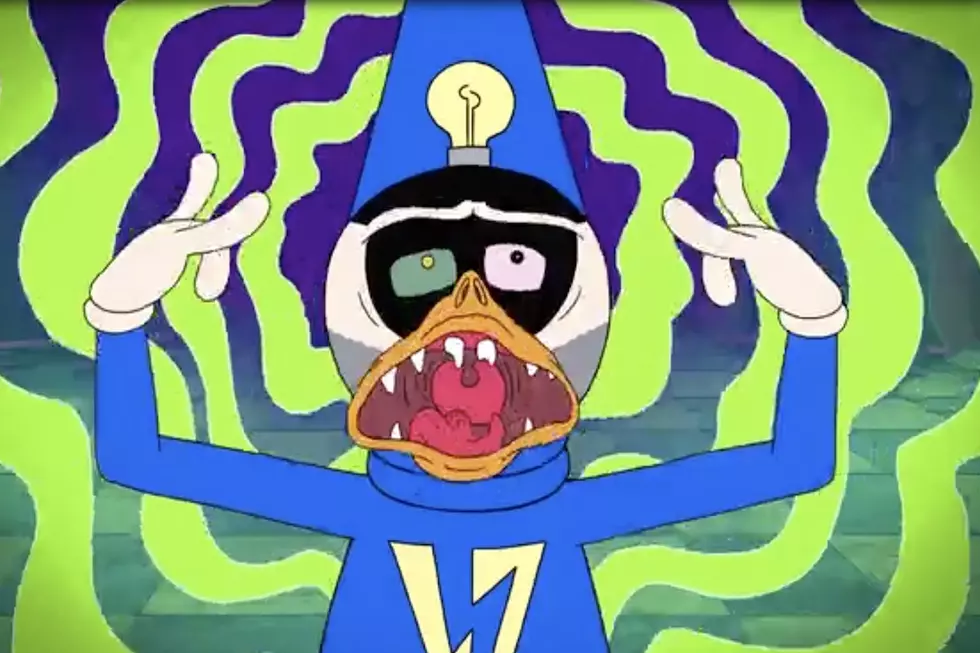 XXXTentacion "One Minute" Video With Kanye West: Watch Trippy Cartoon
Edward Ortiz via Vimeo
Update: The video has been removed from Vimeo.
Now that XXXTentacion's Skins album is now available on all streaming platforms, so is the first music video for the project. This one is for the late rapper's Kanye West-assisted new song "One Minute."
The clip features trippy, NSFW animation by JJ Villard, who is the co-creator of Adult Swim's King Star King. The vid features plenty of warped cartoons and obscene images. In fact, in one scene, a buxom hamburger babe pulls out a weapon and shoots up a witch-like zombie. Really creepy stuff.
Kanye's Yeezy clothing brand  also launched a special three-piece clothing capsule at the event honoring their collaborative track. The merch features fresh graphics by Emmy-winner designer JJ Villard, which he rocked during his energetic performance.
On the song "One Minute," Kanye seemingly addresses X's criminal charges prior to the rapper's death. Some fans are interpreting Yeezy's lyrics as being a defense of the late rapper, who was charged with arrested and charged with aggravated battery of a pregnant woman, domestic battery before he was shot and killed during a robbery in June.
"Now your name is tainted, by the claims they paintin'/The defendant is guilty, no one blames the plaintiff," he raps. "Gotta say it in Layman's terms, while you wait on arraignment /Cause if the jury say you did it, the payment is heinous/Give me one minute, my lady just fainted/My babies is crying, you understand what I'm sayin'?"
Watch XXXTentacion's trippy "One Minute" video with Kanye West below.
See Photos of Kanye West's Different Looks Over the Years