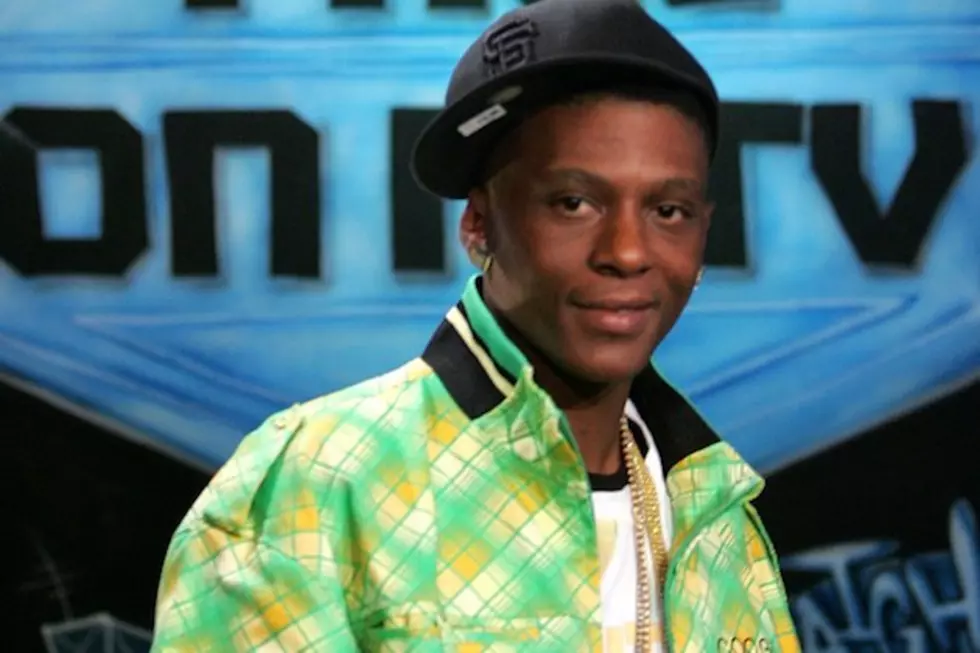 Lil Boosie for Dummies: A Guide to Understanding Rap's 'Bad Azz'
Bryan Bedder, Getty Images
Are you unfamiliar with who Lil Boosie is or why the rap world has been losing their collective minds since his release from prison last week? Don't worry, The Boombox has got you covered.
Lil Boosie has built up an intensely devoted fan base because he is authentic. In a world of studio gangsters and fake drug lords, Boosie is the real deal. He is the antithesis of the studio gangster. If the rapper says something on a record, you can believe he did it. The Louisiana native is the product of the violent, crime-laden streets of South Baton Rouge and perfectly captures reality of that life in his music.
Tupac & Boosie Have a Lot in Common 
Lil Boosie is compared to Tupac a lot, though it seems like a far-fetched comparison to the uninitiated. While he's not an elite rhymer by any means, there's a conviction in his words that can make you overlook his deficiencies. And like gangsta rap of the past, his music is not simply glorification. Boosie speaks on the repercussions of his street life and the daily battles that take place. It's this awareness that separates him from the pack and helps him develop a loyal legion of fans.
The southern rhymer got his start with the Concentration Camp, a collective of Baton Rouge rappers led by C-Loc that also included notable artists like Young Bleed and Max Minelli. Boosie was mentored by C-Loc and joined the group when he was just 14 years old. He eventually debuted on C-Loc's 'It's A Gamble' album and even got his own solo track on the Camp's third compilation, 'Thug Brothas.'
'Youngest of da Camp' Put Him on the Map
The departure of Young Bleed from the Camp helped put Lil Boosie in a prime position amongst the group. Alongside C-Loc and Max Minelli, he served as one of the "faces" of the Camp. He recorded his debut album, the aptly-titled 'Youngest of da Camp,' when he was 17 years old and it became a hit in Baton Rouge.
Boosie's big break came when he linked up with Trill Entertainment, which was backed by Pimp C. Baton Rouge had long-been a significant market for UGK and the Pimp C affiliation certainly boasted Boosie's profile in the south.
Making Music With Webbie Earned Him Recognition
Trill Entertainment also facilitated Boosie's fruitful partnership with Webbie. The duo released 'Ghetto Stories,' which caught on quickly and showed why Trill Entertainment made these two the flagship artists of their label. But it was their follow-up, 'Gangsta Musik,' which garnered them their most success to-date. Regarded by some as a southern classic, the album spawned a few memorable singles and began attracting the attention of major labels. Their anthem 'Swerve' would even be included on the 'Hustle & Flow' soundtrack about a year later.
He Popularized the Term "Ratchet" 
Lil Boosie had made his mark through harsh reality raps, but began to find himself as a bit of a hit maker. The rapper had quickly become one of the most popular rappers in Louisiana and his mere presence on a song could elevate it to new levels. One such example was Lava House, who resurrected their 'Do Tha Ratchet' single and added Boosie to the record. His reach helped popularize the word "ratchet" long before it became the buzz term it is today.
He Originated "Beast Mode" 
And while Seattle Seahawks football player Marshawn Lynch might be the first name that comes to mind when you hear "Beast Mode" today, the popularity of the term can be traced back to Lil Boosie. He lent his services to a little-known group known as the Thro Bac Boyz for their 2004 single 'Beast Mode' and the song spread through clubs and peer-to-peer file sharing programs.
'Bad Azz' Showed His Potential
Lil Boosie and Trill Entertainment inked a deal with Warner Bros. under their Asylum Records imprint and their rise was in full swing. Webbie was actually first to debut on the label with his album 'Savage Life,' though Boosie was heavily featured on the LP. He would later release his long-awaited major label debut 'Bad Azz' in 2006. The project didn't sell as well as Webbie's effort, but it was Boosie's most polished effort to-date. It also showed that Boosie was not chasing hits. Outside of the Yung Joc-assisted song 'Zoom,' the album was filled with the raw and unfiltered style that Boosie diehards ate up.
'Wipe Me Down' Was a Huge Hit
In 2007, Lil Boosie and Trill Entertainment scored their biggest hit with the remix to 'Wipe Me Down.' The song was featured on Trill's 'Survival of the Fittest' and quickly began to be attributed to Boosie despite it being his label mate Foxx's song. As seen in the credits of the video below, the single was marketed as Lil Boosie featuring Foxx and Webbie.
Lil Boosie's profile continued to rise as he approached the release of his second major album, 'Superbad: The Return of Boosie Bad Azz,' in 2009. While the Young Jeezy and Webbie-assisted 'Better Believe It' was pushed as the lead single, 'Mind of a Maniac' became the most memorable cut off the album when its music video hit the net.
'Incarcerated' Arrived While He Was Locked Up
Lil Boosie's well-documented legal troubles took over following the release of 'Superbad' and he began serving time in late 2009. During his incarceration, a variety of projects were released utilizing Boosie's past recordings. The most notable of these was 2010's 'Incarcerated,' which Trill Entertainment put out in 2010.
Now, Lil Boosie is a free man. And for those of you who were unfamiliar before, hopefully you better understand the craze that currently surrounds the entertainer, whose already released a few freestyles post-prison release. The songs featured throughout this article are just an appetizer to the full course of Boosie's extensive discography.
Lil Boosie may be the focus of the rap world right now, but much has changed since he first went behind bars -- FaceTime blows his mind after being locked up for five years. There's a new crop of artists atop the hip-hop landscape and a new sound dominating the airwaves so it will be very interesting to see how Boosie adjusts.