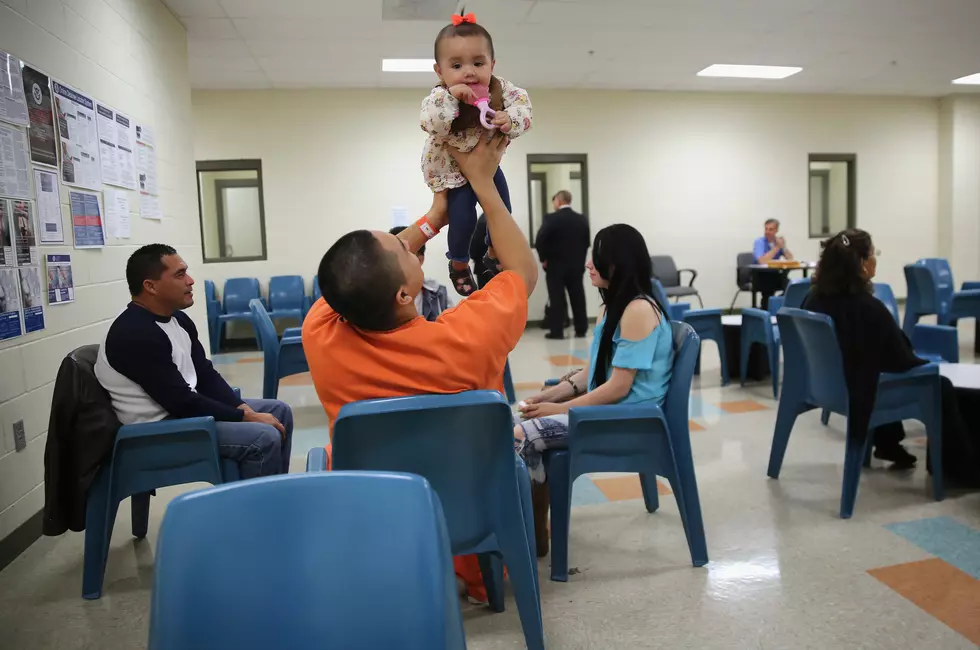 In-Person Visits Are Back Again At The Erie County Holding Center
Getty Images
Erie County Sheriff John C. Garcia announced that in-person visits have resumed at the Erie County Holding Center and the Erie County Correctional Facility. The Holding Center is a maximum-security pre-trial facility located in Buffalo that can house 638 individuals. The Correctional Facility is located in Alden and houses up to 884 men, women, and adolescents, including non-arraigned, non-sentenced, sentenced, and federal inmates.
Erie County Holding Center Visitation
In-person visitation resumed on Tuesday, November 29, 2022. No visitation is allowed on Friday, Saturday, Sunday, and Monday. Doors open at 7:30 am and are 30 minutes long. Visitors are allowed in 30 minutes prior to and a visitor must be signed in 10 minutes before the hour.
Tuesday & Wednesday:
1st session 8:00 am;
2nd session 9:00 am;
3rd session 10:00 am;
closed from 11:15 am - 12:30 pm;
4th session 1:00 pm;
5th session 2:00 pm;
closed from 2:15 pm - 3:30 pm;
6th session 4:00 pm;
7th session 5:00 pm;
closed from 5:15 pm - 6:30 pm;
8th session 7:00 pm;
9th session 8:00 pm;
10th session 9:00 pm;
11th session 10:00 pm
Thursday:
1st session 8:00 am;
2nd session 9:00 am;
3rd session 10:00 am;
4th session 11:00 am;
closed from 11:15 am - 12:30 pm;
5th session 1:00 pm;
6th session 2:00 pm
Erie County Correctional Facility Visitation
The correctional facility allows for 60-minute visits.
Tuesday:
Signup: 7:10 am - 11:00 am; 12:15 pm - 2:00 pm
Visits: 7:30 am - 11:30 am; 1:00 pm - 2:30 pm
Wednesday & Thursday:
Signup: 7:10 am - 11:00 am; 12:15 pm - 2:00 pm
Visits: 7:30 am - 11:30 am; 1:00 pm - 2:30 pm
Signup: 3:15 pm - 4:15 pm; 6:00 pm - 9:30 pm
Visits: 3:30 pm - 5:15 pm; 6:30 pm - 10:30 pm
Another Inmate Has Died At The Erie County Holding Center
There has been another death at the Erie County Holding Center in Buffalo. The incarcerated individual died on Sunday, November 27, 2022, but was not reported by the Sheriff's Office until yesterday, November 30. According to the Buffalo News, the person who died was 57 years old William Henley. He had been arraigned in Buffalo City Court on weapons charges Saturday and then placed in the holding center. A spokesperson for the Sheriff's Office, Scott Zylka, would not provide any details regarding Henley's death. He did say that the family, The New York State Attorney General's Office, and the New York State Commission of Correction have been notified.
Top 5 Worst, Most Problematic Prisons in New York
These 7 Prisons Are The Most Violent In New York State
New York released a
report
with the most recent number of violent assaults on inmates in state prisons. There were 134 inmate deaths noted in the report, although it doesn't break down the prisons where each death occurred or who caused them. Here's a look at some of the general violent incidents reported for 2020, which is the most recent data reported by the state. Compared to 10 years ago, inmate assaults have almost doubled. In 2011 there were 666 and in 2020 there were 1,205 reported. These numbers do not include inmate assaults on staff members. Overall, the number of unusual incidents includes things like assaults, deaths, accidents, sexual misconduct, and disruptive behavior.  According to the state,
"The number of unusual incidents has increased 132% from 5,980 in 2011 to 13,870 in 2020. These higher incident numbers were largely due to increases in assaults on incarcerated individuals (+81%), assaults on staff (+86%), contraband (+130%), disruptive behavior (+372%), and staff use of weapons (+1,035%)."
In 2020, 1,836 weapons used to cut or stab, including ice picks, razor blades, can lids and shanks were discovered in state prisons around New York.