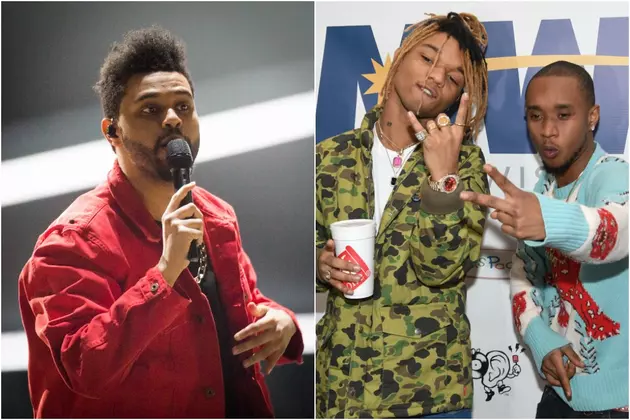 The Weeknd, Rae Sremmurd and More Added to Performers at 2017 Coachella
Samir Hussein/Paras Griffin, Getty Images (2)
These five new acts add depth to a rap lineup already featuring the likes of Kendrick Lamar, Future, Mac Miller, Gucci Mane, DJ Khaled, Schoolboy Q and more. Of course, Future and K. Dot will probably end up being two of hip-hop's biggest stories at the festival.
Little is known about the set times for this new wave of performers. Will French Montana come out with Diddy and will The Weeknd get his own full set? While those answers are yet to be revealed, Coachella is sure to be full of memorable performances.
Future is coming off the release of two new albums that have now been out long enough for fans to know all the words to his most recent songs. You can expect the Atlanta rapper to hit the stage at 8:20 p.m on Saturday (April 15).
Then, there's Kendrick, who, late last night (April 13) officially released his newest album, DAMN., a project that already has the internet going crazy. With his new project fresh in everyone's mind, it's safe to say crowds will be going crazy once he takes the stage on Sunday (April 16) at 10:25 p.m.
If you're like most people, you probably can't actually attend Coachella, but don't worry, the wonders of the web have you covered. You can check out a live stream of performances and a schedule of when to expect artists to hit the stage below.
Watch Every Performance During the 2017 Coachella Live Stream
Artist Performance Schedule
Fri., April 14:
3:35 p.m. – Tennis (1)
3:35 p.m. – Preservation Hall Jazz Band (2)
3:35 p.m. – Klangstof (3)
4:05 p.m. – Joseph (3)
4:10 p.m. – King Gizzard & The Lizard Wizard (1)
4:25 p.m. – Sampha (2)
4:50 p.m. – The Lemon Twigs (3)
5:00 p.m. – Bonobo (1)
5:10 p.m. – Broods (2)
5:35 p.m. – SOHN (3)
5:50 p.m. – Mac DeMarco (1)
6:00 p.m. – Francis and the Lights (2)
6:50 p.m. – Oh Wonder (2)
6:55 p.m. – Glass Animals (1)
7:20 p.m. – Big Gigantic (3)
7:40 p.m. – Banks (2)
7:45 p.m. – Father John Misty (1)
8:10 p.m. – Crystal Castles (3)
8:30 p.m. – Richie Hawtin (2)
8:45 p.m. – Phantogram (1)
9:00 p.m. – Mac Miller (3)
9:30 p.m. – Jagwar Ma (2)
9:35 p.m. – The xx (1)
9:55 p.m. – Steve Angello (3)
10:20 p.m. – DJ Shadow (2)
10:40 p.m. – Radiohead (1)
10:55 p.m. – Empire of the Sun (3)
11:15 p.m. – Capital Cities (2)
11:50 p.m. – Dillon Francis (3)
12:10 a.m. – D.R.A.M. (2)
Sat. April 15:
3:35 p.m. – Local Natives (1)
3:35 p.m. – Arkells (2)
3:35 p.m. – Blossoms (3)
3:55 p.m. – Kaleo (2)
4:20 p.m. – Shura (3)
4:30 p.m. – Chicano Batman (1)
4:45 p.m. – Car Seat Headrest (2)
5:00 p.m. – Banks & Steelz (3)
5:15 p.m. – The Head and the Heart (1)
5:40 p.m. – The Atomics (2)
5:45 p.m. – Autograf (3)
6:10 p.m. – Bastille (1)
6:25 p.m. – Roisin Murphy (2)
6:35 p.m. – Little Dragon (3)
7:15 p.m. – DREAMCAR (2)
7:20 p.m. – Two Door Cinema Club (1)
7:25 p.m. – Mura Masa (3)
8:05 p.m. – Moderat (2)
8:15 p.m. – Gryffin (3)
8:20 p.m. – Future (1)
9:05 p.m. – Warpaint (2)
9:10 p.m. – Tory Lanez (3)
9:15 p.m. – ScHoolboy Q (1)
9:55 p.m. – Tycho (2)
10:00 p.m. – Röyksopp (3)
10:15 p.m. – Bon Iver (1)
10:45 p.m. – DJ Snake (2)
10:55 p.m. – Martin Garrix (3)
11:25 p.m. – Lady Gaga (1)
12:00 a.m. – Gucci Mane (2)
12:05 a.m. – Classix (3)
Sun. April 16:
3:35 p.m. – Ezra Furman (1)
3:35 p.m. – Grace Mitchell (2)
4:15 p.m. – Anna Lunoe (3)
4:25 p.m. – Whitney (1)
4:25 p.m. – Preoccupations (2)
5:15 p.m. – Toots & The Maytals (1)
5:15 p.m. – Goldlink (2)
5:15 p.m. – NAO (3)
6:10 p.m. – Grouplove (1)
6:10 p.m. – Jack Garratt (2)
6:55 p.m. – Kaytranada (3)
7:00 p.m. – Kiiara (2)
7:20 p.m. – Future Islands (1)
7:55 p.m. – Tove Lo (2)
8:10 p.m. – DJ Khaled (3)
8:15 p.m. – Porter Robinson & Madeon (1)
8:40 p.m. – Hans Zimmer (2)
9:00 p.m. – Galantis (3)
9:20 p.m. – Lorde (1)
9:45 p.m. – Kehlani (2)
9:45 p.m. – Justice (3)
10:25 p.m. – Kendrick Lamar (1)
10:30 p.m. – New Order (2)
11:05 p.m. – Marshmello (3)
Here Are the 2017 Hip-Hop Music Festivals You Need to See