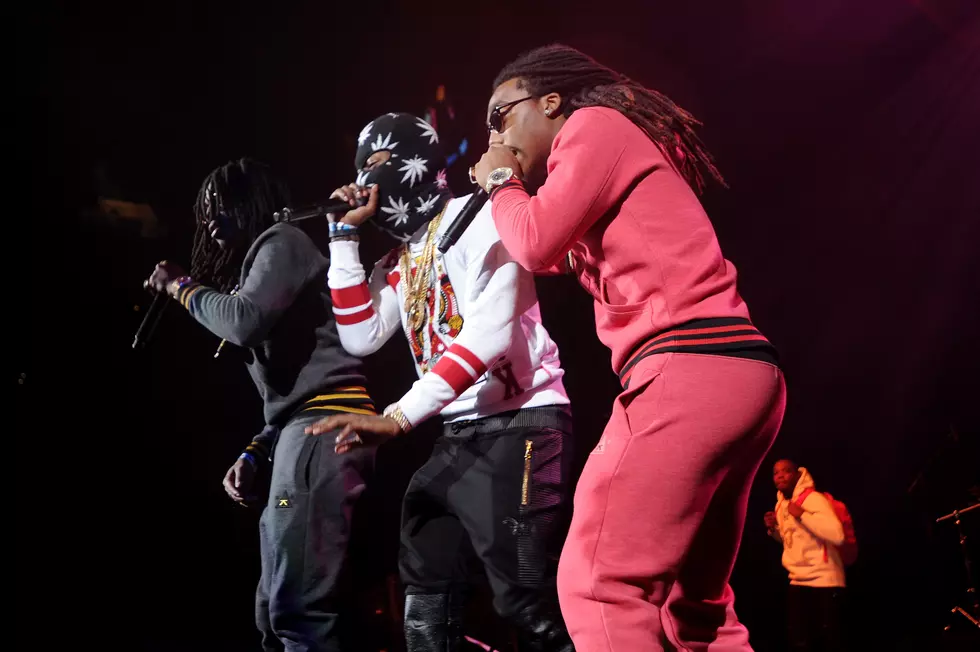 Spill The Tea: Migos Say Drake Bit Their Flow, Jesse Jackson's Daughter Is Rapping, 50 Cent Clowns Taye Diggs & More
(Photo By Bryan Bedder/Getty Images Entertainment)
Yasmin Young here from the 2 To 6 Takeover here to Spill The Tea on Migos Saying Drake Bit Their Flow, Jesse Jackson's Daughter's Rap Song, 50 Cent Clowning Taye Diggs & Terrence Howard's Divorce!
Migos Claim Drake Bit Their Flow
You know what?! I kinda feel bad for Drake! No matter what he does, someone is always trying to come for him, whether subliminally or just straight up, but I guess Jay Z it best..."Most kings get their heads cut off!" This time, it's the Migos firing some shots at Drizzy! During an interview with , the Migos accuse Drake of biting their signature flow! Check out this excerpt from the interview:
There's a lyric on "Migos Origin" that says 'Your favorite rapper he be biting.' That's a very relevant line right now, with Meek Mill accusing Drake of using ghostwriters.
Takeoff: 'Your favorite rapper he be biting! When I step in the booth, it's a moment of silence.' Everybody trying to bite the style ever since we made 'Versace.' But they don't give us credit.
Quavo: [Raps] 'Give up the credit when credit due/ Ooh! Louis Vuitton on my shoe/ Ooh! Who the hell is you?/Ooh!…'
Did you have anyone in line with that rhyme?
Takeoff: Your favorite rapper. Who's your favorite rapper?
Takeoff: Drizzy? Drizzy bit the flow.
Quavo: C'mon, Drizzy know he bit the flow! Drizzy got on 'Versace,' right? Then when I came on there I did 'Versace/ Versace/ Medusa head on me like I'm illuminati.' My boy Drizzy Drake got them bars from me. We together though. We ain't trippin' on boss.
Jesse Jackson's Daughter Drops A Rap Song
Jesse Jackson's daughter Ashley (which he had out of wedlock btw), who is 16-year-old, just dropped her first rap song and TMZ got the first listen! Apparently, Jesse isn't all that thrilled with her lyrics and would rather that she focus on graduating from high school!
***Watch Spill The Tea TV above to listen to the song!***

50 Cent Clowns Taye Diggs
Early this morning I was Instagram trolling lol, when I scrolled by a pic 50 Cent posted up clowning Taye Diggs! Taye is in the musical "Hedwig & The Angry Inch," which is like an alternative cult classic film. Well, Fiddy saw a poster for the play, snapped a shot...then fired a shot!! I actually own this movie (yeah I have really weird taste in films lol), but I get why 50 thought it was funny!
Terrence Howard Speaks On His Divorce Case
***Watch Spill The Tea TV above to watch Terrence speak on the case!***
TMZ caught up with Terrence Howard leaving court for his divorce case! He's already divorced, but he is now contesting the amount of money his ex-wife, Michelle Ghent, is receiving! She made out like a bandit, getting $5,800 a month for 3 years, even though they were only married for one year (who in the hell was her divorce attorney lol)! The first witness in his case contesting the divorce was Yvonne Howard, who testified that Michelle said she "had him [Terrence] by the balls," because she had an alleged sextape where Terrence was doing one woman, while another was filming! Terrence wants the divorce settlement dropped because he claims he was blackmailed into signing the agreement!
Listen to Yasmin Young weekdays from 2 - 6 pm inside the "2 To 6 Takeover" on The People's Station 93.7 WBLK!!