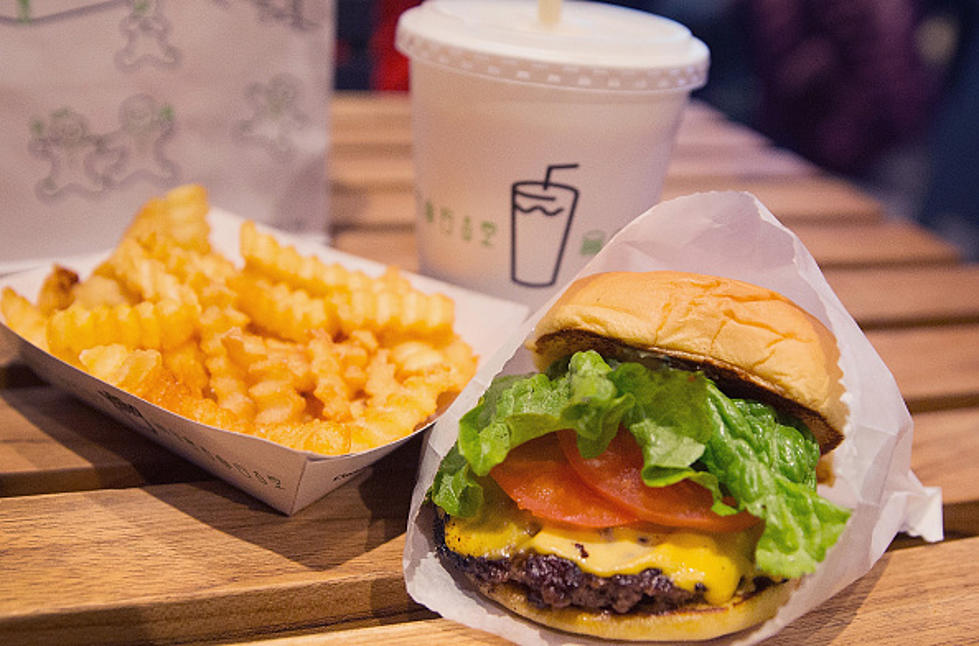 Shake Shack On Its Way To Western New York
Getty Images
It's always the local restaurants that give Buffalo its awesome food reputation. We love all the amazing local restaurants that serve up some of Buffalo's famous dishes, like wings, Buffalo-style pizza, beef on weck, and pizza logs.
You could go on and on too; sponge candy, spaghetti parm, pastry hearts, and so much more.
But there are plenty of national restaurant chains here that people go head over heels for. Yeah, you have your usual's, such as McDonalds, Wendy's and Applebee's; but the arrival of Chick-fil-A to the region was a welcomed sight for many.
There are some national chains who have yet to come to Western New York. Shake Shack is one of them. They're famous for their juicy burgers, fries and milkshakes. That will change by 2024.
You may have heard about the upgrades to the New York State Thruway service areas. They have already begun and will continue over the next few years. One of the upgraded service areas will be the Angola service area, which is roughly a 45 minute drive from Downtown Buffalo.
The service area is near Eden and offers food chains for travelers down the I-90.
The Angola service area will start construction on major upgrades in 2023 and be completed by the spring of 2024, according to The Southtowns Scanner.
New restaurants will include both Shake Shack and Panda Express.
The service area will also have an Auntie Anne's, Starbucks and Appletree Market Store. Here are renditions that the NYS Thruway Authority released, showing what the completed service area will look like.
Shake Shack is wildly popular in places like New York City, and it's one of the national fast food chains that Buffalonians have been waiting for. While this will be at a service area in Western New York, hopefully, this means that another location or two will come in the not so distant future.
10 Fast Food Restaurants We Want In New York State
Fast food restaurants that we want in New York State.
10 Most Haunted Places In Western New York
Check out 10 of the most haunted places in Western New York.
20 Restaurants In WNY The Food Network Should Feature
We love so many restaurants in Buffalo and The Food Network should highlight way more of them.
The Top 40 Pizza Places in Western New York
The best pizza spots in Buffalo!
30 Pizza Places We Miss So Much In Buffalo
These are 30 pizza places that are gone but not forgotten in Western New York.
LOOK: Things from the year you were born that don't exist anymore
The iconic (and at times silly) toys, technologies, and electronics have been usurped since their grand entrance, either by advances in technology or breakthroughs in common sense.
See how many things on this list
trigger childhood memories—and which ones were here and gone so fast you missed them entirely.
LOOK: Here are the pets banned in each state
Because the regulation of exotic animals is left to states, some organizations, including The Humane Society of the United States, advocate for federal, standardized legislation that would ban owning large cats, bears, primates, and large poisonous snakes as pets.
Read on to see which pets are banned in your home state, as well as across the nation.
LOOK: Here is the richest town in each state
Just saying the names of these towns immediately conjures up images of grand mansions, luxury cars, and ritzy restaurants. Read on to see which town in your home state took the title of the richest location and which place had the highest median income in the country. Who knows—your hometown might even be on this list.
50 Most Popular Chain Restaurants in America
YouGov investigated the most popular dining brands in the country, and Stacker compiled the list to give readers context on the findings. Read on to look through America's vast and divergent variety of restaurants—maybe you'll even find a favorite or two.