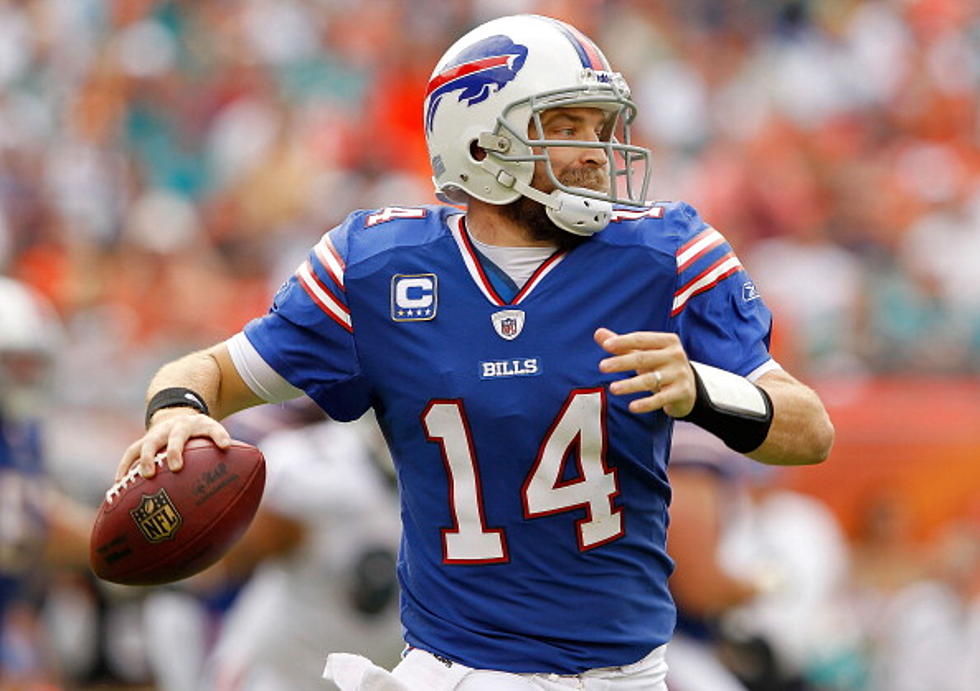 Ryan Fitzpatrick Shirtless in Buffalo Video Goes Viral [WATCH]
Getty Images
Was Saturday the most fun a Buffalo sports fan has had, ever? I think the case can be made for that.
20 years of frustration lashed out against the New England Patriots, as the Buffalo Bills destroyed the New England Patriots, 47-17; and the score wasn't even as close as it sounds.
The Bills offense had a perfect game. Literally, a perfect game. They scored a touchdown on all seven drives, with no punts, 4th downs, turnovers, or field goal attempts.
The fans at Highmark Stadium were having the time of their lives, despite the cold weather, which was near zero degrees by the end of the game.
You may have heard about former beloved Bills quarterback Ryan Fitzpatrick being in attendance for the game on Saturday. Fitz was there, sitting in the club suite area.
Fitz is still an active NFL player, spending this past season with the Washington Football Team, although he missed all but one game with a hip injury.
Fitzpatrick at one point went shirtless during the win and on Monday, a video surfaced of Fitz screaming at the top of his lungs for the Bills and let me tell you...it is everything you have ever dreamed of in a video.
The video was also shared by Barstool Sports.
Fitzpatrick should be on the Wall of Fame for this. I'm not the least bit joking. While he didn't make the playoffs in his four seasons in Buffalo, he is definitely one of the mlost beloved former Bills of all time.
FITZ!!
The 10 Commandments of Buffalo, NY
Here are things that people from Buffalo should always follow!
16 Buffalo Bills With Some Of The Best And Worst Nicknames
Check Out The 11 Most Underrated Bills Offensive Players In The Past 30 Years
The Buffalo Bills have has some amazing players over the years. We all know the superstars so we wanted to put the role players in the spotlight with this list.
Check Out The 11 Most Underrated Bills Defensive Players In The Past 30 Years
I wanted to comb past the amazing defenses the Bills have had over the past 30 years and put the spotlight on some stellar role players who help lead the team to the playoffs and beyond. We are talking about players that maybe didn't get lots of love from the National media or made tons of Pro bowls, but we were still proud that they were part of the team.
CHECK IT OUT: 100 sports records and the stories behind them