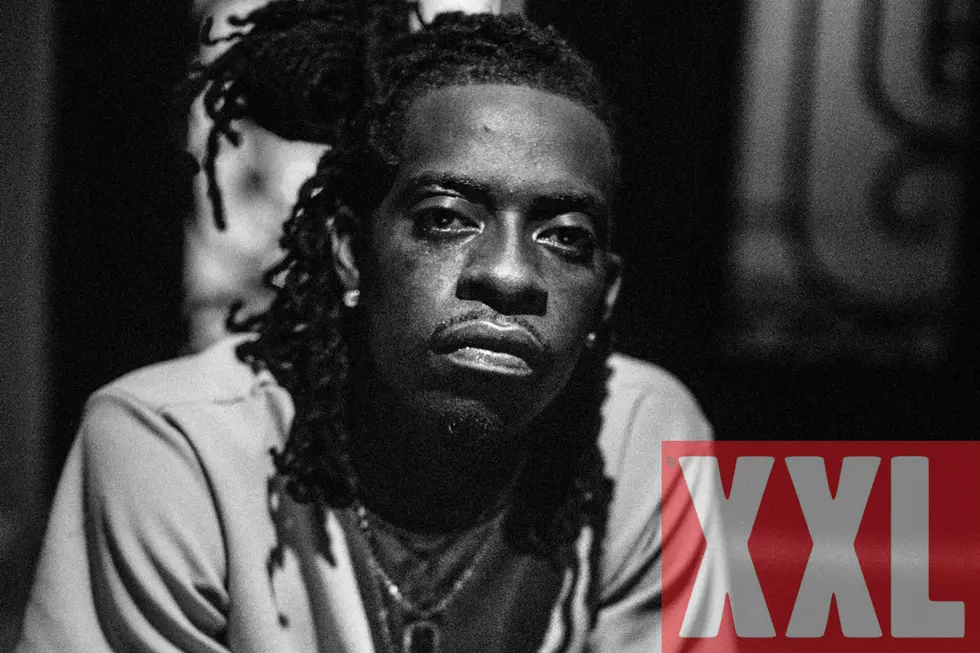 Rich Homie Quan Starts His New Chapter With 'Back to the Basics' Mixtape
Diwang Valdez for XXL
Rich Homie Quan has taken some time to reflect. The Atlanta rapper, who was minted as a 2014 XXL Freshman and burst into the mainstream with 2015's "Flex (Ohh Ohh Ohh)," has definitely gone through his fair share of growing pains in the last couple years. After stepping back from the spotlight in the latter half of 2016, Quan says he has re-centered himself artistically to make a stronger comeback.
In February, Quan announced that he cut ties with Think It's A Game Entertainment, inked a deal with Motown Records and was in the studio with the likes of Zaytoven and Metro Boomin working on new music. While the rhymer is preparing to release his major label debut album through Motown/Capitol later this summer, the 27-year-old just dropped his first body of work in over a year.
Today (April 14), the rapper delivers his Back to the Basics mixtape. Before dropping the project, Quan released three singles—"Heart Cold," "Replay" and "Da Streetz"—to build anticipation for what was to come. At 11 tracks, the tape is meant to serve as an appetizer to hold fans over until the feast of his album is served.
Upon the release of Back to the Basics, XXL checked in with Rich Homie Quan to hear how he feels he's changed and where he's headed next.
XXL: Congrats on the new tape! Why did you decide to name it Back to the Basics?
Rich Homie Quan: Thank you, thank you. I decided to name it Back to the Basics because it's like going back to the genre that I started with and just giving the fans the Quan they want as opposed to the Quan I wanted to be. Like, that's not the Quan the people want. I just wanted to get back to the Quan that the people want and make my fans happy. I wanted to just give my fans a new body of work of music. Back to Basics just means I'm still going it, it don't stop.
Why did you choose to have Cyko be your only feature on the project?
I just wanted Cyko on there because I like Cyko's sound, you know what I'm saying? I was surprised [because] I don't really do features with just anyone, but Cyko, he was my boy and he made the beat so it's only right I kept him on there.
And you guys have worked together in the past. When did that collab happen?
That happened maybe… I know it was earlier this year when he was on tour with Rich The Kid. He came to Atlanta and we linked up, went down to the studio and kind of vibed out all night. I haven't even been working with a lot of artists, but I seem to be working with Cyko a whole lot though.
What's your favorite track off Back to the Basics or the track you think sums up the tape as a whole?
My favorite track would have to be the last one, "Str8." I like "Str8" just because of the feeling it puts me in; it's just real. It gives me goosebumps when I hear it, even now. The production, it sounds like a little marching band to me. And just me being myself, telling my story, telling where I been and telling where I want to go, where I see myself going.
Where do you see yourself going after this? What comes after this tape?
After the tape man, we dropping an album in July. I just want me a Grammy. I want to bring a Grammy back to Atlanta, you know what I'm saying? I just want the Grammy in the end. I'm trying to make stadium music. I know I can. I know where I've been. Now I want to make stadium music, that's where I want to go.
Is there a new name for your new album coming in July?
Rich as in Spirit. I just want to give people Back to the Basics right now though [to] let them know I'm gearing towards the album. I have some features on there I'm bringing…but right now, I want people to focus on this [mixtape].
You took a step back from music a little last year. What else have you been doing besides making music?
Just really learning the game. When I first came out, there was a lot of stuff I didn't know. There was a lot of t's not crossed and a lot of i's that weren't dotted so I wanted to make sure I knew the business a whole lot better because us artists, we get so caught up in making the money fast, getting money from the shows [but] we don't really see the money that's coming in, publishing checks, that type of stuff. So that's why I really wanted to know the game better. I really rehabilitated myself and learned more about the business that I'm in because for me, it's time to boss up right now.
Is that what led you to sign with Motown Records?
Oh, man, signing with Motown, Capitol and Universal, that was big. I just felt like it came that time where it was time for us to sign. We had did everything we could do as a team independently. We went double platinum independent, you know? It was just time to put the machine behind us. I'm just glad Motown, Capitol, Universal we could come to an agreement. It's time for my album.
I wanted to make sure I reached the right people, touched the right people…. I don't know I just wanted to be with a label. I see the moves labels can make for you. Like when I first got there, they got me the Finish Line deal. That was big. I ain't never had nothing like this, so it was just a boss up thing.
Do you feel like this first tape through Motown will serve as a new chapter or reinvention?
Definitely a new chapter. I wouldn't say a reinvention but I've re-centered myself. You can just tell how I've grown up. I've gotten older, watching what I say because I know the previous years I've gotten in trouble. And I know everybody's listening now so with everybody listening, I just want to make sure I can motivate you. This music, my music is for motivational purposes. I'm trying to encourage you to get up and be somebody, do something. I'm not saying it gotta be music, but just something.
What do you think has changed in hip-hop since you were a XXL Freshman back in 2014?
Honestly, what's changed is the content, what we're talking about musically. The game don't change, the players do, you feel me? I definitely feel the content has changed. The beats and everything are dope but they not really talking about nothing. Content, making more substantial music, that's what I be on, that's what I'm a fan of. But at the same time, I'm still a fan of the new artists so I can't knock 'em. I can't knock what I like, but I think that's how I differentiate myself because I try to give them something to listen to that motivates. Give them some content, make them think outside the box.
Listen to Rich Homie Quans's Back to the Basics Mixtape
20 of Your Favorite Rappers Naming Their Favorite Rappers