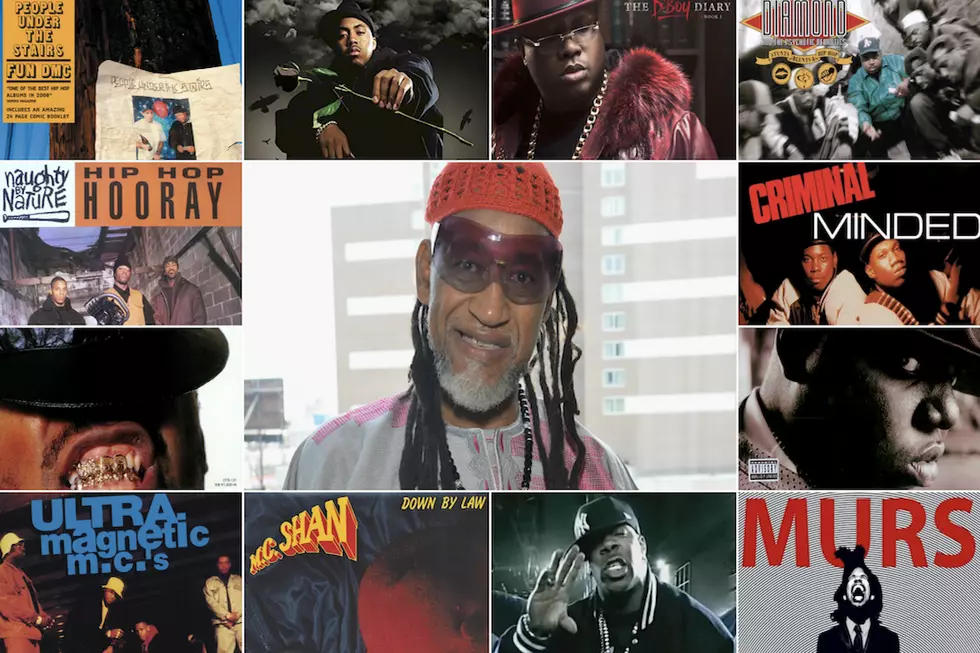 20 Rappers Who Pay Homage to Hip-Hop In Their Songs
Noam Galai, Getty Images / The Boombox
Forty-five years ago today (August 11, 1973), DJ Kool Herc spinned funk and soul records at a rec room in the Bronx, N.Y., that would spark a movement and culture that would be known as hip-hop. No one knew who DJ Kool Herc was before that night but the next day he became the most sought-after DJ in the Bronx.
Herc's innovations His innovations brought fame and fortune to the thousands of rappers, DJs, executives, artists who live and breathe the culture.
Throughout the years, several rappers have paid homage to hip-hop because it has helped them get out of the 'hood and/or inspired their creativity.
"Remember Rappin' Duke? Duh-ha, duh-ha / You never thought that hip-hop would take it this far..."
Da Youngsta's - "Hip-Hop Ride"

No Mercy (1994)

The Philadelphia rap trio pay tribute to hip-hop including its founding fathers DJ Kool Herc and Afrika Bambaataa on the Marley Marl-produced track.

"Back with Melle Mel and Grandmaster Flash / People thought that hip-hop wouldn't last / The Treacherous Three, Afrika Bambaataa / Kurtis Blow made hip-hop hotter / Slide to the rhythm, let your body jerk / Remember all the bass from my man Kool Herc..."

Murs - "The Science"

Murs for President (2008)

On the song's third verse, West coast rapper Murs delivers the science on the creation of hip-hop. He gives a nod to DJ Kool Here who invented "the break."

"The ingenuity of these young black kids / The Bronx New York, Sedgwick & Cedar / Kool Herc earth hip-hop true believers / (Theory) Adversity produces opportunity / Anything accomplished through strength and unity / The fate of the world is in the hip-hop community / The revolution's here and now with you and me..."

Erykah Badu - "Love Of My Life (An Ode To Hip-Hop)" Feat. Common

Worldwide Underground (2003)

Granted, Erykah Badu is not a rapper, but her love for hip-hop (and rappers) are undeniable. In 2003, she released this musical love letter to the culture. On the song, Ms. Badu's ex-boyfriend Common references his own ode to hip-hop, "I Used to Love H.E.R."

"Y'all know how I met H.E.R. / We broke up and got back together / To get her back, I had to sweat her / Thought she'd roll with bad boys forever in many ways / ...She needed cheddar and I understood that / Looking for cheese, that don't make her a hoodrat / In fact, she's a queen to me, her light beams on me / I love it when she sings to me..."

E-40 - "All I Need"

Revenue Retrievin': Day Shift (2010)

E-40 has been spitting the Yay Area slanguage for over 30 years. On this head-nodding track, he reminds listeners of his impressive resume in the rap game. He also gives thanks to hip-hop icons who inspired him to spit game.

"I come with the package, I'm a savage, slightly throwed off / Grew up on $hort and Freddie B, Magic Mike and Calvin T / Dolemite and Blowfly, KRS and Ice-T / Melle Mel and Spoonie, just to name a few / UTFO, Kool Herc and Afrika Bambaataa, too..."

Diamond D - "Stunts, Blunts & Hip Hop"

Stunts, Blunts & Hip Hop (1992)

On this head-nodding banger, rapper-producer Diamond D raps about the three most important things in his life – women, weed and rap music. On the third verse, the Bronx native salutes hip-hop and its early creators.

"The hip-hop legacy will always last / To know your future is to know your past / Thanks Kool Herc, Grandmaster Flash / Afrika Bam, whose jams were a blast / Cold Crush Four, nobody could pass / Grand Wizard Theodore, whose hands were fast / Fantastic 5, who left with the cash / Busy Bee, who crushed up the hash / The Treacherous Three, no one surpassed / Jeckyll and Hyde, whose life was fast / The Fearless Four, they made a splash / Force MCs, made the party last / The Jazzy Five, yeah they had a smash / The Funky 4, at a neighborhood bash / Yo back then it wasn't done for the cash..."

Nas - "Who Killed It"

Hip Hop Is Dead (2006)

On this interesting song, Nas is a detective who metaphorically places hip-hop as a homicide victim. So throughout the song, the rap legend goes on a search for hip hop's killer. At one point, he's interviewing a suspect who mentions DJ Kool Herc.

"She says, 'Nah it goes way to an earlier date Slave times,' claims the slaves said rhymes / But she fell in love with some fella named Clive / Who? / 'Clive Campbell from Sedgwick Ave, the Bronx' / Now she shows me the cash / I said who's Clive, don't play with me skirt / She said Clive Campbell / He's Kool Herc..."

Busta Rhymes - "New York S---" Feat. Swizz Beatz

The Big Bang (2006)

Busta Rhymes and Swizz Beatz give a big salute to hip-hop and New York's five boroughs - Brooklyn, Queens, Manhattan, Staten Island and of course, the Bronx.

"Yeah! I'm on my New York s--- / Got the world following the New York script / Hustle with Timbs and hoodies on my New York flip / Rubberband stack money with my New York clique..."

Common - "I Used to Love H.E.R."

Resurrection (1994)

One of the great rap songs of the '90s, Common metaphorically describes hip-hop as a woman who broke his heart by breaking off to the West Coast and becoming Hollywood ("I wasn't salty, she was with the boys in the hood / Cause that was good for her, she was becomin' well-rounded"). The song would ignite a rap feud between Common and Ice Cube, which they eventually squash years later.

"She was really the realest, before she got into showbiz / I did her, not just to say that I did it / But I'm committed / But so many n----s hit it / That she's just not the same / letting all these groupies do her / I see n----s slamming her, and taking her to the sewer / But I'ma take her back, hoping that the s--- stop / 'Cause who I'm talkin' about, y'all, is hip-hop..."

People Under The Stairs - "Letter 2 C/O The Bronx"

FUN DMC (2008)

On this melodic track, West Coast indie rappers People Under Stairs take listeners on a musical journey through hip-hop history. Along the way they pay homage to the Bronx and its cultural icons.

"In the name of hip-hop / The origin of the name drop / Came from gangstas running the numbers / In Harlem world, it was disco / Bronx was rugged / They was setting up / Playing for anybody who dug it / Like this y'all / It's like that baby brother / Gotta give it to New York / The birthplace of my mother (hip-hop)..."

Ludacris - "I Do It for Hip-Hop" Feat. Nas and JAY-Z)

Theater of the Mind (2008)

Ludacris enlisted rap icons Nas and JAY-Z to rap about how hip-hop influenced them. Hov delivers the best verse as he recounts his days selling drugs before opting to sell rhymes and going legit.

"I lost a lot of dogs to these streets / I got Grammy Awards on these beats / Thank God for Kool Herc / Without your s--- I probably would've got merked / Shout out to Grandmaster Flash and to Caz / And even Jaz bum-ass / Hip-hop helped me wash my rocks / These other rappers couldn't wash my socks / That's why I took the number one slot / The realest s--- in rap comes from my voice box..."

Lupe Fiasco - "Hip-Hop Saved My Life" Feat. Nikki Jean

Lupe Fiasco's The Cool (2007)

On this fantastic Soundtrakk-produced song, Lupe Fiasco narrates a story about a young man's journey to get out of the ghetto by pursuing a rap career. The song reportedly was based on Slim Thug who told him that his lyrics reminded him of his early grind to become a rapper.

"He picked up his son with a great big smile / Rapped every single word to the newborn child / Then he put him down and went back to the kitchen / And put on another beat and got back to the mission of / Get his momma out the hood / Put her somewhere in the woods / Keep his lady looking good / Have her rolling like she should / Show his homies there's a way, other than that flippin' yay..."

KRS-One - "Hip-Hop Knowledge"

The Sneak Attack (2001)

KRS-One is a true ambassador of hip-hop culture and its birthplace - the South Bronx. On this violin-driven track, the Teacha gives a chronological history of hip-hop and his involvement in the culture as well as in the rap industry. It's a fascinating listen.

"We are advocating that hip-hop is not just a music, it is an attitude, it is an awareness, it is a way to view the world. So rap music, is something we do, but HIP-HOP is something we live. And we look at hip-hop, in its 9 elements, which is breaking, emceeing, graffiti art, deejaying, beat-boxing, street fashion, street language, street knowledge, and street entrepenurialism - trade and business. That's the hip-hop that we are about..."

A Tribe Called Quest - "Excursions "

Low End Theory (1991)

This head-nodding banger opened ATCQ's hip-hop masterpiece The Low End Theory and set the tone for the entire album. Q-Tip is the sole rapper on the track as he explains hip-hop's evolution to which his dad likens to bebop.

"Back in the days when I was a teenager / Before I had status and before I had a pager / You could find the Abstract listenin' to hip-hop / My pops used to say, it reminded him of Bebop / I said, 'Well, Daddy, don't you know that things go in cycles? / Way that Bobby Brown is just amping like Michael' / It's all expected, things are for the lookin' / If you got the money, Quest is for the bookin'..."

MC Shan - "Living in The World of Hip-Hop"

Down By Law (1987)

MC Shan was among the early innovators in rap during its infancy in the 1980s. It's on this Marley Marl-produced song, the Queens rhymer salutes hip-hop and asserts that it's going to be around for a long time.

"Hip-hop is the life of the up-and-coming / Not by force, by one's own choice / Persuaded by the beat and the MC voice / There are people who love it across the land / And there are those that think that it should be banned / Well I say, 'I love it, it comes from my heart' / Very thankful for the day that it got its start / Now that it got started, you see it won't stop / And you'll be livin in the world of hip-hop..."

dead prez - "Hip Hop"

Let's Get Free (2000)

In 2000, dead prez delivered this bombastic rap anthem with stic.man and M-1 expressing their concern over the commercialism, sexism and violent lyrics dominating the genre.

"These record labels slang our tapes like dope / You can be next in line and signed and still be writing rhymes and broke / You would rather have a Lexus or justice? / A dream or some substance? / A Beamer, or a necklace or freedom? / Still a n---- like me don't playa-hate, I just stay awake / This real hip-hop / And it don't stop 'til we get the po-po off the block..."

Naughty By Nature - "Hip-Hop Hooray"

19 Naughty III (1993)

Naughty By Nature salutes hip-hop and their New Jersey hometown on their beloved anthem "Hip-hop Hooray." The video was directed by Spike Lee himself.

"Hip hop, hip hip hop, hip hip hop, hooray / There's many hungry hip-hoppers / One reason Hip Hop's tip-top today / Swerve what you heard 'cause I ain't bailin' no hay / Ain't choppin' no crops, but still growin' every day..."

Notorious B.I.G. - "Juicy"

Ready to Die (1994)

An undeniable hip-hop anthem, "Juicy" is the Notorious B.I.G.'s biography through the backdrop of rap's popularity. From Marley Marl to Brucie B to Lovebug Starski, Biggie salutes the pioneers who not only influenced him but the culture at large.

"Peace to Ron G, Brucie B, Kid Capri / Funkmaster Flex, Lovebug Starski / I'm blowin' up like you thought I would / Call the crib, same number, same hood, it's all good..."

Just Ice - "Going Way Back"

Kool & Deadly (1987)

Now this is an oldie but goodie. Rap icon Just Ice gives his first person account of Hip-Hop history. Just name checks the pioneers like DJ Kool Herc, Grandmaster Flex, Coke La Rock and many others.

"But anywhere Uptown, you always heard the sound / Hip-hop, funky beats, MCs getting down / The truth I swear, admit and declare / The Bronx was the first, I know, I was there / The beats were dope, the sound was on / By the way saying Peace to my brother Melquan..."

Terminator X & the Godfathers of Threatt - "Herc's Message"

Super Bad (2004)

A message from the founding father of hip-hop - DJ Kool Herc.

Boogie Down Productions - "South Bronx"

Criminal Minded (1987)

Arguably, one of the most iconic diss songs in rap, Boogie Down Productions' "South Bronx" was a direct response to MC Shan's "The Bridge." The song ignited the infamous Bridge Wars that went on for nearly a decade. In addition, KRS-One also details the early days of hip-hop. It's the perfect companion piece to "Going Way Back" by Just Ice, which was also featured on this list.

"Now way back in the days when hip-hop began / With Coke LaRock, Kool Herc, and then Bam / B-boys ran to the latest jam / But when it got shot up they went home and said "Damn / There's got to be a better way to hear our music every day / B-boys getting blown away but coming outside anyway / They tried again outside in Cedar Park / Power from a street light made the place dark / But yo, they didn't care, they turned it out / I know a few understand what I'm talking about..."

*BONUS* Ultramagnetic MC's - "Bust The Facts"

Funk Your Head Up (1992)

Kool Keith chronicles the early days of hip-hop and the DJs who rocked the parties. He also throws a slight dissed to Kool Moe Dee with whom he had a rap beef with.

"The party you pay see / Kool Herc with Jay Cee / The Herculoids battle, The Disco Twins
Funky rhymes with breakbeats, the DJ spins / For the L Brothers, stepping right in the scene / Mean Gene was maxing, Rockin Rob went to work / While the tables would turn, the old needles used to jerk / With the belt drive, Technics and B-1's / With the orange light shining, the red on D-1's / Direct drive and Nova, I'm chilling with G.L.O.B.E / Mr. Biggs and Pow-Wow, Monk and Superman..."