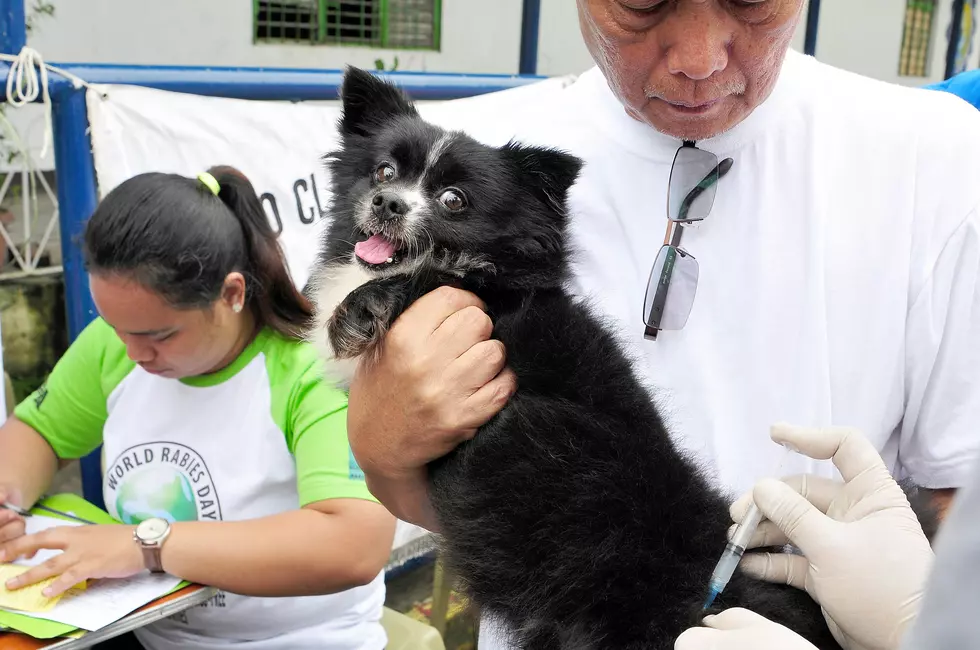 Erie County Is Offering 3 Free Rabies Vaccine Clinics For Cats And Dogs
Getty Images for WSPA
Erie County is offering three free rabies clinics to pet owners to help them protect their fur babies. The rabies vaccine clinics are for cats, dogs and ferrets at Orchard Park, Cheektowaga, and Buffalo sites. The first two clinics will be drive-thrus, which the Erie County Department of Health has used for the past two years. The third location, in the Broadway Market, will be a walk-thru only.
Pet Owners In Erie County Can Get Free Rabies Vaccinations At 3 Locations
Saturday, September 10, 9 am to 1 pm
Erie Community College, South Campus
4041 Southwestern Boulevard – Bldg.#7, Orchard Park – drive-thru site.
Saturday, September 24, 9 am to 1 pm
Erie County Emergency and Training Operations Center
3359 Broadway Street (Near Union Rd.), Cheektowaga – drive-thru site.
Saturday, October 8, 9 am to 1 pm
Broadway Market
999 Broadway (Parking Ramp-Ground Floor), Buffalo – walk-thru site.
You can register your pet here or call (716) 961-6800.
Requirements for the free clinics:
- You must set up an appointment.
- You can bring up to three pets per appointment.
- Cats, dogs and ferrets three months or older are eligible.
- Must bring proof of vaccination for each pet to receive a three-year vaccination certificate or only a one-year certificate will be provided.
- Pet must be on leash with collar (no retractable or extended leases) or in a carrier.
- Limit the number of people in the vehicle.
- Please wear a mask.
According to Erie County Commissioner of Health Dr. Gale Burstein,
Any bite or exposure to the saliva or nerve tissue of any warm-blooded animal, i.e., mammals, can transmit rabies. The rabies virus is 100% fatal to humans if a post-exposure treatment is not given, is given too late, or not given correctly.
Once a person has been exposed to rabies, they will need "post-exposure prophylaxis," which is four or five doses of rabies vaccine along with immunoglobulin. If it is given in time, it is effective in preventing the person from developing rabies. Dr. Burstein says,
Our environmental health division and epidemiology office are highly experienced in investigating reports we receive from Erie County residents and physicians, and ready to make recommendations about whether or not post-exposure rabies treatment is necessary.
Bites From These 7 Creatures in New York Can Be Deadly
9 Of The Deadliest Animals On Earth Can Be Found In New York State
Did You Know That This Is New York's Official Dog?
New York's official state dog, which was adopted in 2015, isn't a specific breed, but rather an occupation according to the law,
"The working dog shall be the official dog of the
state. For the purposes of this section, 'working dog' shall mean (see specific professions below):"