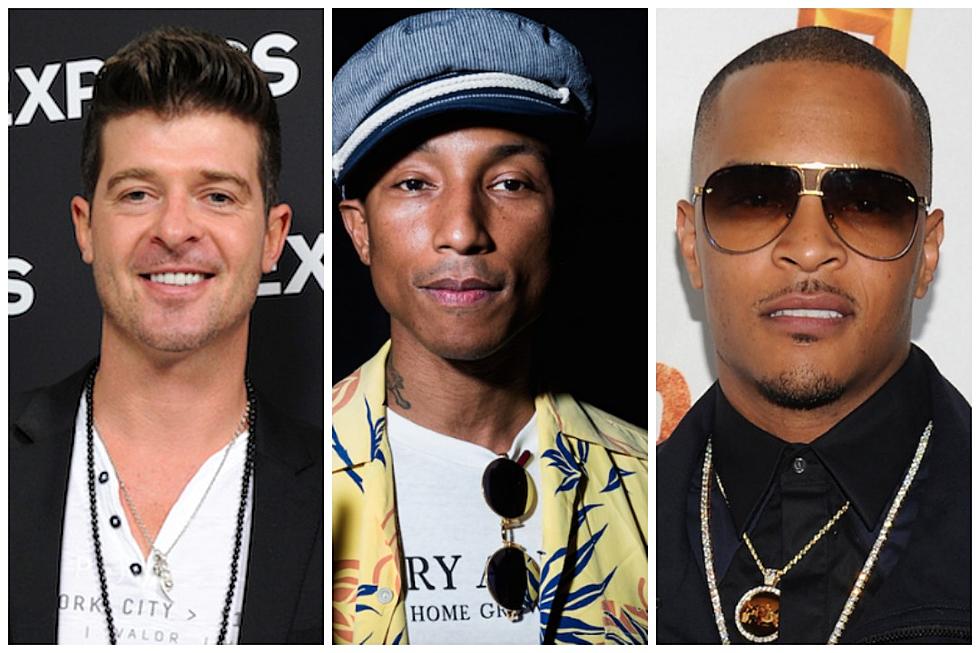 Over 200 Musicians Voice Support for Pharrell, T.I. and Robin Thicke's 'Blurred Lines' Appeal
Ilya S. Savenok, Richard Bord, Brad Barket, Getty Images
Over 200 musicians are voicing their support of an appeal filed by Robin Thicke, Pharrell Williams, and T.I., after a California jury found their "Blurred Lines" hit infringed on the copyrights of Marvin Gaye's song, "Got to Give It Up".
Although not a direct part of the litigation, a reported 212 fellow artists have signed a brief in support of Thicke, T.I. and Pharrell. The following musicians have attached their names to the brief: R. Kelly, Earth, Wind & Fire, film composer, Hans Zimmer, John Oates, Linkin Park, Fall Out Boy's, Patrick Stump, Juicy J, the Go-Go's, Jennifer Hudson, Stargate, and Jean Baptiste.
They all argued the jury's present ruling "is very dangerous to the music community," and it's final ruling can "stifle future creativity."
Back in March 2015, the jury's ruling determined that "Blurred Lines" copied significant portions of Gaye's 1977 song and awarded a whopping $5.3 million to the Gaye family. The legal teams of Thicke, Williams, and T.I. filed an appeal last week, arguing that the case shouldn't have made it all the way to court in the first place, and the judge gave jurors "improper instructions," which would ultimately sway the 2105 ruling.
The resounding opinion of the "Blurred Lines" trio and (their 200+ supporters) is that all great works are inspired and in most cases, are re-creations of previous works.The amicus brief reads, "One can only imagine what our music would have sounded like if David Bowie would have been afraid to draw from Shirley Bassie, or if the Beatles would have been afraid to draw from Chuck Berry, or if Elton John would have been afraid to draw from the Beatles, or if Elvis Presley would have been afraid to draw from his many influences. All music shares inspiration from prior musical works, especially within a particular musical genre."
If the final verdict does not work in "Blurred Lines" favor, the outcome could cripple the future works of artists across pretty much all genres of music.
20 Best Singles of 2016… So Far