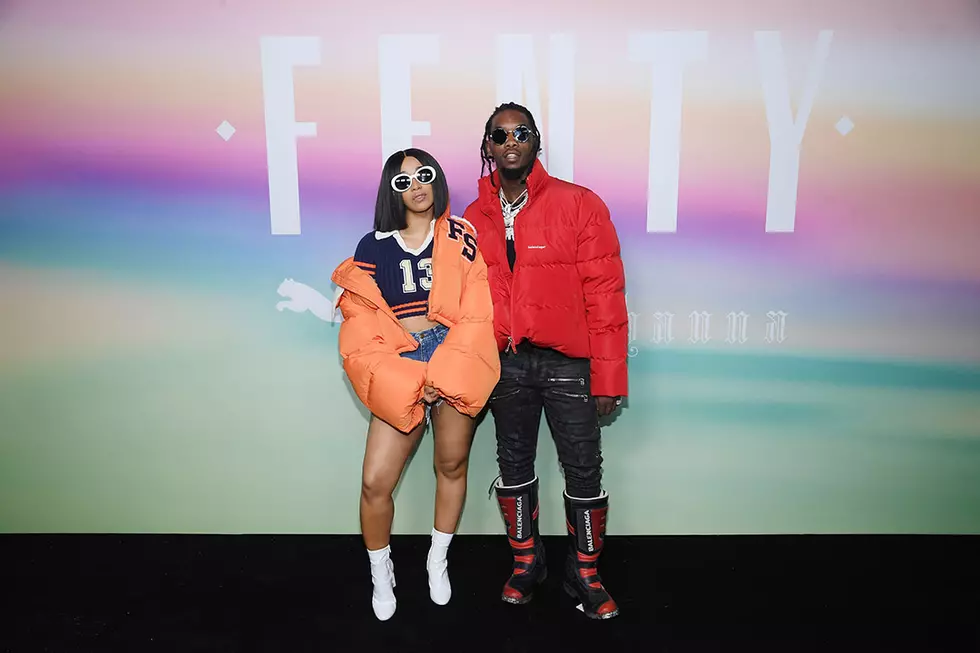 Offset Shoots Down Rumors Cardi B Is Pregnant
Dimitrios Kambouris, Getty Images
Rumors have been swirling that Cardi B is with child, but boyfriend Offset is here to set the record straight. According to him, the "Bodak Yellow" rapper is not preggers.
TMZ ran into the Migos rapper in Los Angeles on Friday (Feb. 16), strolling into Peter Marco Jewelers on Rodeo Drive, and questioned him about the possible pregnancy which is rumored to be three to four months along. "I'm only the father of three. I don't know what the hell you talkin' 'bout," Set responded.
When pressed about the possibility of being a new father, he shot that down as well. "My kids 2, 2, and 8, I don't have no other possibilities."
The persistent cameraman then asked for a simple yes or no answer, to which the "Stir Fry" rapper simply responded, "No."
So there you have it. False alarm. Strangely, it was Cardi's own team who reportedly gave life to the initial rumors. According to a report from TMZ, members of the rapper's team told people over Super Bowl weekend that she was pregnant. Afterward, Cardi denied the reports and even hopped on Instagram to respond to a fan who wondered if she had a bun in the oven. "No bitch I'm just getting fat. Let me fat in peace," Cardi fired back.
The Bronx rapper is currently in high demand, with three shows slated in L.A. this weekend during NBA All-Star festivities. She was also recently added to Bruno Mars' 24K Magic World Tour.
See what Offset has to say on the pregnancy matter below.
See New Music Releases for February 2018