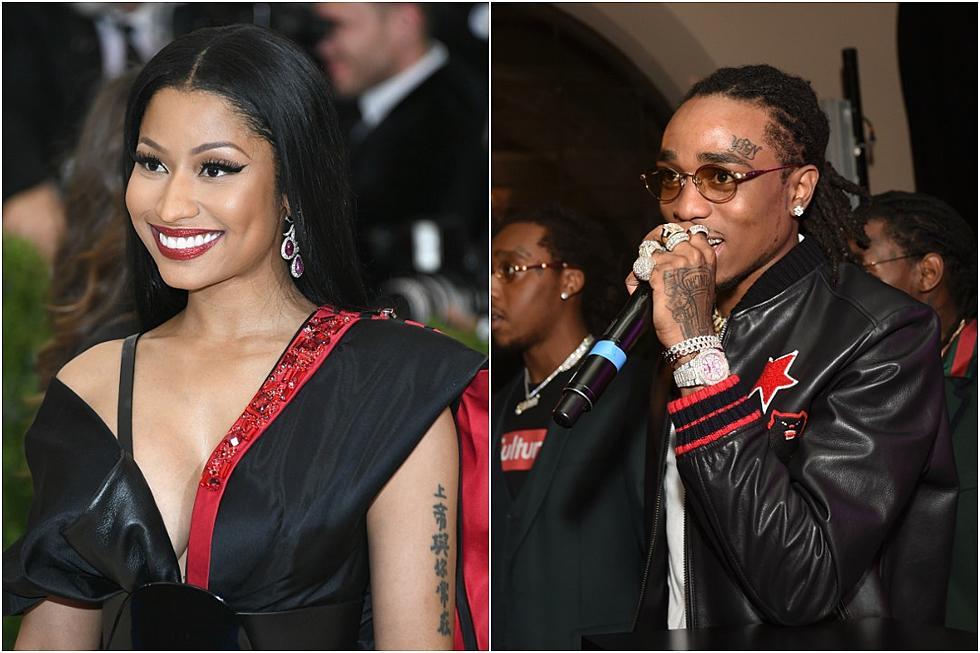 Nicki Minaj and Quavo Reunite After Falling Out Over "MotorSport" Differences
Dia Dipasupil / Emma McIntyre, Getty Images (2)
Nicki recently revealed in an interview with Beats 1's Zane Lowe that she felt some type of way about how the Migos members handled the situation of speculation about how "MotorSport," which features Cardi B and Nicki Minaj, came together, with some suggesting Nicki was unaware that Bardi would be on the track.
"With 'MotorSport,' I kinda felt ambushed," she said. "At the time, I went on Twitter and explained how 'MotorSport' came about, and people were saying that I was lying. So I texted Quavo and I said, 'Hey, could you back me up on this?' Because I don't want people to think I'm lying. What do I have to lie about?' And he didn't back me up."
She added, "He texted me, he was like, 'I would go on Twitter and back you up if you were my girl lol.' And that hurt, because he's somebody... I love him... It hurt my feelings to know that people would watch me be slaughtered, and not one person will step in to say the truth. They'll allow people to run with the lie because it's entertaining to make Nicki seem like a bad guy."
Now it appears Huncho has seen the error in his ways. Nicki recently reported on Twitter that Quavo had apologized. "He apologized. Y'all can stop torturing him now," she posted. "The Generous Queen FORGIVES. When he told me what y'all were doing in them comments I fell TF out. Love you guys tho. For LIFE."
She later posted a video of the two kicking it in the studio. All is well.
Check out Nicki's posts below.
See Photos of Nicki Minaj's Different Looks Over the Years