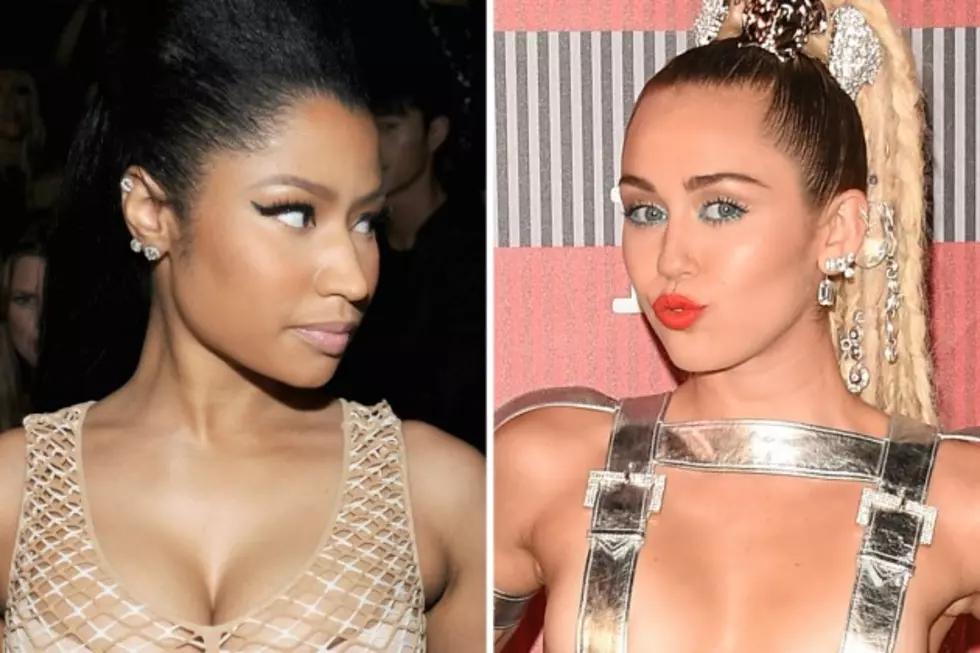 Nicki Minaj to Miley Cyrus: Consider Black Plight or Don't Enjoy Black Culture
Craig Barritt/Jason Merritt, Getty Images
The 2015 MTV Video Music Awards' Moonmen may already occupy space in their respective winners' homes, but the show seems to be far from over.
Now, in an interview with The New York Times Magazine posted today (October 7), Minaj urges Cyrus to understand that appreciation of black culture means first understanding the community's plight.
"The fact that you feel upset about me speaking on something that affects black women makes me feel like you have some big balls," she said. "You're in videos with black men, and you're bringing out black women on your stages, but you don't want to know how black women feel about something that's so important? Come on, you can't want the good without the bad. If you want to enjoy our culture and our lifestyle, bond with us, dance with us, have fun with us, twerk with us, rap with us, then you should also want to know what affects us, what is bothering us, what we feel is unfair to us. You shouldn't not want to know that."
Seems like the dialogue is still wide open, and we're looking forward to seeing how Miley responds.
Think Nicki's right, or do you still agree with Miley that Nicki should "come at things with love"? Read the full interview for more of Nicki's honesty, and share your thoughts below.
Look back at a collection of cutting celeb disses: