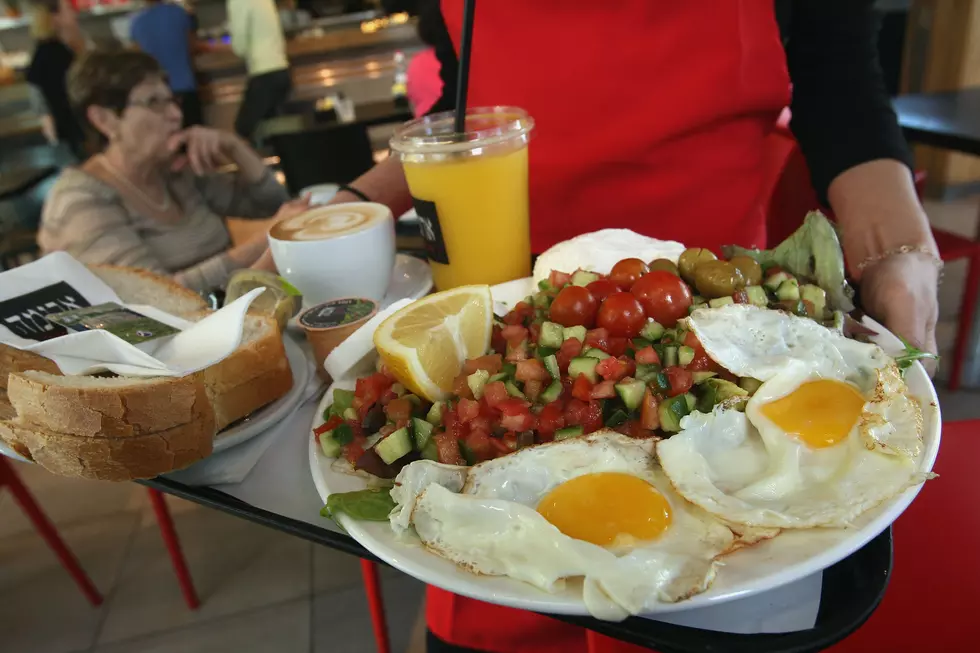 Popular New Breakfast Spot Expected to Open on Main Street in East Aurora
Getty Images
It looks like Main Street in East Aurora will be getting a new breakfast spot as a popular restaurant opens its third location. The East Aurora Village Board sent The Polked Yolk's application to assume ownership of a building on Main Street to the Planning Commission. The Polked Yolk wants to take over the location, at 227 Main Street, which was previously home to another restaurant, Mikey Dee's Cafe. The restaurant closed a couple of months ago and the owner would like to sell the building to the owners of the Polked Yolk. The new restaurant would serve both breakfast and lunch from 7 am to 3 pm daily. The owners of the Polked Yolk, James and Kristyn Vaughan, hope to have it open by mid-November. They currently have two locations - 3100 Transit Road in West Seneca and 3698 Abbott Road in Orchard Park. A public hearing will be held on November 15.
The Polked Yolk gives diners the option of creating their own omelets. They also offer classic dishes like homemade hash & eggs, biscuits & gravy, and all-American burgers. You can check out the full menu here.
Here Are 5 of the Best Neighborhoods in WNY for Trick-or-Treating
Ans speaking of East Aurora, it made the list of the top 5 Western NEw York Neighborhoods to go trick-or-treating in. As we approach Halloween, it's time to start getting the kids costumes together and making sure you have a safe area for them to trick-or-treat in. These neighborhoods are recommended by your neighbors mostly based on candy quality and safety.
1. East Aurora
@root_vegetable even has a suggestion of where to start your route in East Aurora,
seconded, come see the gigantic spider/bat decorations on Oakwood [Avenue] and go from there
@Papa_Radish says,
I think if I were out of town and could pick from any neighborhood, I'd do ToT in East Aurora. It's very charming and I imagine people really get into Halloween, but tastefully.
2. Amherst/East Amherst/Williamsville
@PearsonFlyer says,
Come on out to East Amherst, we're giving out full size bars, and we're not the only ones.
@bri12789 says,
Kaymar Dr. in Amherst is the rich street of the school district, lots of full size candy bars!!
3. North Park/Parkside in Buffalo
@planet_rose also recommends the parkside area,
I live in North Park and we usually get about 150-200 kids on Halloween. Big sidewalks, well-lit, long streets. Lots of decorated houses. We didn't do it last year, but will this year. I expect this year will be huge.
@nodawhoa says,
In the city? - Parkside neighborhood is festive and light on traffic.
4. Tonawanda
@tyrannustyrannus suggests Tonawanda as a safe place to bring the kids,
Most of the streets off of Glenalby in Tonawanda are streets you would only drive down if you lived on them. Super safe and friendly. Lots of families bring thier kids out there, I can't speak for all my neighbors but I have candy to spare if it gives kids a good Halloween
5. Kaistertown (The night before Halloween)
According to @nicedriveway Kaisertown apparently is such a popular trick-or-treating spot that the news shows up,
Beggar's Night in Kaisertown (city neighborhood bordering Cheektowaga and W. Seneca) - the news usually shows up. Your kids will stock up. There used to be haunted house (someone's carriage house) on Weimar too but with COVID, who knows.
@No_Childhood7717 says there's lots of candy given out in the neighborhood,
I live on the last street if Kaistertown before west Seneca. I easily go thru 600 pieces of candy every year. Lots of kids and parents. No problems ( as far as needing the cops). Lots of decorated haunted houses.
7 Buffalo Restaurants That Serve All Day Breakfast
6 Must-Try Spots in Buffalo for the Perfect Wings on Game Day
7 Restaurants on Delaware Ave. in Kenmore to Try Soon