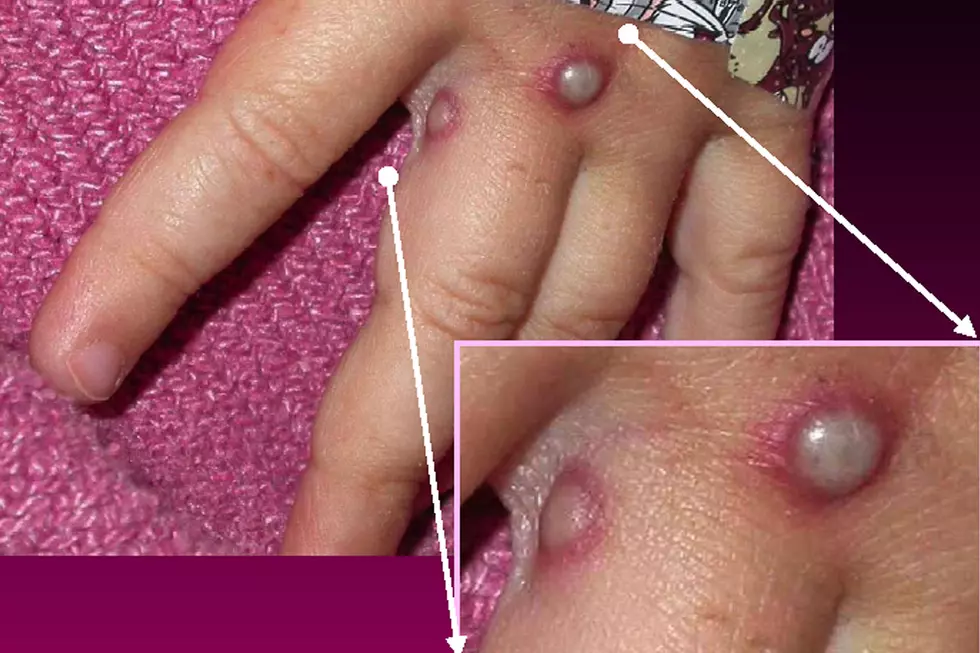 Monkeypox Virus Case Presumed In A Man In New York State
Getty Images
A presumed case of Monkeypox has been identified in New York State. According to an update provided by the Centers for Disease Control on Monday, May 23, 2022, there has been one confirmed case of Monkeypox virus and four confirmed cases of Orthopoxvirus, which are the family of viruses that Monkeypox belongs to. For the purpose of this response, healthcare providers should assume these are cases of Monkeypox viruses. The CDC will be the agency to actually confirm that the cases are indeed Monkeypox.
The four presumptive cases, which are currently confirmed as Orthopoxvirus and are awaiting confirmation by the CDC as Monkeypox virus, are one in New York City, one in Florida, and two cases in Utah. The confirmed Monkeypox case is in Massachusetts. They are all men with a reported history of international travel.
It's likely that there are going to be additional cases reported in the United States
The West African strain, which is the milder of the two strains, is the strain identified in the cases in the U.S. John Brooks, MD, Medical Epidemiologist, Division of HIV/AIDS Prevention said, anyone can develop and spread Monkeypox, but many in the current outbreak identify as gay and bisexual men. It is not a sexually transmitted infection, but it can be spread through close sexual contact. Monkeypox causes rashes and legions that may initially be mistaken for herpes or sexually transmitted infections. Fever, rash, and swollen lymph nodes are symptoms. There is a possibility of severe disease in certain populations, such as immuno-compromised people or those with skin conditions like atopic dermatitis or eczema.
People are considered infectious while they are ill. Anytime there is a rash present a person should be considered infectious. The legions are the source of the virus. It generally takes a couple of hours to run PCR tests, once the CDC gets a specimen, so identification can happen on the same day. There has been a turnaround of a couple of days from when a person seeks their doctor's attention.
Anyone can contract Monkeypox
Monkeypox was first discovered in 1958 when two outbreaks of a pox-like disease occurred in colonies of monkeys kept for research, hence the name 'monkeypox.' The first human case of monkeypox was recorded in 1970 in the Democratic Republic of Congo during a period of intensified effort to eliminate smallpox. Since then monkeypox has been reported in humans in other central and western African countries.
Capt. Jennifer McQuiston, DVM, MS, Deputy Director, Division of High Consequence Pathogens and Pathology, said that people become infected by close, sustained, skin-to-skin contact with someone who has an active rash or through respiratory droplets with someone who has legions in their mouth. The primary people susceptible are family members or healthcare workers caring for someone with Monkeypox.
There are two vaccines and one antiviral for smallpox, which is related to Monkeypox. One vaccine, Jynneos, has been approved for adults with smallpox or Monkeypox. The U.S. has an adequate stockpile of vaccines. There are more than 1,000 doses of Jynneos, a two-dose vaccine. There are 100 million doses of a second vaccine, ACAM2000, that has some potential significant side effects, so the decision to use that widely would require serious consideration. Vaccines are being administered to people who have had close contact with an infected person and are considered high-risk. There is a difference in safety between the two vaccines.
Most patients with Monkeypox will recover within two weeks. Capt. Jennifer McQuiston said that all signs point to person-to-person spread, not a leak from a lab or intentional spread. People who suspect they might be infected do not need to go to a specific hospital or healthcare provider. Healthcare professionals should report any potential Monkeypox infections to their Health Department to report to the CDC.
9 Of The Deadliest Animals On Earth Can Be Found In New York State
Bites From These 7 Creatures in New York Can Be Deadly
Here's What You Can Do To Help Prevent Mosquitos Around Your Home
The New York State Department of Health offers these tips
to
help keep your home mosquito-free.