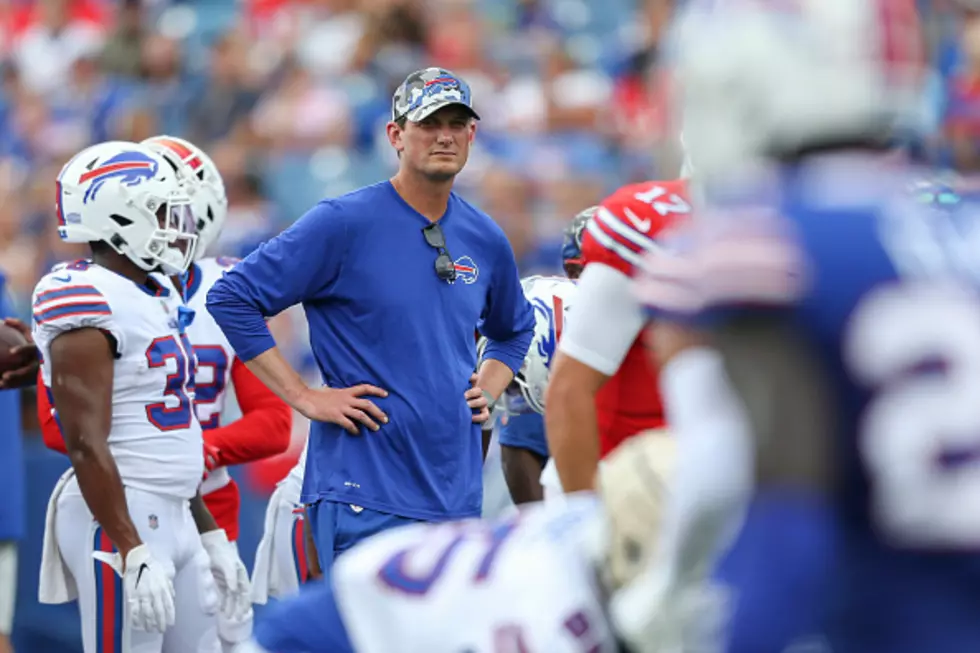 Could The Bills Lose Ken Dorsey After The Season?
Getty Images
The Buffalo Bills remain one of the hottest teams in the NFL and when you are good chances are other teams are looking at your coaching staff to fill roles on their teams.
Feel Good Mornings With Dave Fields Mon-Fri 6am-10am
The Bills lost their offensive coordinator Brain Daboll this past offseason when he left to take the head coaching job with the New York Giants.
This off-season we could see a chance once again as the play caller of the Buffalo Bills. This week the Carolina Panthers fired their head coach Mike Rhule and Ken Dorsey's name has been floated as his replacement.
Dorsey is in his first year as an offensive coordinator but has been part of the NFL for many years as a player and coach. Prior to joining the Bills in 2019 as the quarterback coach, Dorsey spend four years with the Carolina Panthers as their quarterback coach.
Plus Dorsey has relationships with several top personal people with the Panthers.
CBS Sports named him one of the top candidates to fill in the role of head coach for the Carolina Panthers. While that would be good news for the Panthers, it might not be great for the Buffalo Bills.
Losing your offensive coordinator two years in a roll is not ideal. This year, the Bills haven't really missed a beat with Dorsey taking over for Daboll, but he worked with the Bills system for three years and has worked with Josh Allen for almost his entire career.
Is there someone inside the Bills organization that could step in as Dorsey did? If so, not many people are talking about them like they talked about Dorsey last year.
Fingers crossed that the Bills keep winning and that Dorsey would rather win as a coordinator than lose as a head coach over the next couple of years.
6 Former Buffalo Bills Nominated For The Hall Of Fame
Six former Buffalo Bills are currently on the nominee list for the Pro Football Hall of Fame for 2023.
Best Free Agents Signed By The Buffalo Bills
The Buffalo Bills are gearing up for a run at the Super Bowl next season and some big-time free agents are already reaching out to the Bills looking to join the team. Check out some of the best free agents the Bills have signed in the past.
Bills Mafia's Wishlist For The New Buffalo Stadium
The Bills are building a new stadium and here is a wishlist from Bills Mafia.