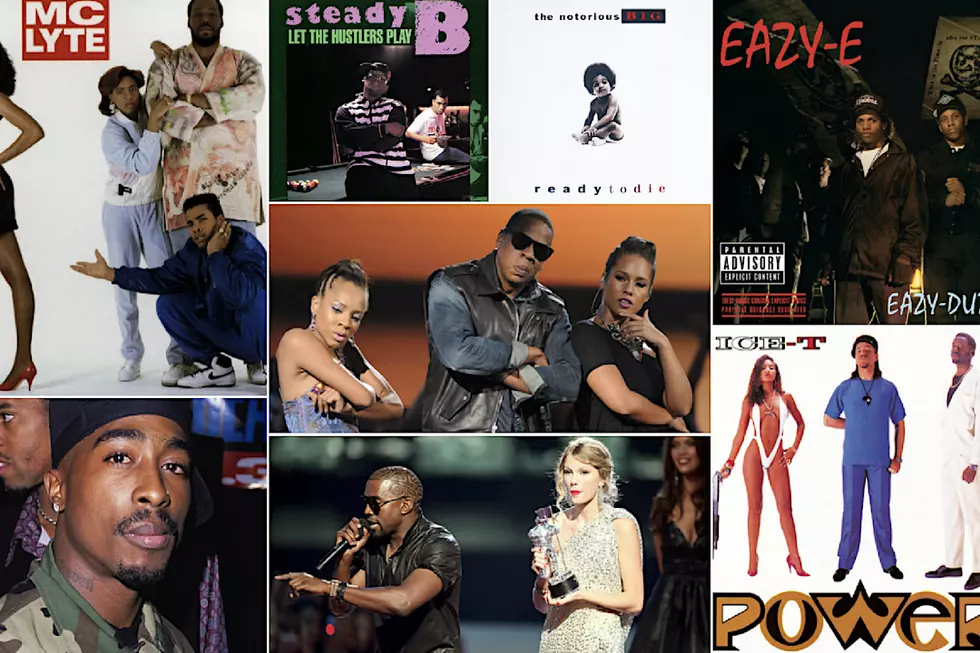 Kanye West Disrupts the VMAs, Biggie Uncorks a Classic: September 13 in Hip-Hop History
Atlantic / Jive / Bad Boy / Ruthless / Sire / YouTube / Christopher Polk (2), Getty Images
On this day in hip-hop history, we look back at two shocking pop culture moments from the 2009 MTV Video Music Awards, as well as the release of classic albums by MC Lyte, The Notorious B.I.G. and Eazy-E. We also celebrate the late Tupac Shakur, who tragically died on this day. Check it out below.
1974 - Keith Murray Is Born
Born Keith Omar Murray, this legendary rapper is known for his lexiconic rhymes and fierce battle rap skills. In fact, Murray once even battled Big Daddy Kane under the rap name MC Do Damage. Fellow rapper K-Solo introduced Murray to Producer Erick Sermon, who featured him on "Hostile" from the compilation album No Pressure. After securing a deal with Jive, Murray released his debut album The Most Beautifullest Thing in This World in 1994. The Long Island, N.Y. native also enjoyed high-profiled cameos on Mary J. Blige's "Be Happy (Remix)," LL Cool J's "I Shot Ya" and R. Kelly's "Home Alone." In 1998, as a member of Def Squad (along with Sermon and Redman), he covered "Rapper's Delight" by the Sugarhill Gang.
1988 - MC Lyte Releases Her Debut Album, Lyte as a Rock
On this day, MC Lyte, an 18-year-old rapper from Brooklyn, N.Y., dropped her classic debut album Lyte as a Rock on Atlantic Records. The 10-song collection boasts the classic title track along with "Paper Thin," "10% Dis," and "I Cram to Understand You (Sam)." With this album, Lyte proved that a female rapper could sell records and make an impact without shaking her booty or trading on sexuality. Thirty years later, Lyte continues to inspire a new generation of women through hip-hop and activism. "I love my people and [I] use my gifts, talents and blessings to give back to my community," she states in the book Black Girls Rock!: Owning Our Magic. Rocking Our Truth. "I've learned that it's my duty to take it back to the old school. So, I'm dedicated to empowering the next generation with knowledge, philanthropy, music and my voice as an artist and activist."
1988 - Ice-T Delivers Power
By time Ice-T released his second album Power, he already helped put both gangsta rap and West Coast hip-hop on the map with Rhyme Pays and his classic storytelling rap, "6 In the Mornin'." With Power, Ice-T continued to talk about street-related topics such as guns, sex and violence  - but rather than just celebrating that lifestyle, he added cautionary warnings about its potential costs. The Power album cover is arguably one of the most iconic in hip-hop history.
Of course by now, Ice-T has transcended rap, making big marks in movies and television. "I mean, the music took me to film. Film took me to television [and] to movies. I'm fortunate 'cause I still get to do all of it," he told Ebony magazine in 2017. "I'm just like an entertainer in whatever capacity - even if I do a lecture I'm really just entertaining you all with my life."
1988 - Steady B Drops His Third Album Let the Hustlers Play
Steady B released his third album, Let the Hustlers Play, on September 13. The album features the head-nodding title track and the KRS-One-produced banger "Serious." A member of Philadelphia's Hilltop Hustlers crew, which included  Cool C, Steady B released five albums over the course of his rap career and was one of several artists who helped solidify Philly's place on the rap map following the mainstream success of local heroes DJ Jazzy Jeff and the Fresh Prince.
Steady B's rap career came to a halt in January 1996 when he along with Cool C and another accomplice, shot and killed a Philadelphia Police officer during a botched bank robbery. Steady was later convicted of second-degree murder, and received a life sentence without the possibility of parole. In a 2013 interview with Old to the New blog, friend DJ Tat Money recalls one of his prison visits to see Steady B. "Yeah, it was pretty bad, man," he said. "I was so used to seeing him in a different light. Steady was the type of dude who used to change his clothes three times a day, so to go up there and see him as an inmate was not a good situation. It was pretty bad. I mean, he'd lost a lot of weight, so he looked healthy, but to see him in there as a lifer was a crushing blow."
1988 - Eazy-E Releases His Debut Album, Eazy-Duz-It
Eazy-E became the new voice of gangsta rap with his debut album, Eazy-Duz-It. The album went double platinum without any radio airplay or promotions. The 12-track collection also introduced fellow rhymers MC Ren, Ice Cube and Dr. Dre, who, along with Eazy and DJ Yella, went on to form the iconic rap group N.W.A. Most of the songs were written by either Ren or Cube and the G-Funk-inspired beats were provided by Dr. Dre. Standout tracks included "Eazy-Duz-It," "Eazy-Er Said Than Dunn" and "We Want Eazy." Sadly, just seven years later, Eazy-E passed away.
1994 - The Notorious B.I.G. Drops His Classic Album Ready to Die
The late Notorious B.I.G. has been revered and immortalized as one the greatest rappers of all time. Biggie's debut opus, Ready to Die, is a hip-hop masterpiece. The album displays the late rapper's superior mic skills, cinematic storytelling and poignant reflections of his life growing up in Bedford–Stuyvesant, Brooklyn. Biggie was a walking contradiction throughout the album. One moment he's a menacing thug on "Gimme the Loot," then he's a lovable player on "One More Chance." The album's centerpiece is "Juicy," Biggie's rags-to-riches story and one of the most endearing songs in rap. The album is also credited for revitalizing New York hip-hop after years of being lost in the shadows of '90s gangsta rap. In October 1999, Ready to Die was certified 4-times platinum by the Recording Industry Association of America.
1994 - Big Daddy Kane Releases Daddy's Home
Big Daddy Kanye's sixth album boasts production assists from Easy Mo Bee, DJ Premier and Kane himself. The album was a commercial flop, but it did feature one highlight: a posse track called "Show & Prove" featuring then up-and-coming rappers Scoob Lover, Sauce Money, Ol' Dirty Bastard, Shyheim and Jay-Z who, at that time, was Kane's protégé.
1996 - Tupac Shakur Dies from His Gunshot Injuries in Las Vegas
On this day in 1996, the hip-hop world lost one of its most charismatic figures. Tupac Amaru Shakur died from the injuries he suffered after being shot several times in Las Vegas a week prior. He was only 25 years old. Since his death, 'Pac has become immortalized and widely celebrated among rap fans worldwide.
2Pac's death continues to haunt hip-hop, partially due to the fact that his murder still remains unsolved. There have been several investigative TV programs and films made about his death, including Fox's Who Shot Biggie & Tupac and, USA's Unsolved: The Murders of Tupac and The Notorious B.I.G., the recently shelved crime thriller City of Lies starring Johnny Depp and Forest Whitaker, and the critically acclaimed  biopic All Eyez on Me.
2005 - Lil' Kim Reps Her Beloved Brooklyn Neighborhood With "Lighters Up"
On this day, Lil' Kim released the Brooklyn anthem "Lighters Up" from her fourth album The Naked Truth. Produced by Scott Storch, the song is noted for its dancehall-infused sound as Kim delivers a cautionary warning to those unfamiliar with the BK hood. "I come from Bed-Stuy / Where either n----s do or they gon' die / Gotta keep the ratchet close by," she rhymes in a patois accent. Naturally, Kim shot the video in her native Bedford–Stuyvesant neighborhood. "I love Bed-Stuy, I'm so lucky to be born in Brooklyn," she told BET's Access Granted in 2005. "I feel comfortable here. It feels damn good to see all of my peoples supporting and showing love. Love is love." The video also features a cameo from veteran comedian Kat Williams. Although Kim is repping Brooklyn in the clip, she also salutes cities like Chicago, D.C., Philadelphia, Detroit and more so that people everywhere can put their lighters up.
2009 - 'I'mma Let You Finish': Kanye West Vs. Taylor Swift at MTV VMAs
It all started when Taylor Swift won the Best Female Video award for "You Belong to Me," beating out heavily-favorite Beyoncé's "Single Ladies," which, without question, was one of the hottest and most viral videos in 2008.
During Swift's acceptance speech, West jumped on stage, grabbed the mic, and proclaimed what everyone, including the 27 million viewers watching at home, was probably thinking at that moment.
"Yo, Taylor, I'm really happy for you. I'mma let you finish, but Beyoncé had one of the best videos of all time!" he proclaimed, as Taylor looked on in complete shock. Despite widespread audience boos, the unfazed West simply shrugged and handed the microphone back to Taylor.
Afterward, West apologized for destroying Swift's moment. The incident sparked thousands of hilarious memes, angry reactions from Swift fans and even written think pieces.
After patching things up, the pair found themselves in another feud in February 2016 when West dropped his controversial track "Famous," in which he raps, "I feel like me and Taylor might still have sex / Why? I made that bitch famous." Taylor's rep claimed that the singer never gave West permission to call her a bitch on the song. Then West's wife, Kim Kardashian, went on Snapchat in July 2016 to share an audio of Taylor co-signing the song.
Nine years later, West and Swift's feud is at a stalemate and hopefully, it stays that way.
2009 - Lil Mama Crashes Jay-Z and Alicia Keys' MTV VMAs Performance
The WTF moment became trending topic on Twitter and a viral meme on social media. The next day, Kirkland issued a statement explaining why she crashed their performance.
"I did not mean any disrespect towards Jay-Z or Alicia Keys," read the statement. "I admire them and look up to them as role models. 'Empire State of Mind' had my emotions running high. In that moment I came up on stage to celebrate my two icons singing about NY [New York]."
Hov wasn't thrilled about Kirkland crashing their performance. "To interrupt that moment for us, I don't think that was the right thing to do," he told Angie Martinez a day after the awards ceremony. "I actually thought it was the equivalent to what Kanye did to Taylor Swift."