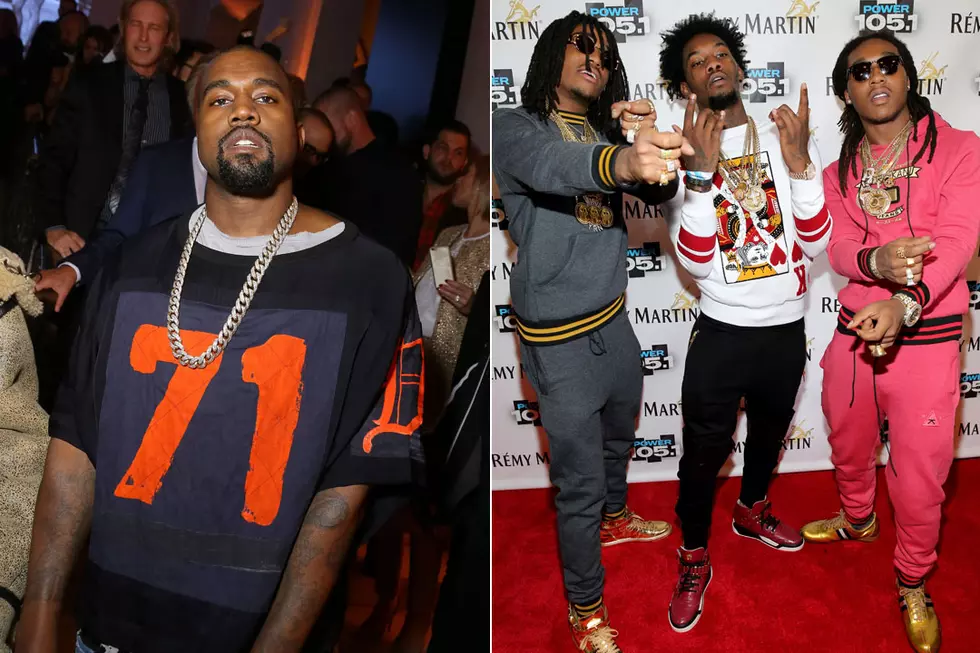 Kanye West and Migos Track May Be Released Soon
Victor Boyko/ Neilson Barnard, Getty Images
When Kanye says he has more music in the vault, you believe him. A day after announcing via Twitter that he plans to drop another album this summer, a snippet of a new banger from Kanye West emerged. 
Kanye's fashion consultant Ian Connor posted a video to to his Snapchat on Thursday featuring music that sounded like yet another unreleased  'Ye track and it could possibly feature Migos. Although it's just a snippet, the auto-tune heavy track features Kanye rhyming about "sipping Miley Cyrus" and "acting like he's white."
The new possible Migos collaboration is the second new Yeezy track in one week. On Tuesday (Feb. 23) he showed up at Yo Gotti's L.A. listening party and played a new track "Saint Pablo," co-produced by Mike Dean. The following day 'Ye exploded in another Twitter rant where he explained when he wrote the track that didn't seem to make his TIDAL exclusive album. "I wrote 'Saint Pablo' after admitting to my greatest shame my personal debt," he tweeted. "But I'm not ashamed anymore."
The three-year hiatus in-between 2013's Yeezus and his eighth studio album The Life of Pablo must have been very busy for 'Ye. He reportedly has more than 40 songs recorded with Young Thug and a slew of other records with everyone from Future to Kendrick Lamar and Drake.
Kanye has been going hard for Atlanta rhymers as of late. In Wednesday's infamous Twitter rant 'Ye also challenged the Grammys to welcome Future and Young Thug in suits. "You like your black people a certain way also. You wouldn't have Future perform and that man owned the clubs last summer," Kanye wrote. After several requests to meet with Neil Portnow, Kanye's wishes were answered when Portnow publicly agreed to sit down with 'Ye. Until the awards next year the Academy will have tons of music from 'Ye, Future and Thugga to choice from.
See Kanye West's Recent Twitter Shenanigans