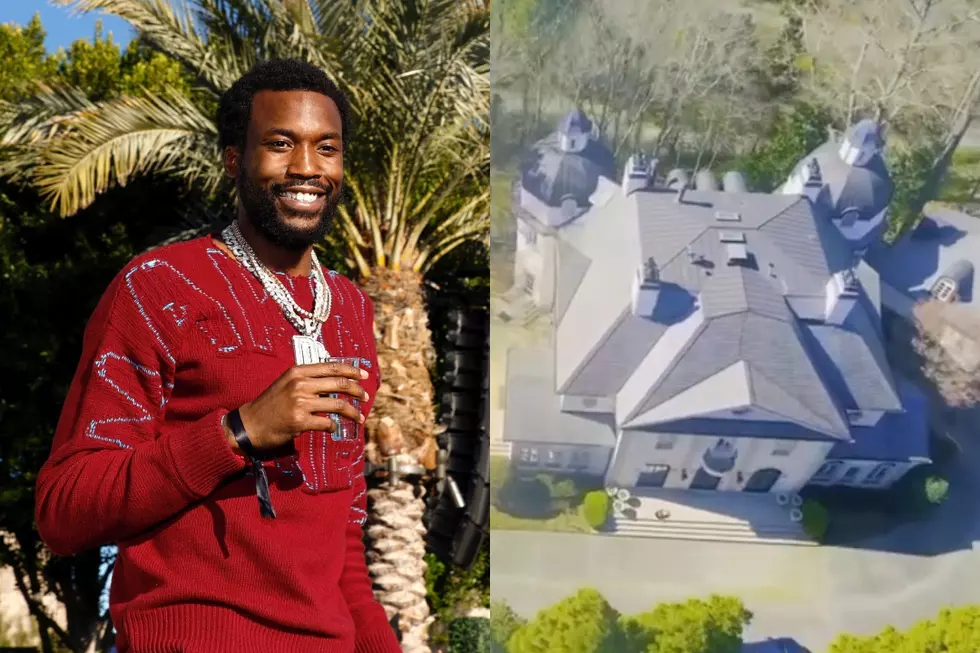 Meek Mill Tries to Sell His Mansion on Instagram, Complains His Realtor Isn't Doing It Fast Enough
Mike Coppola/Getty Images/Meek Mill/Instagram
Meek Mill is attempting to sell his Atlanta mansion on Instagram.
On Sunday (March 12), the Philadelphia rapper went on Instagram to tell his 23 million Instagram followers about his new listing. Apparently, Meek Mill is upset that his realtor isn't working fast enough to get the property sold, so Meek decided to do the work himself. The video Meek posted shows an aerial view of the home, which is in the Atlanta suburb of Sandy Springs, Ga. According to the video, the home has eight bedrooms and nine bathrooms. It also features a four-car garage, tennis court, pool, theater room and sauna.
"MANSION FORSALE IN ATL," Meek Mill captioned the video. "My realtor not getting this off fast enough & I think I can lol I never moved in it had for a few years. sandy springs/buckhead area! When somebody get traded to the hawks or falcons come grab this Jawn! I'm not even gone tag who shot this shitty video lol."
Meek Mill did not giving an asking price for the home, so there's a chance this could be a subliminal message for his realtor to put some pep into his or her step when it comes to getting the property gone.
Meek Mill is doing his independent thing when it comes to music as well. After parting ways with Roc Nation and Maybach Music Group last year, he announced he will be dropping 10 independent mixtapes starting last September. So far, he has only released Flamers 5, which dropped last November.
See Video of Meek Mill's Atlanta Mansion for Sale Below
See Rappers and Hip-Hop Artists Who Sold Their Publishing for Huge Payouts