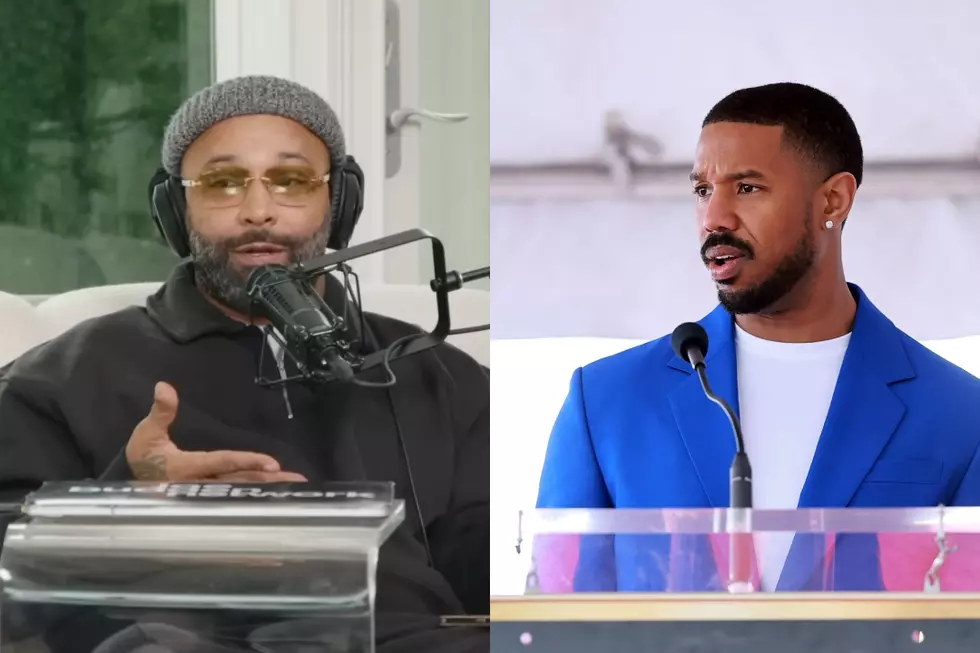 Joe Budden Goes Off on Actor Michael B. Jordan for Putting Former Classmate on Blast During Red Carpet Interview
Joe Budden TV/YouTube/Matt Winkelmeyer/Getty Images
Joe Budden recently went off on Michael B. Jordan after the actor put his former classmate, radio show host Lore'l, on blast during a red carpet interview at the Creed III premiere last week.
During a recent episode of the Joe Budden Podcast, Joe addressed the incident in his typical animated fashion, calling the Creed actor corny for his actions.
"Dawg, you doing that to a girl is some corny-nigga shit," Joe Budden opined. "You being Michael B. Jordan, today, allegedly sexiest man alive, all of these blockbuster movies, during your highlight week. You've probably never been more visible than you are right this second. And that's what you do to her? And if I bring back those White girl rumors, then it's gon' sound even crazier. Why you talking to our sisters like that on the red carpet when you don't talk to White bitches like that?"
"But I'm not gon' make it race here," Joe Budden continued. "They say I make everything race. That was corny of him to speak to that girl like that. Michael B. Jordan, that's why niggas call you corny. Hey, Creed. In case you was confused, that corny-ass shit you did is why niggas think you corny. In case you were off a little bit."
Joe Budden is addressing an incident that happened last Thursday (Feb. 23), during a screening for the upcoming Creed III film, which stars Michael B. Jordan. At the event, Michael was approached for an interview by former artist and current The Morning Hustle radio show Lore'l, who attended high school with Michael in Newark. The actor used the opportunity to briefly question Lore'l about previous comments he thought she made by calling the entertainer corny. However, Lore'l never made the comments. It was another podcast host.
"Oh yeah, I was the corny kid, right?" Michael B. Jordan responded when Lore'l mentioned they attended Chad Science Academy in Newark, N.J. together.
When Lore'l replied she was misquoted, Michael responded, "No, I heard it."
Jordan's comment referenced a The Undressing Room Podcast episode from 2021 in which another host, Dominique Da Diva, called the actor a "nice, corny guy" while speaking on his then-relationship with Lori Harvey.
You can watch Lorel's interview, Joe Budden's comments and hear the podcast audio below.
See Joe Budden Going Off on Michael B. Jordan for Putting His Former Classmate on Blast During a Red Carpet Interview Below
See the Definitive List of Bizarre Tweets From Rappers