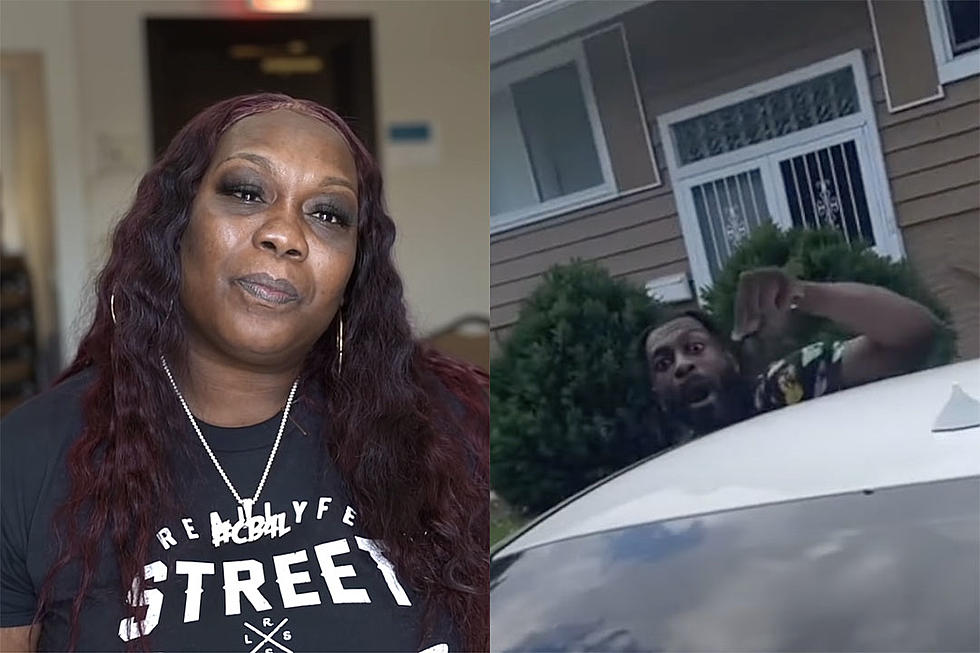 FBG Duck's Mom Appears to Get Run Over by Car Following Argument With Boyfriend
SAY CHEESE!/YouTube/Girbaud Tx/YouTube
A new video has emerged online, which appears to show Chicago rapper FBG Duck's mom getting run over by a car following a heated argument.
FBG Duck's Mom Run Over by Car?
In a video that began circulating across the internet on Tuesday morning (Aug. 1), FBG Duck's mother, Lasheena Weekly, who was apparently on Instagram Live at the time, is overheard arguing with a man, said to be her boyfriend, in a driveway outside of a home. Reports are also saying the man is her child's father. Nonetheless, it isn't publicly known as to what sparked the verbal dispute, but Duck's mom can be heard repeatedly saying, "Don't pull your car out." She is then pleading with other individuals to allow her to leave first, presumably before the person she is arguing with backs out of the driveway. Another voice is heard yelling, "OK. She finna move."
The clip shows that there are two cars, almost bumper to bumper, in the driveway. Moments later, a woman says that she is going to move her car, which is likely the car blocking in FBG Duck's mother's boyfriend. A threat to call the police is made as well amid the chaos. A man is also seen standing outside of a white Infiniti car, yelling at Duck's mother, accusing her of putting her hands on him and blocking his car in. She responds, saying that she didn't touch him.
FBG Duck's Mom Asks to Leave the Scene Before the Incident Took Place
Thing quickly escalate, and as FBG Duck's mother continues to plead to leave before everyone else, she is then seen profusely hitting on a car window, indicating for the car to stop moving. A short time after, the scene no longer visible in the video, but Duck's mom's yells can be heard clearly as she also cries out, "My leg, my leg," indicating that she is suffering an injury of some sort, likely due to the car moving while she is still behind it, hence claims that she had been run over by a car.
At that point, the video ends and it is unclear what transpired afterwards.
FBG Duck's mother made headlines back in May when she requested to have a sitdown with Lil Durk, whom she accused of being involved in her son's death. FBG Duck was shot and killed while shopping in Chicago's ritzy Gulf Coast neighborhood on Aug. 4, 2020.
Watch the Video of FBG Duck's Mom Presumably Being Run Over by Her Boyfriend Below
Advisory Note: This video may be triggering to audiences.
See Wild Rap Beefs That'll Probably Never Be Resolved
Pusha-T and Drake, YG and 6ix9ine, and more.