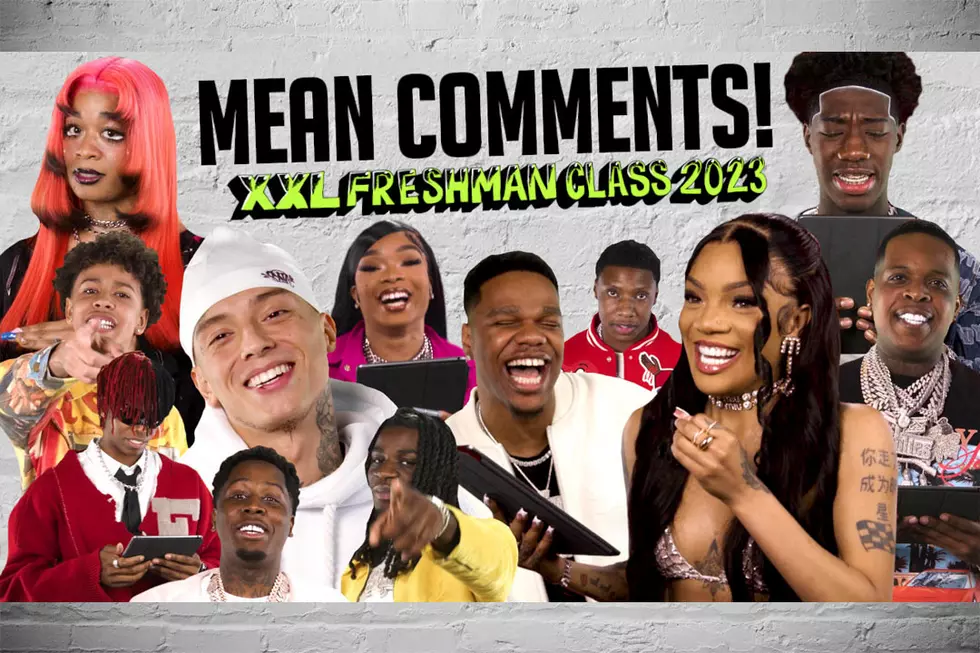 2023 XXL Freshmen Read Mean Comments – Watch GloRilla, Central Cee, SleazyWorld Go, Lola Brooke, Luh Tyler and More Shut Down the Haters
XXL
The 2023 XXL Freshman Class is in session. Hip-hop's hottest rising artists like GloRilla, Central Cee, SleazyWorld Go, Lola Brooke, Luh Tyler, Finesse2Tymes, Fridayy, Rob49, 2Rare, Real Boston Richey, TiaCorine and fan-voted 10th spot winner DC The Don are all on the front line as the rap game's future.
As each hip-hop talent continues to shine, facing trash talk from some of the internet's most diabolical, and often anonymous, trolls just comes with the territory. However, despite the nastiness rappers' timelines are hit with on the daily, the 2023 XXL Freshman Class has time for all of it. As an annual part of the Freshman rollout, all 12 artists address the haters on camera in XXL's Mean Comments.
The first XXL Freshman in the line of fire is GloRilla. As arguably the fastest-rising star hip-hop has seen over the past year, the Memphis rapper has no issue addressing a "fan" who tweeted that Glo's music is an instant skip because her distinctively raspy voice is "too manly" for them. Later, GloRilla takes a social media user to task for claiming she "looks like the front of a Toyota."
"First of all," GloRilla says as she ramps up her response. "I can't argue with nobody who got Goku and them as they f*****n' profile picture 'cause I just feel like you gon' use your superpower on me if I check you back. You think you got superpowers. I ain't even gon' play with you."
With complete poise that complements the London rhymer's cool and collected swagger, Central Cee laughs off the notion that he "looks like the White Soulja Boy."
"I seen it," Central Cee says with a smirk. "I've seen a lot of comments like that. I don't know. I don't see the resemblance too tough, but..."
Along with her explosive personality and fierce raps, Lola Brooke also has quite a sense of humor. The Brooklyn MC got a kick out of a fan who compared Lola's signature "Ugh-ugh, ugh-ugh" ad-lib she typically uses just as she's about to tear up the mic to a "French man about to laugh."
"Let me see: ugh-ugh, ugh-ugh," Lola Brooke replies after a genuinely hearty laugh. "Coco, I f**k with that one. That was cute. I ain't even mad at you, Coco, I could take a joke."
Elsewhere in the hilarious yet straight-up mean comments video, SleazyWorld Go once again addresses rumors that he's a snitch while Luh Tyler is perplexed by a social media user asking where the Florida native's clearly visible eyebrows are.
See every artist in the 2023 XXL Freshman Class bring the smoke to social media's keyboard warriors in the Mean Comments video below.
Watch the 2023 XXL Freshman Class Read Mean Comments Below
See the 2023 XXL Freshman Class
Read the 2023 XXL Freshman cover story featuring GloRilla, Central Cee, SleazyWorld Go, Lola Brooke, Luh Tyler, Finesse2Tymes, Fridayy, Rob49, 2Rare, Real Boston Richey, TiaCorine and DC The Don when the Freshman issue hits stands everywhere on July 18. In addition to the 2023 Class and Pi'erre Bourne, it includes interviews with Lil Baby, NLE Choppa, Boosie BadAzz, Toosii, DDG, Saba and more, plus, a look back at what the 2022 XXL Freshman Class has been doing. Also, there are stories on hip-hop's love for golfing, 10 rookie artists just entering the game and the best A.I. hip-hop songs released to date. The issue is on sale here.